Jan 14, 2016, 3:31:06 AM via Website
Jan 14, 2016 3:31:06 AM via Website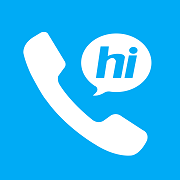 Hicall is a telephone service that allows users to make high-quality international phone calls with much cheaper cost. No registration, no advertising, Hicall network has covered over 200 countries globally and it can access any mobile number or land line no matter you are home or abroad. On one hand, Hicall could be used with 3G/4G network or WiFi and the rate can go as low as less than $0.02 per minute to some destinations like the United States, Canada etc.
Works right out of box
The procedure is quite simple. By installing Hicall, you get free credits to start with. Before you make up your mind, you areencouraged to try out their service and make your first free call, all of which requires no hassle of registration or email verification. It's only when you like it and want to recharge your credit do you have to sign up for an account with your mobile number and
email account.
Any number is accessible
Due to Hicall's wide coverage of network, it has access to any mobile number or land line in the world and it requires no registration on the other end so you could literally enjoy calling anyone, anytime, anywhere you want.
Absolutely no advertising
Hicall promises that there is absolutely zero advertising from the very minute you install the app. With its well-structured blue-theme interface, any advertisement would be a buzz killer for its beauty, simplicity and practicability.
User friendly
To make a phone call, you just have to dial the number on Hicall like you always do on traditional phone and Hicall will take care of all the background procedures and establish the circuit for you. Normally, it takes 3 seconds to connect a number from America or Canada.
Disadvantages 
1. Although the rate of Hicall is much lower, and it gives new users gift cards for free, and there are regular top-up preferential activities for users all over the world, Hicall is after all not a free VoIP app.
2. Unlike Skype where you could see your correspondents, Hicall is only available for audio calls.
Official website: www.hicall.cc/
Facebook: hicallapp
Twitter: hicallapp
Customer service: contact@hicall.cc
— modified on Jan 14, 2016, 3:38:39 AM