Dec 16, 2015, 9:08:17 AM via Website
Dec 16, 2015 9:08:17 AM via Website
WowApp Invitation & Rates is a unique app that can help you in an instant to get a free invitation in WowApp messenger.
All you have to do is to install, press Join us in WowApp and then the yellow button Join. Now you can create your own account in WowApp messenger where you can invite your friends.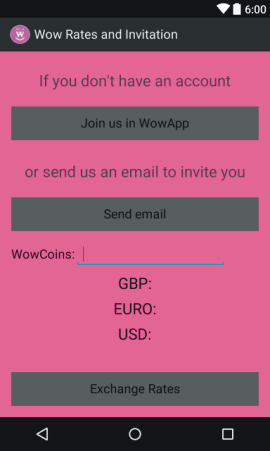 You can also send an email and automatically you will receive a replay with an invitation in WowApp where you will can create your own account.
An other function of the WowApp Invitation & Rates app is that can exchange from Wowcoins to USD, Euro and GBP live currency.
After you successfully created your own account, you must Turn ON your Advertise in order to start earning money. After that start invite as many friend as you can by giving them your invitation URL. You can find which is by creating an SMS with an invitation and there you will find an url that looks like this wowapp.com/w/YourUsername, Ask all your friend to go to this url to join you. Do not forget to tell to all to Turn ON Advertise. WowApp pays all the users with 70% of revenue bringed by you and 8 levels of friends below you.