Nov 27, 2015, 12:05:23 PM via Website
Nov 27, 2015 12:05:23 PM via Website
Grab your gun and get ready for the duck hunting adventure.
If you've ever played on those old video games your parents bought you when you were a kid, there's a chance you enjoyed playing Duck Hunt as much as I did. I remember those days of popping in the Nintendo cartridge that had both Mario Bros, and Duck Hunt and shooting some good ole' ducks flying in the sky. It was fun, especially since the Nintendo came with its own gun to shoot at the screen. Well that little bit of nostalgia can resurrected with Duck Hunting 3D and there was this dog who'd laugh weirdly when I missed one. I would have killed him if I ever got into the game, like Tron, Don't worry I'm not going to do that I was just kidding you know what same like you I love that dog too.
So anyways, we stumbled upon a game for Android with the same concept Duck Hunting 3D.It brings that 16-bit old 2D game in a 3D fashion way for mobile user. It's basically almost the same game, but you have to aim without a gun and tap a button to shoot instead of pulling a trigger. Sadly, the dog doesn't laugh in this one which makes me a little upset.
The game is quite simple, aim your gun at the ducks flying in your surroundings and shoot. If you hit perfectly, you'll get points. IF you don't, don't worry you get another chance to shoot it again if you have time. The game is wave based and each wave has its own number of ducks which will be flying in sky. If you shoot a duck you will get some points that you can use latter to purchase new items (like a gun) to be more accurate. You'll move on to the next wave as soon as you kill the ducks allotted to that level. Every time you kill a duck or let it fly away, that dog will react. So, beware. Happy hunting!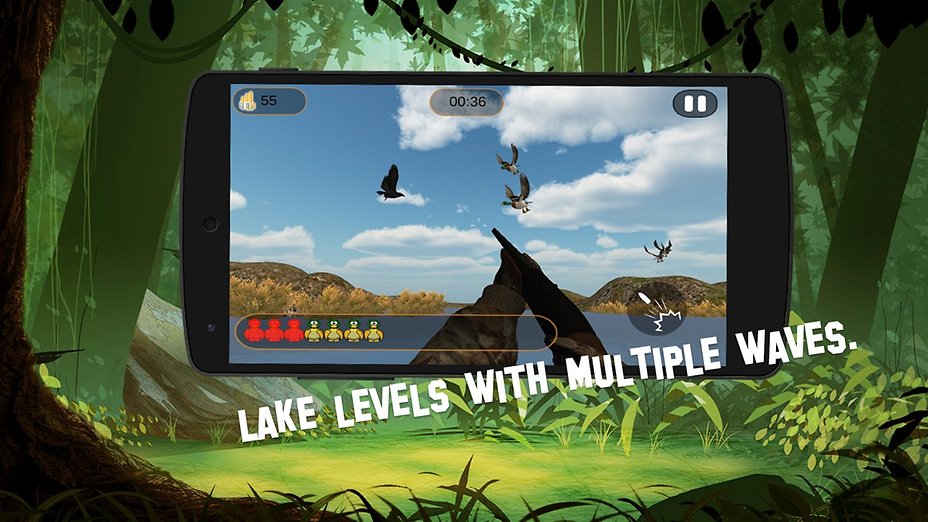 — modified on Nov 27, 2015, 12:15:06 PM