Oct 22, 2015, 7:00:43 PM via Website
Oct 22, 2015 7:00:43 PM via Website
Let Me introduce you to M-Fractal Live wallpaper.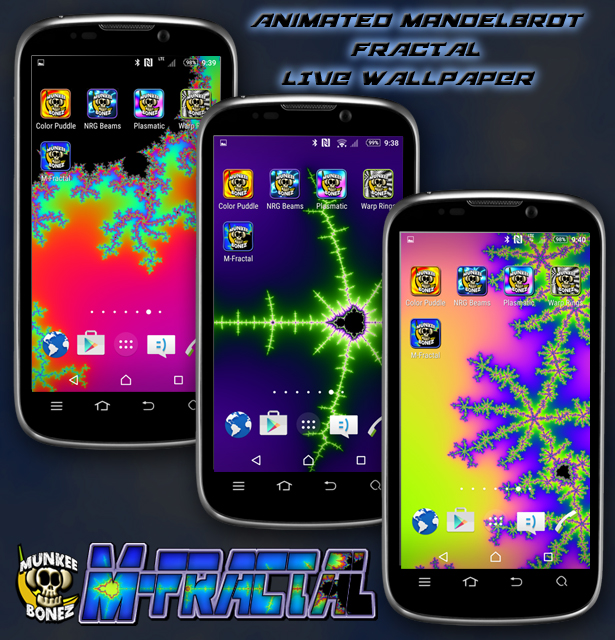 Fractals have always fascinated me, the idea that simple mathematics can generate amazing and lovely pictures. With M-Fractal I wanted to see if I could make a zoom effect as a wallpaper, that was both fast and detailed. I think I accomplished my goal.
TOP LIVE WALLPAPER FEATURES:
★ Small Download Size
★ No Full-screen Ads or Excessive permissions
★ Many user definable settings
★ Low Battery Usage Options
★ Amazing look deep into the world of the Mandelbrot Fractal set.
Having a newer device with a strong GPU will definitely help you get the most from this app, but for older devices I have included the ability to adjust the resolution.
You can adjust every aspect of the effect:
★ Effect Resolution, to allow for smooth frame rates on older devices/lower CPU usage.
★ Shading Type, choose between Normal & Smooth depending on your GPU capabilities.
★ Color, cycle the color spectrum with individual red/green/blue speed. Or use one RGB color.
★ Rotation, variable speed spinning of the Mandelbrot zoom effect.
★ Choose from 40 magnificent zoom targets within the Mandelbrot fractal.
★ Cycle through the zoom targets and control the length of time between changes.
★ Control the depth and the speed of the zoom into the fractal.
Hopefully you enjoy this, let me know what you think.
-MunkeeBonez
— modified on Oct 24, 2015, 8:21:27 PM