Oct 24, 2014, 6:36:51 PM via Website
Oct 24, 2014 6:36:51 PM via Website
A cool new game Galaxy Defender Lite
★★★ Introducing Galaxy Defender Lite ★★★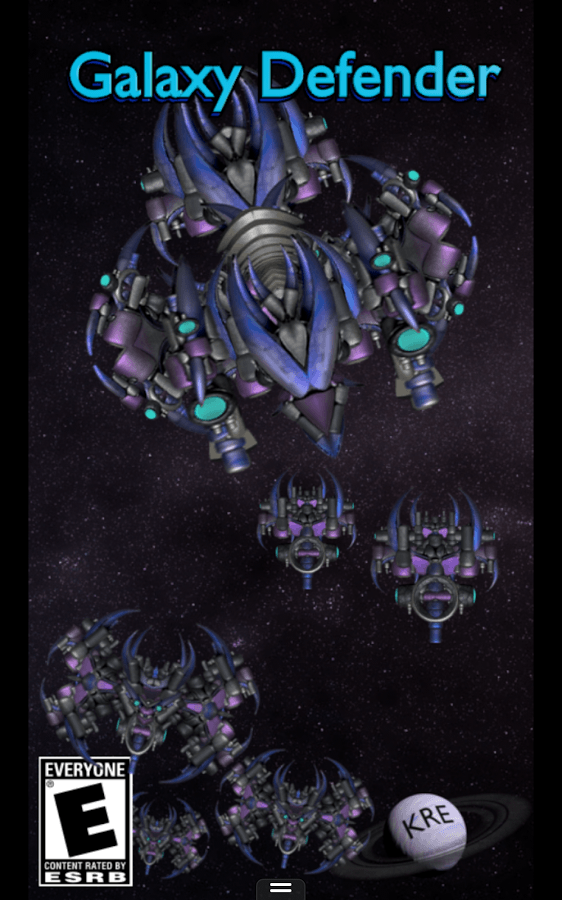 Description:
Galaxy Defender is a classic style arcade space invader shooter game. If you enjoy popular classic arcade space shooter games such as Space Invaders, Galaga, or Galaxian then you are sure to enjoy Galaxy Defender.
While on solo zero gravity patrol in galaxy sector 2 space you meet a fleet of alien invaders out to conquer the galaxy and invade Earth space. Help is light years away and your star fighter is the only defense against the alien enemy invasion. As the solo defender of the galaxy you must protect Earth space from these alien space invaders.
Please note that Galaxy Defender is neither affiliated with nor endorsed by Space Invaders, Galaga, Galaxian, Atari or Namco, or any respective partners or subsidiaries.
Galaxy Defender is built on the KRE Software Galactic Invasion core game engine. What users are saying about this and other Galactic Invasion core games:
AWESOME!!!
This is the best air invaders game. You can resume where you left off. You can save your game. This is way better than the galaxy I was looking for. If you like space invaders games this is the one. The ship get harder and harder to kill. Hours of fun!!!
Fun
If you like space invaders or anything close, download this
Cool
I love this classic redo of two games that I played back in the day. Space Invaders & Galaga
Awesome!
Does this game bring me back to the days of my hanging out in the arcade rooms! Absolutely love it!
Includes the following features:
Three different space fighter control systems:
o Tilt-based Control. Universal and simplistic control mode. Simply tilt your device to move your space fighter left, right, forward or back. Tap anywhere on screen to fire weapons. Hold and press to engage the weapon auto-fire. Great for one-handed play!
o On Screen Control. Control the star fighter with an on-screen joystick and fire button for an old school classic arcade style experience. Configurable for right or left handed players.
o Finder Control. Simply drag your ship around the screen with auto-fire enabled. Tap to manually fire.
50 levels of space arcade fun with increasingly difficult waves of alien space invaders (25 levels in free version)
Options to change control modes, manage difficulty, tune graphics, and mute sound allow for a fully customizable gameplay experience(Some options only available in Full Version)
Requirements: Android 2.3.3 and up.
Available for Android.
I recommend you to download this awesome and new game.
Enjoy!!