Sep 27, 2014, 2:27:37 AM via Website
Sep 27, 2014 2:27:37 AM via Website

**
2048 Extra 2
** is a simple, fun and addictive number puzzle game. Easy game play with joining same numbers and get highest to 67108864 tile!
2048 Extra 2 is an enhanced version of popular 2048 game. Useful tools given to help you to challenge higher score.
Easy game play: Just swipe (up, down, left, right) on the 2048 Extra 2 game board to move the tiles. When two tiles of the same number touch, they will merge into one.
2048 Extra 2 features:-
- Supports 4x4, 5x5, 6x6 game play modes.
- FREE Daily rewards to earn more coins.
- Earn FREE coins on each game play.
- Shovel tool assists you to remove unwanted tile in 2048 Extra 2 game.
- Undo tool allows you to undo current move.
- Saves game state automatically.
- Relaxing music with sound effects for pleasure game play.
- High resolution graphics.
- Saves screenshot to photo album.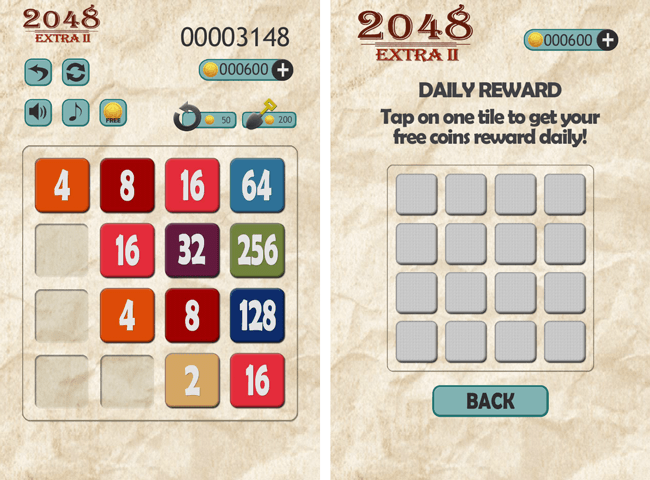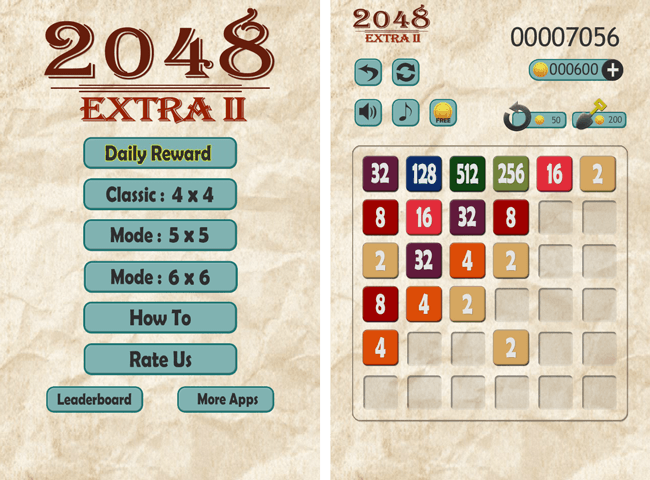 — modified on Sep 27, 2014, 2:30:27 AM