Sep 24, 2014, 11:44:42 AM via Website
Sep 24, 2014 11:44:42 AM via Website
I'd like to announce my first android game: Video Jigsaw Puzzle.
For jigsaw puzzles fans. First and the most important thing that distinguishes the game from the other is playing video instead of picture.
So, solve video puzzles instead of pictures!
Best on tablets (android 4.0.3 and up)
Comments, suggestions and ratings are welcome.
Search on Google Play:
video jigsaw
or
(in quotes)
"Video Jigsaw Puzzle"
AppID: pl.genso.emotionpuzzle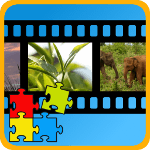 Features:
Video instead of pictures!
Difficulty settings
Changing background color
Zoom in and out
Locking the board
Downloadable content
Every puzzle is unique
FREE
Screenshots only, sorry: