Aug 10, 2014, 2:03:17 AM via Website
Aug 10, 2014 2:03:17 AM via Website
DOWNLOAD : www.play.google.com/store/apps/details?id=com.apptologia.ropejumper
Did you hear about Rope Jumper !!
Ok you will too much !!!
An addictive and annoying game of jump rope that will test your patience, skills, and reflexes.
Sound easy to you?
Do not be so sure. Go ahead and set a high score and be master rope jumper.
Beat your friends score and race with them .
Trying to beat your friends or set a new highscore can drive you crazy in Rope Jumper!
***Please be careful to not break your phone

Do not forget this is only a game

Features
-Google Play Game services integrated with Rope Jumper
-You can earn badges by beating friends or your high scores
-Endless game
-Difficulty is getting increase with time
-Multitouch support
How To Play
It is simple casual and tapy game

You will only need to tap both right and left sides of the screen to make girls jump.
While palying this addictive game, you will just need to touch screen and be careful to jump in time.
Do not forget after some jump , second jumper also will be active
You will make girls jump by clicking left or right side of the screen
Rope jumper will be your next addictive one tap game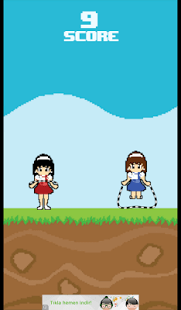 — modified on Aug 10, 2014, 2:04:10 AM