Jul 27, 2014, 7:31:41 AM via Website
Jul 27, 2014 7:31:41 AM via Website
If you enjoy challenging puzzle games, then please give our new app a try.
Stop The Fuse! is a modern take on the classic code-breaking game MasterMind.
You can find our free game on Google Play:
play.google.com/store/apps/details?id=com.asepublishing.stopthefuse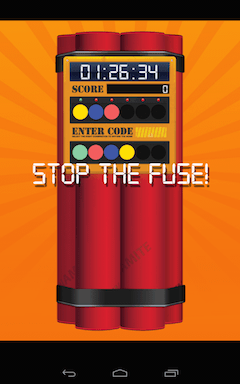 Guess the correct color code combination before the timer runs out and Stop The Fuse!
Thanks for reading and hope to see your new high scores on our Leaderboard!
— modified on Jul 27, 2014, 7:33:51 AM