Jul 24, 2014, 8:09:39 AM via Website
Jul 24, 2014 8:09:39 AM via Website
UUcleaner
Get more RAM, better battery life
Free download from Google Play
With UUcleaner, you can
* Get 1 tap system diagnosis &1 tap purify
* Auto hibernate upon exit
* Control autorun of apps
* Disable unwanted notifications.
* Smart selection of boost items and smart recognition
Support 2.3 and up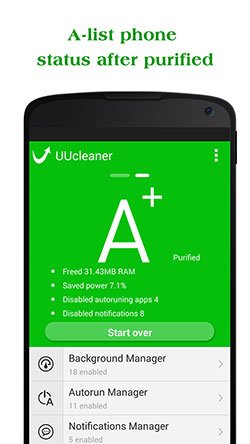 Description:
Does getting more apps cause lagging and battery drainage on your device? Are you tired of a full internal memory due to apps running in the background with frequent push notifications?
We have a SOLUTION for you! With UUcleaner, apps and services will be hibernated until you manually start them. You can PURIFY your device by managing apps with background services, notifications and autorun, making your device faster, smoother, and much more productive!
Highlights:
★PURIFY
Grade phone/apps status with speed & battery diagnosis and optimize it by the use of 1 tap purify button.
★MAKE YOUR OWN LIST
Make your list to enable background service/autorun/notification.
★AUTO HIBERNATION
Hibernate hidden running apps in background until you manually start them. Save irritation of frequent wakeups.
★1 TAP BOOST SHORTCUT
Easily clear RAM in real time from your home screen.
★NO ADVERTS
NOTE:
To experience more features of hibernation, autorun, notifications off, please grant UU ROOT permission.
FREE DOWNLOAD UUcleaner from Google Play
More options for download:
Amazon,1moible, Softonic,GetJar,SlideME
Any feature requests, issues running into and complaints, Leave comment in this thread or reach us via support@uusafe.com
FAQ: What is Purify?
Purify=Disable running background services + autorun + notifications
Your device will get more RAM and better battery life after purified
— modified on Jul 24, 2014, 8:17:38 AM