Jul 11, 2014, 5:28:02 PM via Website
Jul 11, 2014 5:28:02 PM via Website
Hi Guys, I'm the creator of a new android app called SubTube. It allows you organise your favourite YouTube Channels, Playlists and Video Categories into collections. Sorry I can't post a link in my post because of forum rules for new users, to find the app please just search the Play Store for 'SubTube'
Here's an overview video of the functionality:
Some screenshots: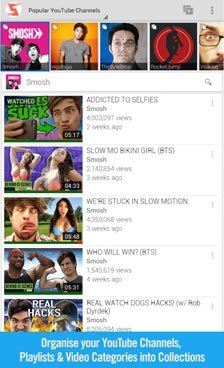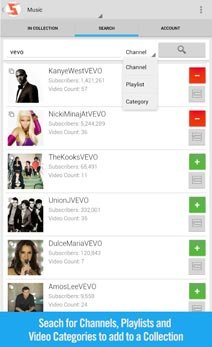 Here's the sales description from the Play store:
SubTube puts your YouTube™ subscriptions at the centre of your experience. It allows you organise your YouTube™ subscriptions into your own collections. No more scrolling through an endless list of your subscriptions only to find that your favourite channel hasn't put out a video today, SubTube makes getting straight to the content you want fast and easy!
★ . Organise your favourite Channels, Playlists and Video Categories into collections
★ . Integrates with your YouTube™ account allowing you to organise and get to the content which matters to you most
★ . Unique scrollable carousel of your subscriptions for each collection
★ . You choose the order the subscriptions in a collection
★ . Shows a likes and dislikes bar below under every video so you know it's rating before watching
★ . Choose between playing videos fullscreen, browser or YouTube's official app
★ . Marks watched videos, so you can quickly find what to watch next
★ . Watching videos using fullscreen mode the app bookmarks your position, making it easy to come back to later
★ . Search your favourite channels for the videos you want
★ . Share videos with friends
★ . Simple and easy to use
★ . Stay tuned for new exciting features
Permissions
As a user of many apps myself, I know that some permissions on apps may appear dubious at first glance and it can be unclear why the application requires these permissions. In order to clarify why these permissions are requested, I've put together a short list explaining why each one is used.
• Internet: This permission is required to retrieve data from YouTube data API
• Get Accounts/Use Credentials/Manage Accounts: This application can integrate with your YouTube account and get your subscriptions but you don't have to use this feature
• Write to external storage/read external storage: This permission is required as some search results maybe cached for faster responses
Let me know what you think. Thanks for checking it out.
— modified on Jul 11, 2014, 5:29:27 PM