Jun 21, 2014, 4:13:05 AM via Website
Jun 21, 2014 4:13:05 AM via Website
Hi all, I had just published my first app on google store. It is just a simple math game involving addition. Would be a good app to keep brain active and would also be good for kids learn simple math while having fun.
This game involve the user to add up numbers on the screens to the target number. Each successful attempt will allow the user to gain points and gain more time. You can gain more point by solving the target number faster. You will only lose when the time is up.
Hope you guys would like it! Thank you very much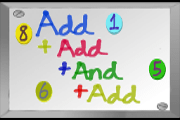 .