Jul 3, 2013, 6:09:54 PM via Website
Jul 3, 2013 6:09:54 PM via Website
Hi everyone!

Here are the answers for the very popular game 4 Pics 1 Word: Countries (it also can go under the name of 4 Pics 1 Country in other languages).
Careful! If you don't want to know the answers to ALL of the levels, then do NOT scroll down.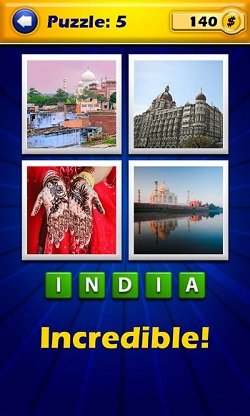 Level 1
Egypt
Level 2
Brazil
Level 3
Greece
Level 4
Germany
Level 5
India
Level 6
Spain
Level 7
Russia
Level 8
Italy
Level 9
Argentina
Level 10
France
Level 11
Argentina
Level 12
Austria
Level 13
Austria
Level 14
Thailand
Level 15
Turkey
If there are any mistakes or if you have any feedback, just let us know!
Enjoy!