Mar 11, 2013, 11:13:16 AM via Website
Mar 11, 2013 11:13:16 AM via Website
App:
Android Rooting
Get to know all about Android rooting at one place. Clear all your doubts regarding rooting. Now, root nearly all Android devices available, including Chinese devices too.
Play with custom ROMs for your devices, Save your device from draining battery and of-course, very useful engineering mode etc. Check out video links and IMEI guide, you always wanted for!
Features
:
* All About Rooting
* Root your Android device using Software
* Root your Android device using Application
* Backup Guide
* Custom ROM
* Engineering Codes
* How to save Battery
* Recovery Guide
* Root your Chinese device
* Video Guide
* IMEI Guide
Installation
:
Just click the link below to download the app.
Rooting Guide
Screen shots
: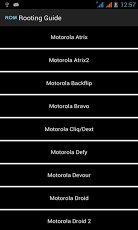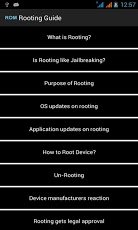 In case you have any problem in rooting your mobile phone, you can mail us at appzinventors@gmail.com, we will reply you with answer asap.
We are in the process of adding more features. Enjoy the app and do not forget to leave your useful reviews...
— modified on Mar 16, 2013, 5:56:56 AM