Jan 31, 2013, 3:17:02 PM via Website
Jan 31, 2013 3:17:02 PM via Website
To be the Weapon King of Bomb Me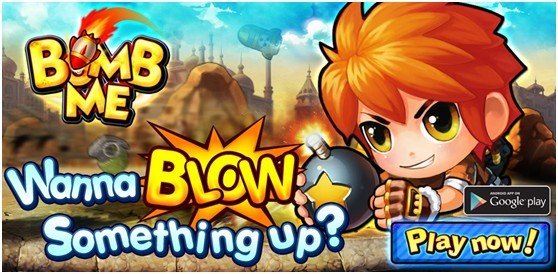 Well, usually novice player will check weapon's attacks before buying any.

There is a weapon looks like Mercury-throwing with 165 attacks.

While in contrast, the attack level of Dragon is 200. However, don't take granted that weapon with higher attacks is always better.
Mercury is the best digging weapon EVER in the game. And got high AOE, attack also good, so that weapon would be powerful if used in a group fight, while Dragon would be more useful when you are fighting alone.
Level up your weapon you can get more attack.
Wonder how to raise the success rate of upgrade?
The best order to place items is as follows: Lucky star; Holy stone; 3 Power Stones;
Please be aware that when upgrade >4, items will drop a level when upgrade failed. (ps: holy stone can avoid degradation)
Passionate players can download the game now from the official website:
b ombme.vsplay.com.
Download:
p lay.google.com/store/apps/details?id=com.efun.bombme

For more information, please Click the Following Link:
Facebook:w ww.facebook.com/vsplaybm
Google+: p lus.google.com/communities/100591106225286085973
Twitter: t witter.com/BombmeMe
Youtube:w ww.youtube.com/watch?v=rkCDSqz9L5w&feature=youtu.be
About VSplay Games
VSplay Games is a leading mobile game developer and publisher. It delivers downloadable and online entertainment games for various platforms.