Oct 10, 2012, 7:43:11 PM via Website
Oct 10, 2012 7:43:11 PM via Website
Hi there,
Alarm Clock Millenium is a feature-rich yet easy to use Alarm Clock app with unlimited Timers, a precise Stopwatch, a World Clock and amazing Widgets.
Over 1 Million downloads worldwide!
With Alarm Clock Millenium, you can create unlimited alarms, timers, timer & stopwatch widgets and customize them as you want.
This Alarm Clock app allows you to customize almost everything from alarm and timer settings to backgrounds and text color/font/size.
Alarm Clock Millenium offers a wide choice of ways to wake up with challenging tests like math or puzzle. It allows you to wake up at time in the best way especially with the increasing volume option in a speed that can be adjusted at your wish.
In addition to the basic functionalities of an Alarm Clock, Alarm Clock Millenium allows you to:
★ Play ringtones, music and playlists on alarms.
★ Set alarm and snooze duration with precision of seconds.
★ Set and save alarms for either a specific time or date or within a certain time.
★ Set an alarm with your voice just by dictating time or with "OK google".
★ Wake up smoothly with the increasing volume and brightness customizable features.
★ Select from different ways to stop it (button, math, Captcha code, visual test, shake, flip, puzzle, mixed).
★ See the next alarm and remaining time for it (click on it) and skip it when you want.
★ Set Wave gesture to Snooze or Dismiss alarms.
★ Adjust the brightness of the screen during the alarm and set it gradual to imitate sunrise.
★ Backup and Restore to internal/external storage or to Google Drive.
★ Customize the parameters of the vibrator.
The app includes a professional stopwatch and unlimited timers for your daily timing needs :
Stopwatch: You can record laps, share the results or save them on SD card.
Timer: you can add an unlimited number of timers with different parameters for each timer:
★ Set alarms or notifications with adjustable settings.
★ Run multiple timers simultaneously or sequentially.
★ Add extra time while a timer is running.
★ Drag to reorder timers even when they are running.
★ Set timers to repeat automatically for up to 1000 times or without a limit.
★ Control each timer and the stopwatch from notifications and lock screen.
World Clock: World Clock with up to 600 cities in the world to keep track of time in different corners of the globe. Drag to reorder the cities as it suits you.
Night Mode: Bedside clock with adjustable brightness to rest your eyes at night.
Important Notice: Some battery saving apps or system power managers can prevent alarms from working. Please make sure that it's not the case.
Here are some known examples:
1- EMUI: Add the app to protected apps.
2- Acer AID Kit: Remove the app from Energy Organization blacklist.
3- Avoid forcing the app close and exclude it while cleaning the RAM if it forces apps to close.
4- In some devices like Xiaomi system periodically kill apps. In this case you need to add the app to "Caution" list.
5- Sony: Make sure that STAMINA mode allows alarms to work. if not then disable it.
Main permissions :
- Phone call state permission "READ_PHONE_STATE" is needed to mute alarms during a call.
- Modify system settings permission is used by our Alarm Clock to save the next alarm to system so that it can be shown on any time widgets.
- Storage to read audio files on alarms, backup & restore.
I thank you and still waiting your feedback

To learn more about it take a look at this:
http://www.milleniumapps.com
Thanks again

More information can be found on our website. If you have any question, feedback or issue, please feel free to email us.
Website: http://www.milleniumapps.com
Email: support@milleniumapps.com
To give you an idea about how it looks like, here are some screenshots: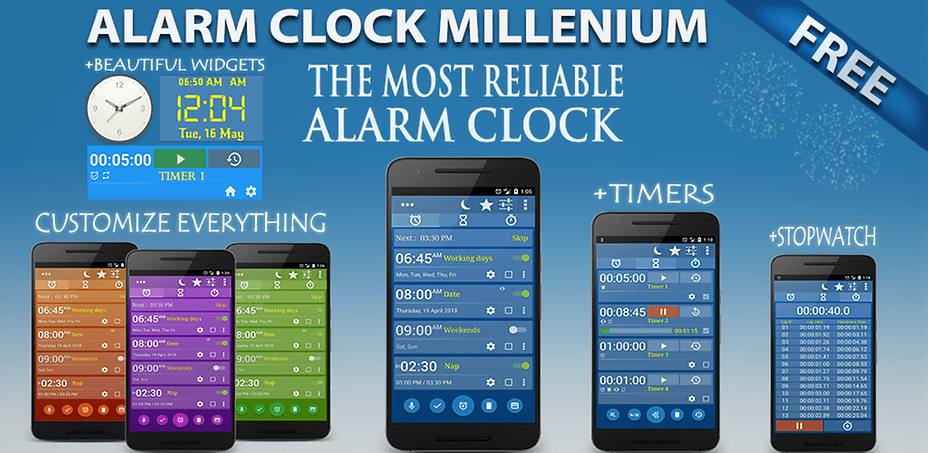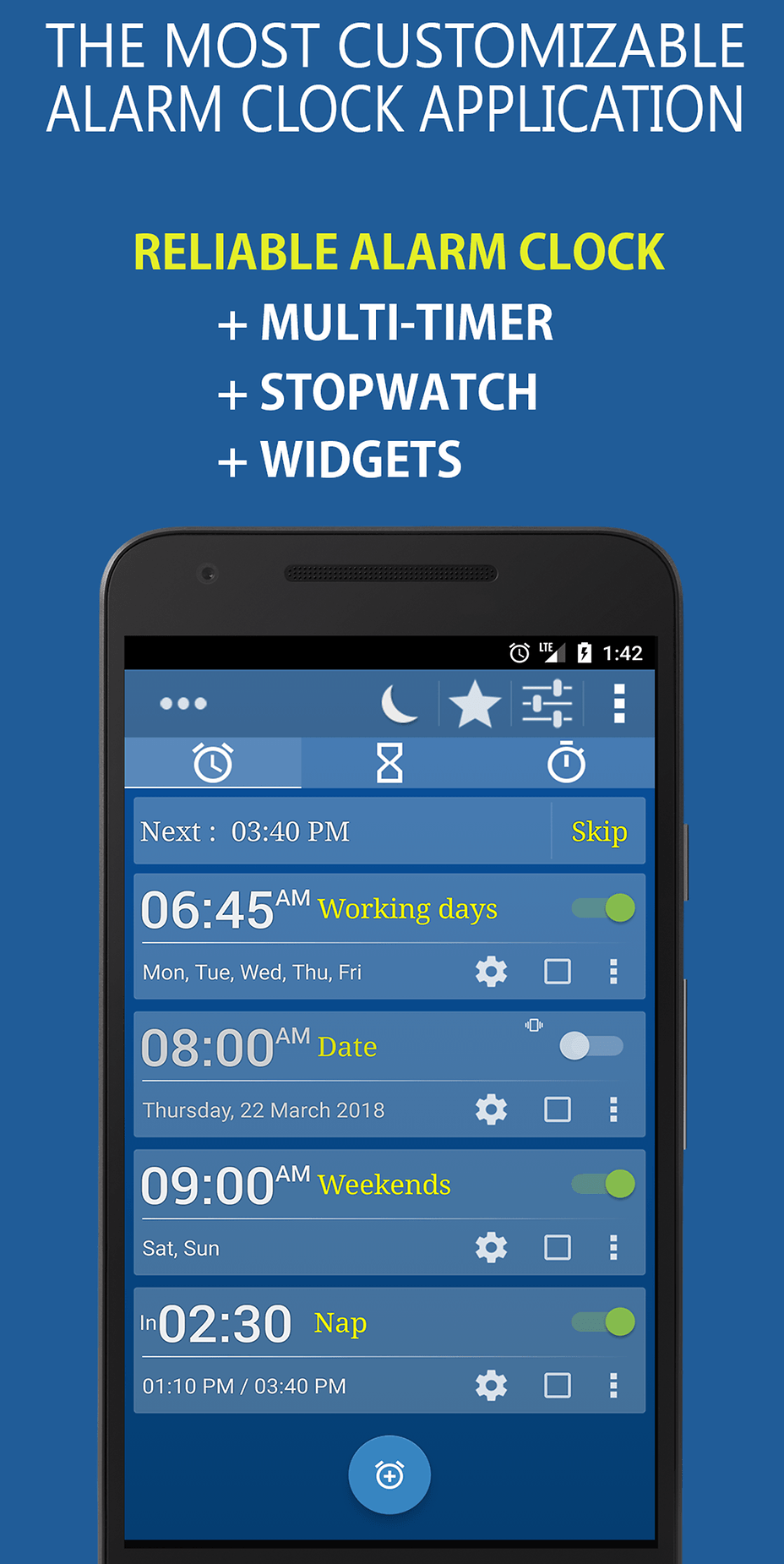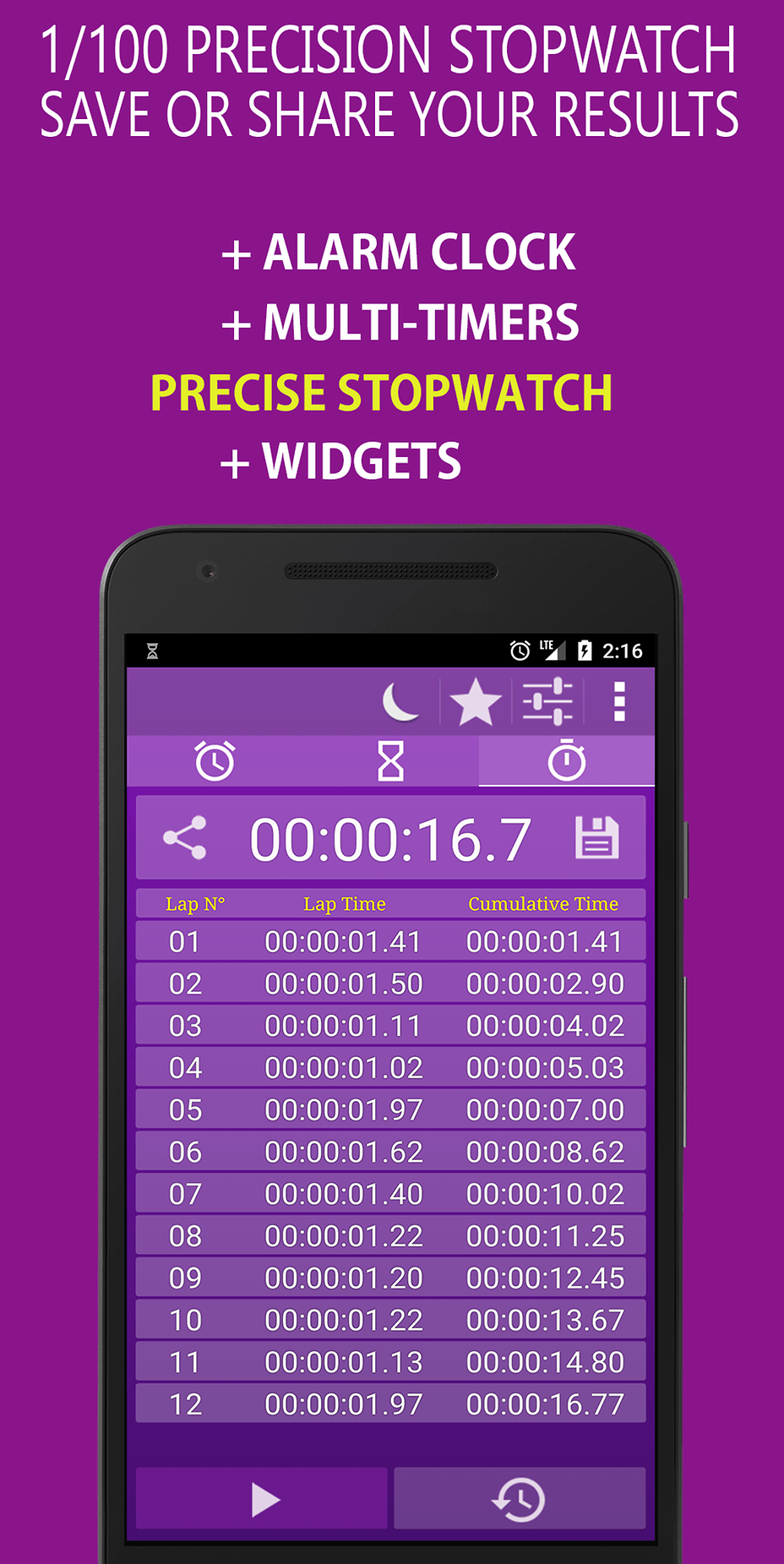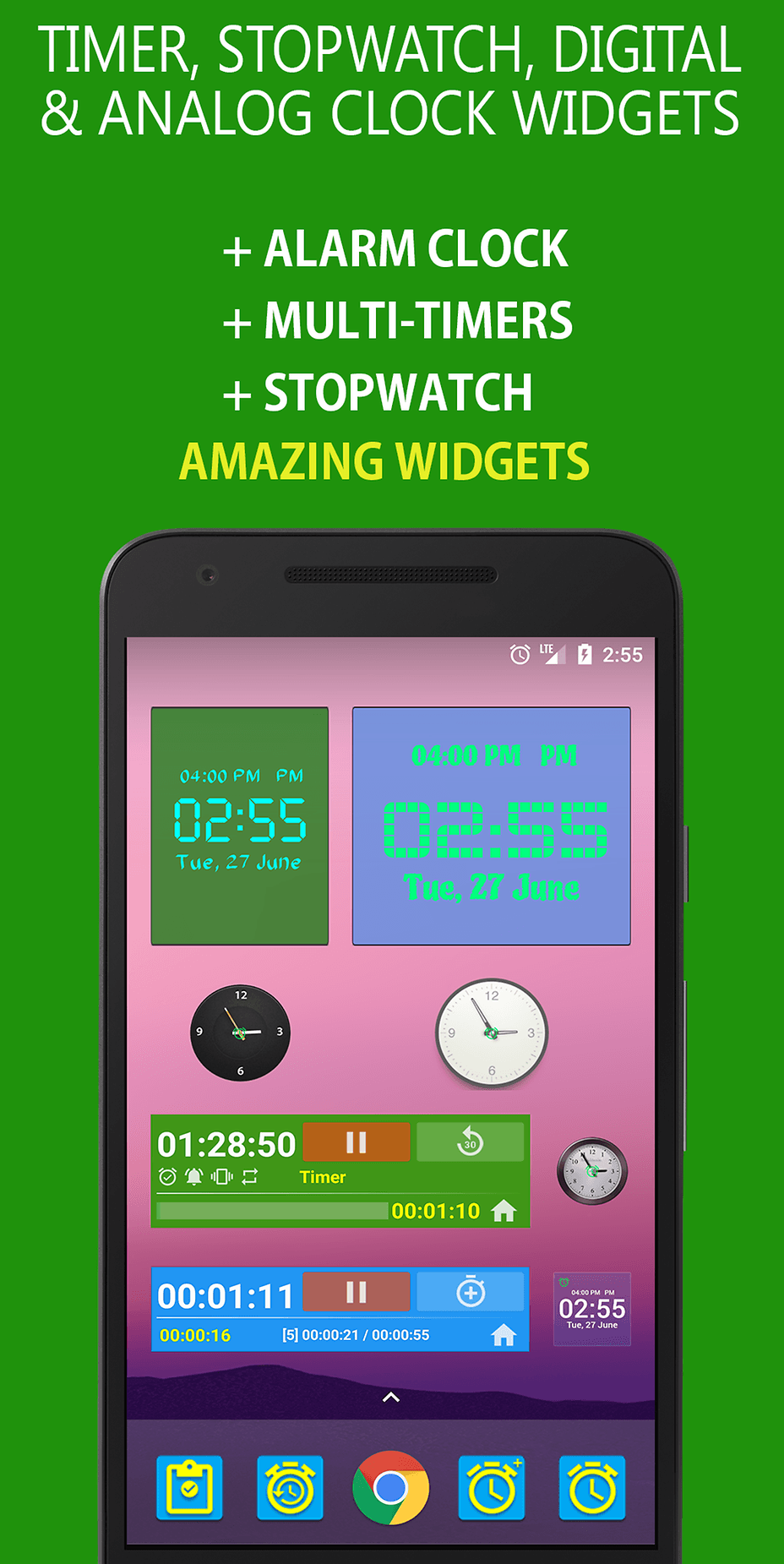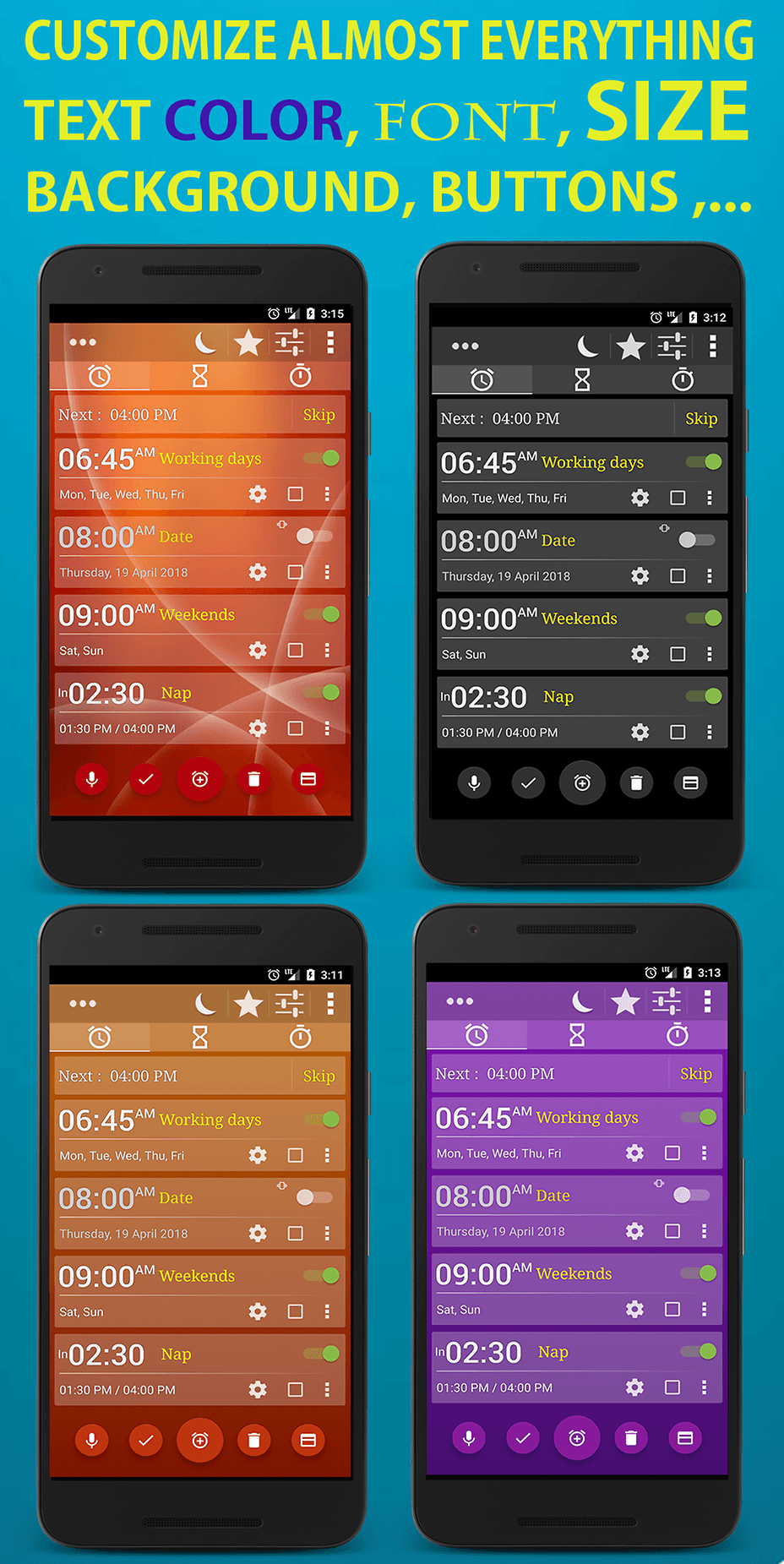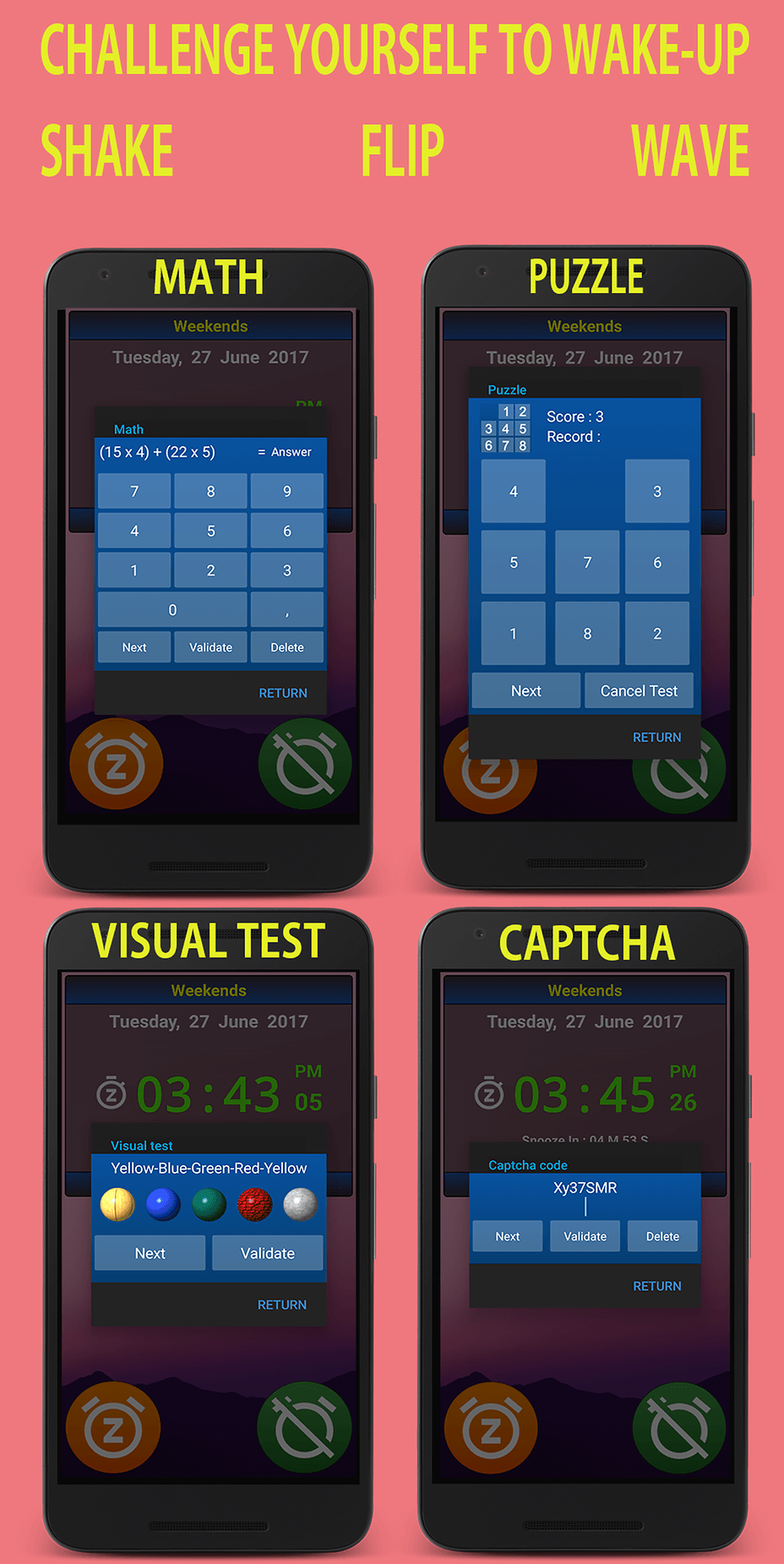 — modified on Mar 5, 2018, 2:44:59 AM