Jan 21, 2011, 9:44:18 AM via Website
Jan 21, 2011 9:44:18 AM via Website
Hi Folks,
great, that there is a board where you can present your own apps
I'd like to take this chance and present you my little project.
After presenting my app in the german forums, it's time for the english translation ;-)
I'm frequently selling stuff on eBay and every time before I do that, I search the completed items to find out what I will earn.
When I wanted to do this quickly on my phone I had to open the full web view of the eBay site, which is terribly slow and unusable on small devices.
So I always wanted to develop an app that does this for me with a simple user interface and only one click.
As soon as I got my Samsung Galaxy the development began
After weeks of work I finally got a working version of the
"eValuator"
or smoother
"What's it worth?".
The app does exactly what you are doing, when searching in the completed items.
- You log in (you have to be logged in, to view the completed items)
- You enter some search terms
- You select a category to refine the search, because the search terms are ambigeous
- You select an item condition matching the item you want to sell
- You take a look at the prices and try to estimate an average price
- You ignore items that are described as defective or demaged
There you go: You know what you will probably earn
In my app you have it all with just one click: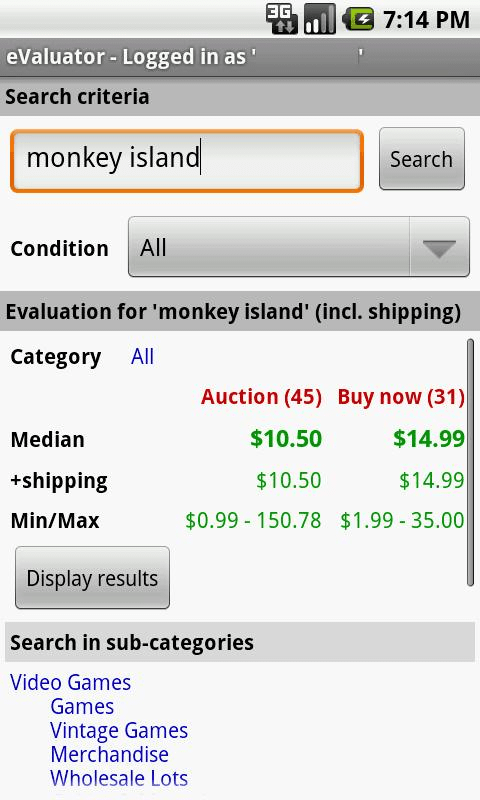 Here you already see the median (mean value), which is more accurate than the simple average value, since it is not as strongly affected by single very low or high values.
If you want to read more on this ->
Wikipedia (Median)
Below that you see the median including shipping, which is the real market value, or the value people are ready to pay for that item in total.
The last line shows the overall price range found.
Now you can restrict your search to a sub-category to get a more accurate result, or view the results in detail.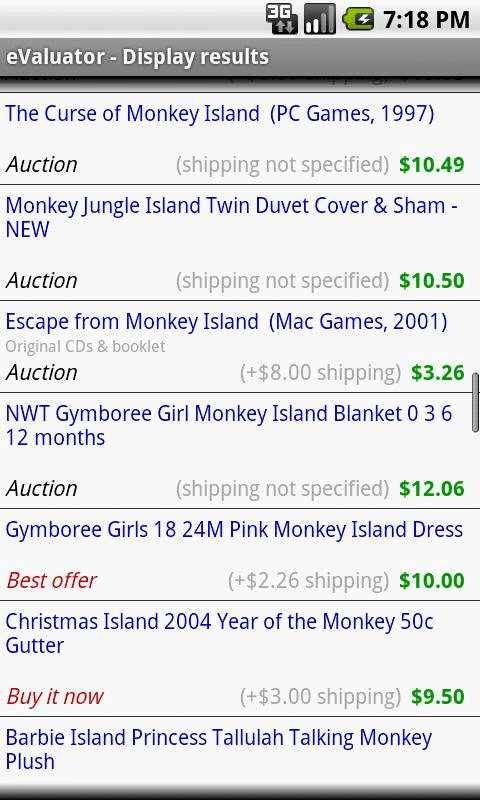 By clicking on one entry in this list you can open it in the android browser.
To handle the "ignore defective items" aspect, you can specify a permanent auto-filter, by entering the words you want to ignore in the settings.
All items containing these words in their title are from now on cropped from the search results and so no longer can affect the median value, making it more realistic.
Also you can specify how many items should be loaded with every search.
25, 50, 100 or 200
Doing so you can choose between faster loading and less traffic, or better and more accurate results based on a broader data set.
The app works for ebay.de ebay.com ebay.ch ebay.at and ebay.co.uk
ATTENTION:
Searching in completed items is only possible after logging in, so this app will need your eBay account.
I hereby promise, that this data is only used for the login and for nothing else.
It is not accessible to me or anyone else, it remains on your device and it is not sent anywhere.
Also it is stored in a secured memory area that is not accessible for other apps or via USB cable (see Android File API).
If anyone still is worried, I invite you to Dortmund (Germany) to go through the source-code with me ... free coffee included

The FREE version is available on the official market for free.
It is restricted to searches in Buy It Now items, but includes all features, so you can test everything before buying.
Here are the Links to both apps including the QR codes to the android market:
What's it worth?
What's it worth? FREE
I would appreciate constructive feedback of any kind!
The FREE Version is actively used by about 1000 users but only a few users left any feedback

And...of course...there are always some haters, just rating 1 star without any comment and not even giving a reason

Kind of frustrating to see your "baby" bashed just for fun as a developer

Funny to mention, that this is the case only for the free version...the full version got only 5 star ratings so far...leaves me with the conclusion, that there are people out there installing free apps just to destroy the ratings.
If you like it please leave a positive feedback on the android market! My further work depends on it!
THANK YOU!
Have fun using this app
Regards,
Rafael
— modified on Jan 21, 2011, 10:19:46 AM