Samsung Galaxy S4: Camera Software Featured In A Hands-On Test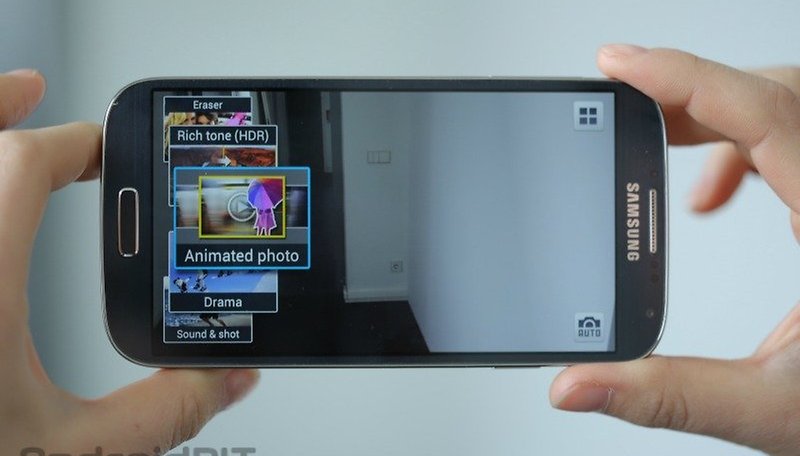 The Samsung Galaxy S4 is filled to the rafters with extra features, like we've already discussed in yesterday's article regarding its various ''Smart'' features (Air View, Smart Scroll, Smart Pause etc), which react by voice control, eye movement, head and smartphone motion. We also discussed whether they really work in day-to-day use. In this second part, we will be taking a closer look at the camera software. NEXTPITTV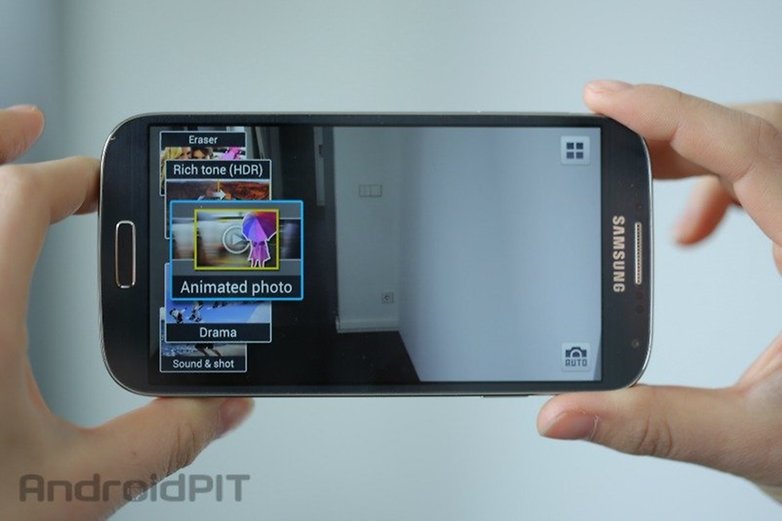 The Galaxy S4's camera has a resolution of 13 MP, nothing too fancy. What makes it interesting are the numerous capture modes and extra functions, with which Samsung has equipped its shining new beacon. Most of these are available within the viewfinder image. Here you'll find the ''Mode'' button under the trigger button, which will open a menu encompassing 12 capture modes. This includes ''Auto'', ''Sound&Shot'' and ''Night mode'', just to name a few. I tested out all of these modes and the results were in fact quite surprising.
Auto
The automatic mode will independantly establish all of the settings and actually worked quite well during my test. This mode is perfect for normal use and provided excellent results for pictures in landscape mode all the way to macro photos.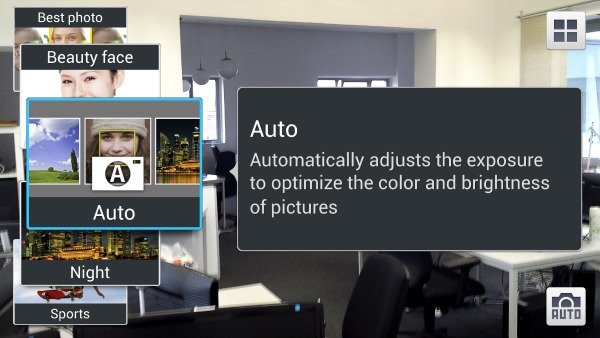 Beauty Shot
This mode is quite useful, especially if you want to acheive amazing results without having to put makeup on. It gives you a ironed-out, soft picture, mark and blemish free. Go from being a real-looking person to a person on the cover of a magazine. The software never failed and always did the trick of making you look more ''beautiful''.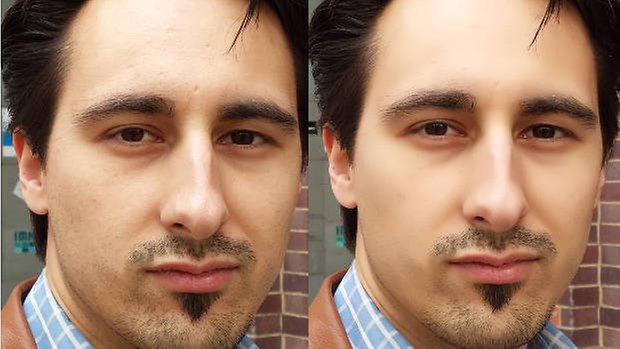 Best photo
This mode will quickly shoot a whole row of pictures and sounds like you're being blizzed by a whole gang of paparazzi. This works especially well when you want to capture a more ''natural'' pose and then lets you select which photos you like the best. In fact, the camera will take 8 pictures in only 2 seconds, save them and then let you choose your favorites.
Best Face
This is very similar to Best Photo. What it does is take 5 pictures in about 3 seconds and the software will recognize all of the individual faces in the picture. Afterwards, you'll be able to select the desired face for each of the people from these 5 pictures. This is perfect for group pictures: there is always one person whose eyes are closed and this feature will therefore make the impossible possible (everyone will actually looks decent!).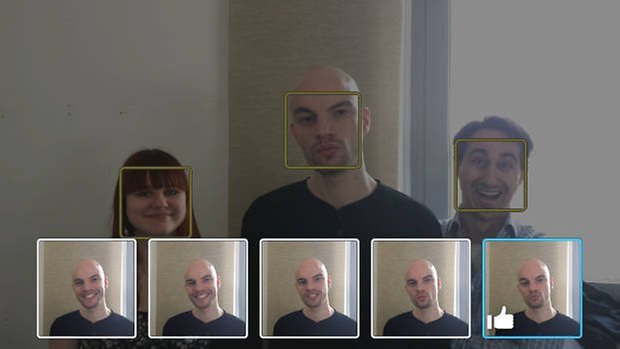 Sound&Shot
These functions remind me of HTC's Zoe, which enriches your holiday, party and concert pictures with background sounds. First off, the picture will be taken and during the few moments that follow it will take 9 seconds of background noise. The playback of this sound is only possible on your smartphone. When saving the picture, it will stored as JPG in your gallery without the sound information.
Drama
I found this to be a really cool mode, though it takes some practice before you can actually achieve decent results. I found myself hoping back and forth while the photographer tried to capture my jump trajectory. What it does is quickly take many pictures one after the other, which creates an action shot. That being said, the result was a little unclear and overlapped.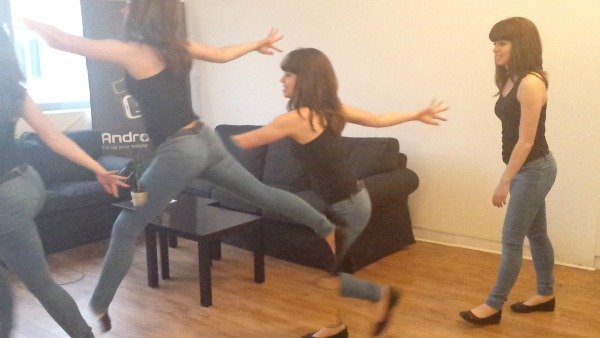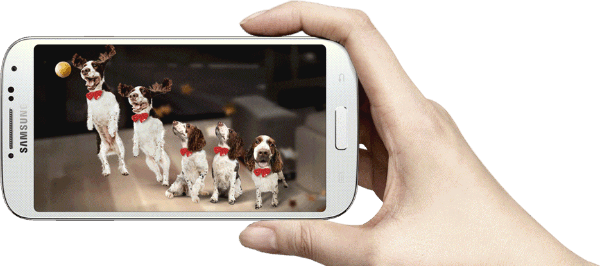 Sport
This mode, similar to drama, has the aim of capturing fast movements. This didn't work too well and was very blurry. I think it would need more playing around with before you actually get the hang of how to use it.
Animated Photos
This mode, like the name explains, is a mix of a still picture and a gif (moving picture). One part of the picture will be moving, while the other stay immobile. With my finger I was able to choose the area that would be animated or frozen. In my picture, I took my collegue in front of a moving tram, freezing my buddy and animating the tram. After a few processing seconds, it will in fact be saved as a GIF file, where the tram moves back and forth. The movements were a little choppy and I think that an endless loop would have been better for a smoother looking GIF, which usually is a feature for this type of file.
HDR
Top-end smartphones of today all have HDR mode, which means High Dynamic Range. This will give a picture a higher contrast range and is particularly useful for extra bright or darker image regions. With the S4, this mode smooths out the colors by making darker areas lighter and vice-versa. The results, as you can see below, weren't too bad, though the lighter regions became a little too dark.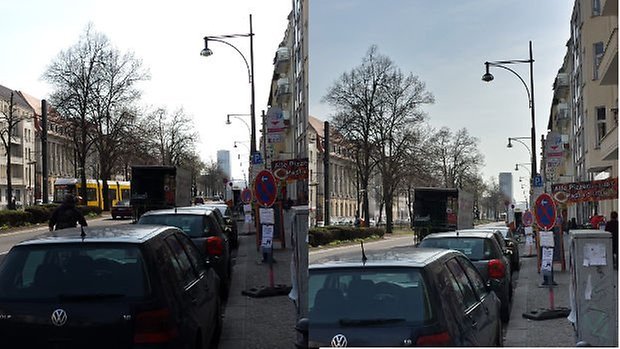 Eraser
This mode is particularly practical if you want to photograph your loved-ones in front a beautiful waterfall and some sunburnt tourist with a Hawaian shirt walks right in front. Now the software will recognize the moving pixels and mark them in the display. Just like the Drama mode, you're able to erase the moving areas with your finger. The results were in fact quite inpressive, though the software isn't 100% error-free and sometimes doesn't recognize moving objects.
Panorma
This feature was already a cool option within the Galaxy S3's many modes and has now become a standard among smartphone cameras. Simply press on the trigger button and turn either left or right. The camera will then capture a 360° panorama. This works quite well, but you should make sure that there are no moving objects in your trajectory, since these will be cut out or will appear more than once.

Night Mode
Most smartphone cameras flop when in gets dark out. What night mode does is iron-out the picture and gets rid of image noise, which usually appears when there is minimal light and darker areas. I couldn't test this out at night, but tried it out in the terrible lighting of the elevator, where the quality was indeed noticebly improved.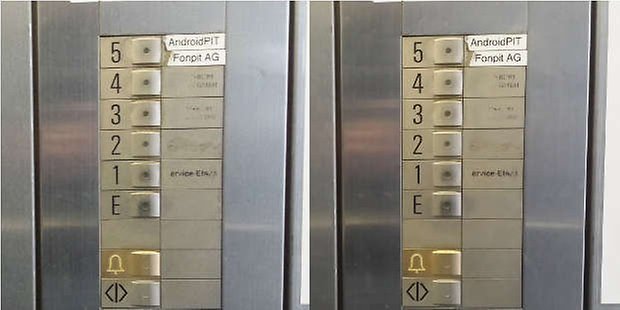 On top of the twelve effects, there are also some cool setting options that don't jump out at you, which requiring a little bit of digging. On the bottom part of the screen, you'll find various color and photo filters, like sepia and fisheye. I think it's worth mentioning the camera's macro quality. Without having to first switch to macro mode, taking a picture at about 3.9 inches away from the object came out extremely sharp and rich in detail.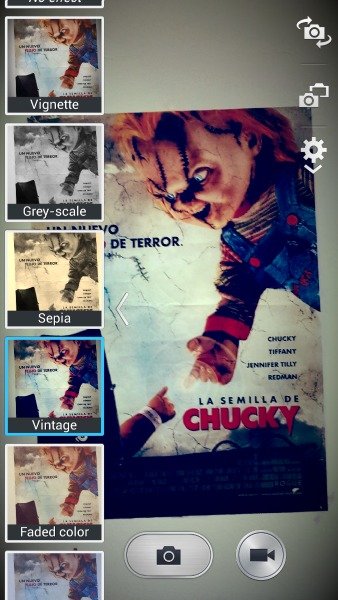 By clicking on the symbol in the top left corner, you can set up the ''Dual Camera''. This feature will turn on both the back and front camera, so that the photographer is also in the shot. This might be useful in situations where the picture-taker is always left out of a group picture. Well no more thanks to this feature!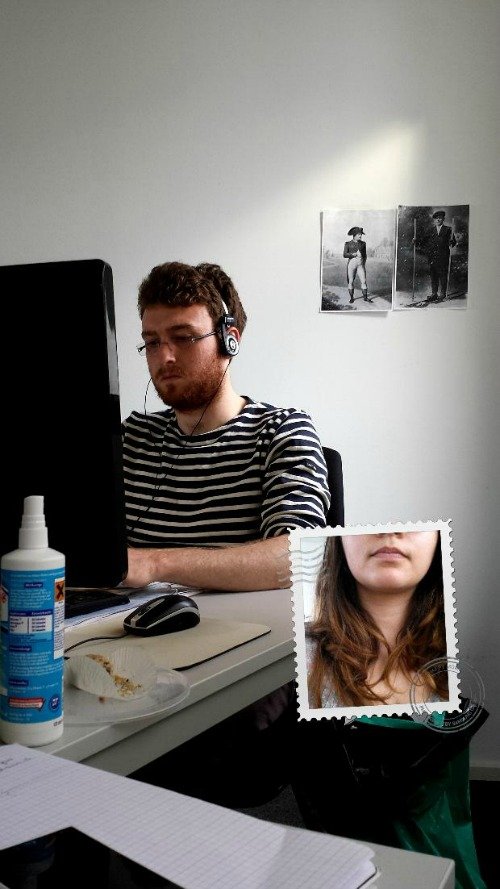 Another cool feature for group photos or to squeeze a smile out of the targeted person is voice command. In order to set this up, you'll have to go under ''My Device'' and activate ''Voice control'' and then check the camera box. Unfortunatly, you only have the following commands: ''smile'', ''please smile'', ''click'' and ''snap''. Honestly though, I'm surprised ''say cheese'' wasn't included in this list. It would also be neat to choose your own words.
Last but not least, there's the fast start function. This isn't something that pertains only to Samsung, pretty much all manufacturers offer it. Fast start can be activated from the lockscreen and you can set this up by going under ''My Device'', then ''lockscreen''. Here you'll check off the ''more widgets'', as well as slide ''favorite apps or camera'' to green (switch on) under ''lockscreen widgets''. Tapping on the switch will open up another menu, where you need to select ''camera''. Don't forget to ''save'' and your camera will appear in the lockscreen when you swipe from left to right in the top third of the display.
Bottom Line
I was actually quite surprised and impressed with the Galaxy S4's numerous camera options. The image quality ranges from good to very good, as is the case for most smartphone cameras. That being said, there are a few different features that are just fun to play around with, but wouldn't find their way into everday life. The dual-camera, for example, is more of a fun extra than a must-have. ''Sport'' and ''Drama'' also impressed me, though the ''Beauty Photo'' looked a tad too ironed-out. That being said, the camera in automatic mode worked so well that I might just stick to this one and play around with the filters and colors. Even if you favor the automatic photos, you're still using one of the best cameras in the smartphone world.