Nov 14, 2020, 9:41:16 AM via Website
Nov 14, 2020 9:41:16 AM via Website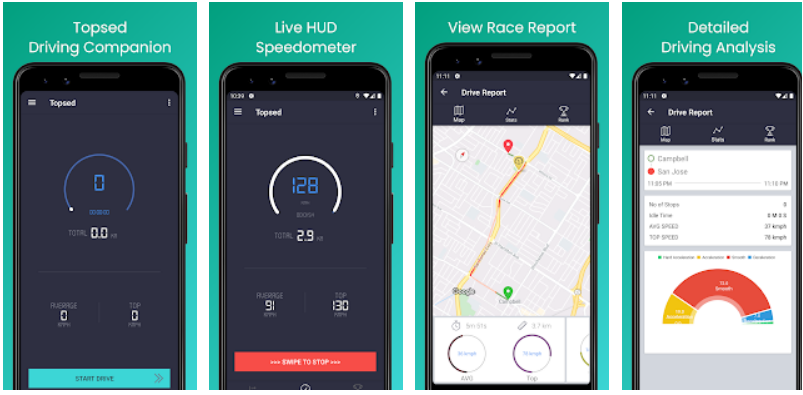 Topsed is the best driving companion app for all your needs. The perfect app for drivers to see their driving information, driving analytics & track speed in real-time.
Topsed - Speed Tracker app comes with GPS Odometer and Digital HUD speed Meter to track vehicle speed & see detailed analytics of your drive. You can see detailed information about your trip which is Current Speed, Maximum Speed, Average Speed, Trip Distance etc.
The DigiHud speedometer App is also known as a digital HUD speedometer. This GPS Speedometer app will give you safety because using this app you can get control of your speed. The Speed tracker app is all in one app and can use it for different purposes like a speedometer for a bike, speedometer for car, speedometer for bicycle, speedometer for a train, speedometer for running, or even train speed checker.
Features of Topsed - Digital Speedometer & Driving Companion
Best Driving Companion App for Detailed Drive Analysis
Calculate Vehicle Speed live while traveling with the speed calculator app
Live Digital Heads Up Display (digiHUD) for bikes & cars
Measure car Speed & Bike speed in real-time while driving
Keep a record of your driving, location, speed, and more!
Check detailed trip information like average speed, max speed, time is taken & more!
Online Leaderboard to compete with other drivers in real-time
Race Timer to track speed of bike & car with a timer to see low long you drive
Offline Odometer & Speed Tracker App that works even without WIFI or Internet connection
The best driving companion app with detailed driving analysis, speed tracker, and trip meter
100% Free Distance Tracker & Speed Measure App for Bikes & Cars
Topsed is a Speedometer for bike and motorcycles but you can also use it as a speedometer for cars. Track your daily trips, long drives and bike rides with GPS tripmeter with an inbuilt trip odometer. Head up display HUD speedometer offline app is very simple and easy to use. This is the most accurate speedometer app that will help you to keep track of the road when you traveled while driving. This GPS speed meter app will help you to switch between scales of measurement and it will also track your trip by GPS speed tracking. Through GPS bike speedometer digital app you can track velocity while cycling or driving. You can easily track the speed of your vehicle with the Mileage tracker speedometer app.
DigiHUD Speedometer is a free GPS based digital head up display (HUD) that shows useful speed and distance information for your journey. Ideal if your vehicle speedometer has stopped working, or you want to verify your vehicle speed or bike speed in real-time with GPS Speed Measure & Distance Tracker.
Download Topsed - Digital Speed Meter & Odometer. The best driving companion app for car drivers & bike riders.
Liked Topsed - Driving Companion & Drive Analysis? Rate us & leave a review to let us know.
If you have any queries, issues, suggestions, or feedback feel free to drop us a message and we would get back to you as soon as possible.
Download Topsed on Google Play