Jun 8, 2020, 8:59:34 AM via Website
Jun 8, 2020 8:59:34 AM via Website
Spell Crush 2020 Match3 is the new best Free Puzzle Game for all age group peoples who like match 3 games. Swipe the magical spells of the same shape in rows and columns and of 3 or more spells and get super effects. You can also earn achievements and rewards.
Install the best new 2020 free puzzle match 3 type game in your devices and start the adventure today. There are many levels with beautiful graphics. Use your skills at solving puzzle games to help you to beat levels and explore new graphics in the Spell crush Match 3 game. Explore and after download join the people who play this game. Spell Crush Match 3 is the best and updated game with a unique graphics style from all candies type games and sounds that you enjoy your experience. Kids also learn about Spells and shapes, educational for the user.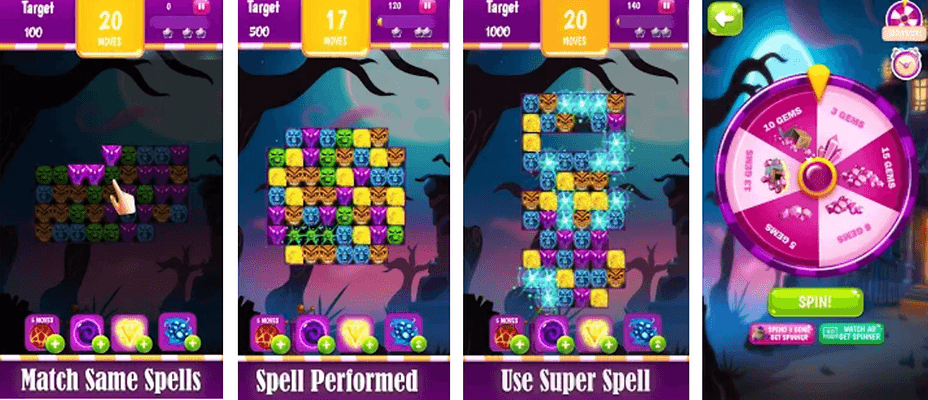 Spell Crush Match 3
Test your match 3 puzzle skills through hundreds of different easy and difficult levels. Swipe and match Magical Spells the same color and crush them in puzzles Using amazing booster and powerful combos to blast through gems.
Spell Crush Match 3 Gameplay
. Play and enjoy thousands of colorful and puzzle levels in this fun addictive game
Move and match 3 Magical Spells of the same type to burst and win points 4 and more crushes generate powerful booster.
. Try to get 3 stars in every game and after match 5 consecutive Spells you will get Bomb of Spells
. Try to match more than 3 Magical Spells and then you will get exciting rewarded Booster and Bomb
. You can get hints
Game Features
Attractive and High-quality Jewels, Easy and Fun game, HD gaming graphics and different sounds, No need network, you can still continue playing in no Wi-Fi
A lot of different levels, Progress synchronization among devices and platforms, Simple to start but difficult to clear the levels, Easy and fun to play but yet challenging for master
Are you ready to join Spell Crush? Try this matching Magical spells game in 2020. Try to pass as many levels as you can.
Just download it and have fun playing Spell Crush!
Download Spell Crush Match 3 Game on Google Play