Aug 7, 2019, 12:14:42 PM via Website
Aug 7, 2019 12:14:42 PM via Website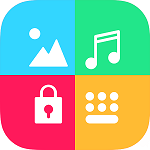 Hi, guys!

Our team is constantly working on creating new and various content for our app, so that you may have a wide range of choices all in one place.
Personalization App for Android™ is now richer for a new category of music wallpapers.
It is said that music is an outburst of our feelings, so let your phone open your soul. Win your girl`s heart with a romantic guitar wallpaper! Or make her feel she is at the concert of her favorite band!  
Find MUISC WALLPAPERS here: https://play.google.com/store/apps/details?id=com.personalization.app
guitar pictures
saxophone wallpapers
violin photos 
piano wallpapers and backgrounds
concert pictures
musician photos