Nov 13, 2018, 6:02:17 PM via Website
Nov 13, 2018 6:02:17 PM via Website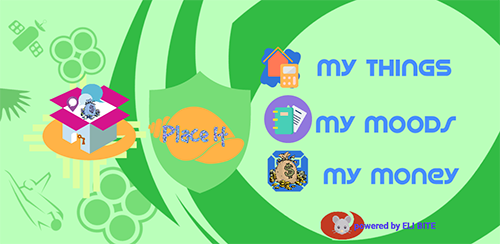 Those who forgot where they kept their important things like certificates, key , this is the right app for them.
Features :
Things - Place Storer
Store where you have kept your things
Search and Filter things and places where you have kept.
Customize Icon colors with your interest.
Moods Tracker
Track your moods and analyze for betterment of your life .
Customize emotions on the go .
Charts and graphs are going to be added soon .
Money Manager
Manage your day to day spendings .
Track daily, weekly, monthly and life time spends and receives of money and plan your budget .
Use charts and analytics feature for better comparison of how you spent or received money .
Notification Shortcut
To use app easily, we have introduced shortcut feature which may be enabled or disabled.
Password Protection
Avoid misusing your app by protecting it with password ..
Backup and Restore facility
Backup and restore data to google drive whenever you need.
Data Protection
We don't get any user data or track your data, the data are stored in your phone and in your google drive account if you choose it.
Download From
play.google.com/store/apps/details?id=com.elibite.placeit
I will be grateful for feedback, suggestions and details how this app works on your devices – this will help us add support for new devices.
— modified on Nov 15, 2018, 2:13:36 AM