Sep 30, 2016, 2:36:12 PM via Website
Sep 30, 2016 2:36:12 PM via Website
LeEco, the global Internet company that is disrupting the Indian smartphone market, launched its new line of smartphones – the Le 2 and Le Max2 a few months ago to an overwhelming response. More recently, the company announced a special offer for Diwali where its flagship, the Le Max2 is available at Rs. 17,999 on LeMall, Flipkart, Amazon and Snapdeal – no strings attached!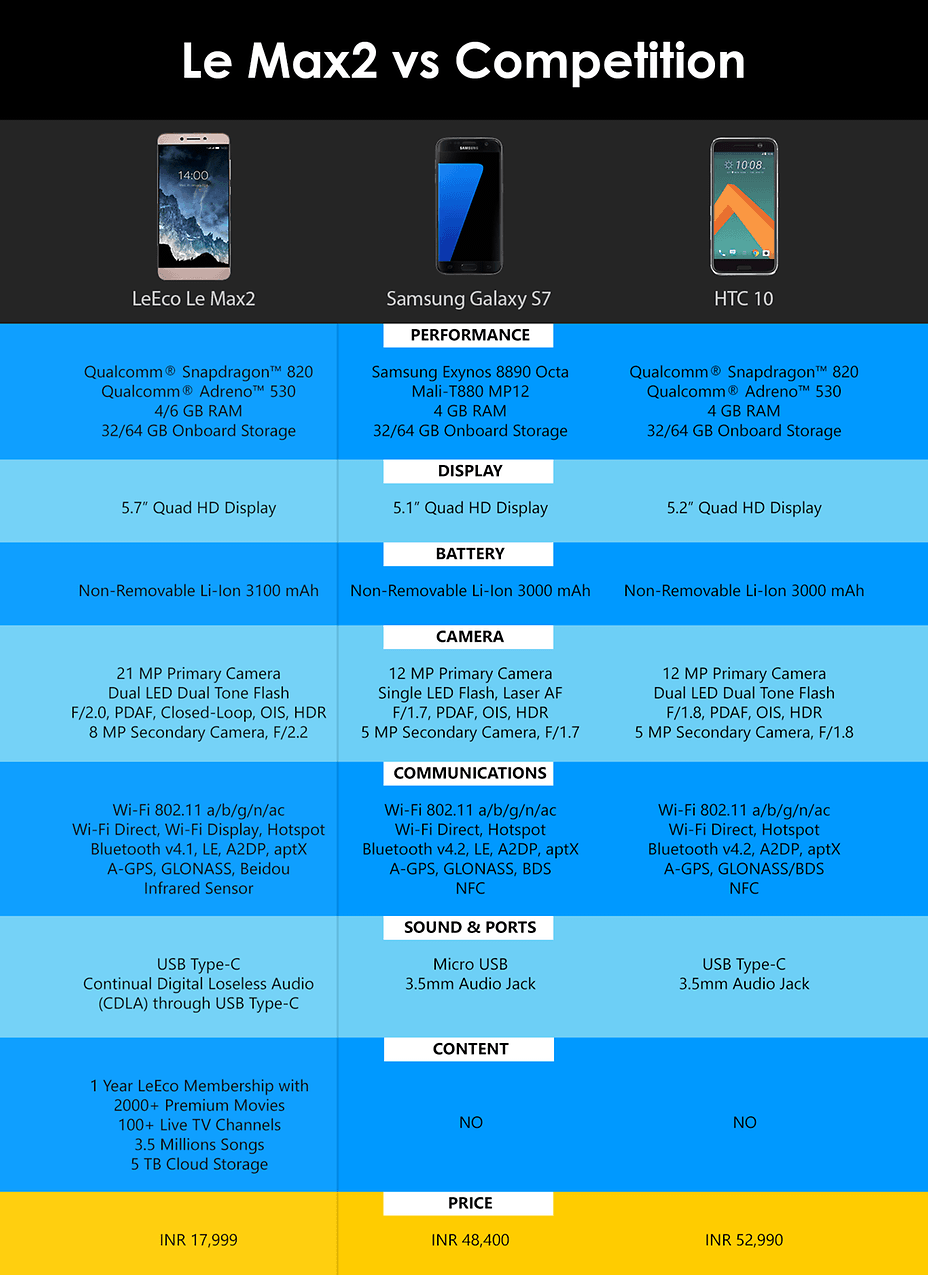 If you haven't heard of LeEco's great "value for money" superphones, let us show you how it compares to the latest flagships from well-known brands! We are pitting the Le Max2 against Samsung's Galaxy S7 and HTC's uniquely named 10.
PERFORMANCE
To start off, all three smartphones boast top-end specifications in almost every department – 4GB RAM, 32/64GB Internal Memory, at least a 3000 mAh Battery, support for the latest Wi-Fi standards and almost all network frequencies! So, all of them are snappy performers. The Galaxy S7 uses Samsung's own Exynos line of processors and they are comparable to the Qualcomm Snapdragon 820 processors on the HTC 10 and Le Max2. It's a tie here because all three flagships run smoothly no matter what you throw at them.
DISPLAY
The Galaxy S7 has a vivid 5.1-inch SAMOLED display with Quad HD resolution that makes colors pop. The HTC 10 uses a 5.2-inch SLCD display with Quad HD resolution that is known for its true-to-life colors. The Le Max2 goes big with a 5.7-inch IPS display with Quad HD resolution! Place these smartphones next to each other and the difference is obvious! While the Galaxy S7 and HTC 10 have great displays, the Le Max2 is no slouch either, and it takes the prize in this category because "bigger is better" when it comes to displays!
DESIGN & BUILD
Samsung continues its metal and glass design with the Galaxy S7, rounding out a few edges and the phone feels like a premium fingerprint magnet. HTC goes with its now-famous all-metal build on the 10, adding a huge bevel on the edges that makes the phone stand out in a crowd. LeEco iterates on their successful full-metal design that is a head turner in Rose Gold because of its symmetry! Tie here.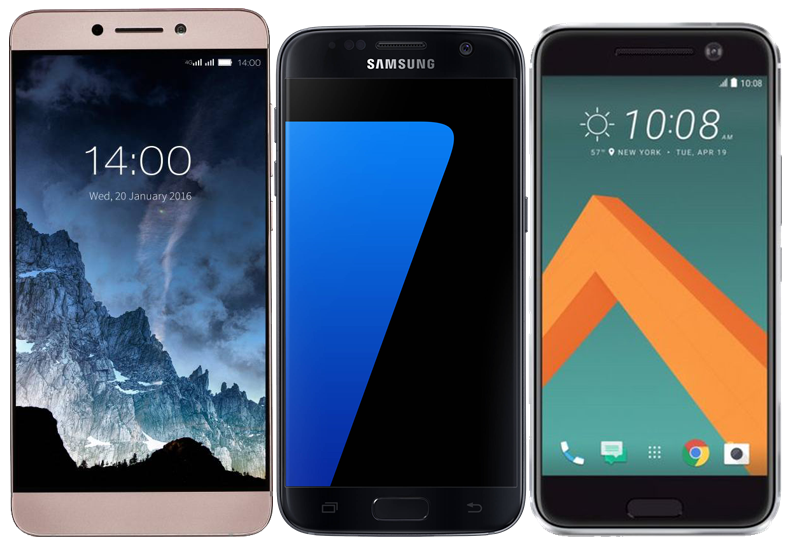 CAMERA
In this department, while the Le Max2 has a higher Megapixel count, that's not the end of the story. As serious photographers will tell you, Megapixels matter, but so do other things like Aperture and Processing. The Galaxy S7 and HTC 10 have lower resolution cameras with smaller Aperture that results in great low light photos. The Le Max2's camera is not bad, it captures amazing photos in good lighting conditions. However, it is an average performer when it comes to low light photography. If LeEco goes with a better Aperture size in the future, we'll be completely sold! The Galaxy S7 takes the edge here with a better aperture size and crispy processing.
BATTERY
All three phones come with non-removable batteries, though the Le Max2 fits in an an extra 100 mAh battery capacity that might help with those last-minute "my phone is dying" phone calls we all make.
SOUND
Both the Galaxy S7 and HTC 10 have the usual 3.5 mm analog audio port but LeEco is trying something new with its Continual Digital Lossless Audio (CDLA) standard delivered through the USB Type-C port! Listening to music on the Le Max2 with the CDLA earphones showed us how much we missed out earlier. The same tracks sound richer, with perfect bass and treble. Forget all the hoopla about custom DACs on smartphones, if the industry follows this standard, we'll not need to worry about audio quality at all – for the vast majority of us.
CONTENT
The future is here and content is king! This revolution in India was started by LeEco in February this year and we can already see major players scrambling to bundle some kind of content with their smartphones. Xiaomi gave away a few months of Hungama Music along with their smartphones, and now OnePlus gives users a 1-year subscription to Saavn Pro for all their music listening needs. The older players, Samsung and HTC haven't bought into this model yet, so LeEco walks away with the honors in this section. The 1-year LeEco Membership that comes bundled with the Le Max2 offers 2000+ premium movies, 100+ Live TV channels, 3.5 Million songs and 5 TB cloud storage! This is a game changer for the smartphone industry in India.
PRICE
The Galaxy S7's lowest variant costs Rs. 48,400 while the HTC 10 is unreasonably expensive at Rs. 52,990. The Le Max2 was favorably priced at Rs. 22,999 until last week and is now a steal at Rs. 17,999!
VERDICT
We hope this comparison shows you why we consider the Le Max2 a winner. It is in the same league as the flagships from Samsung and HTC while costing about a third of what you'd usually pay. While some users might be enamored by the ads about water resistance on the Galaxy S7, we don't think an average buyer wants to pay 30,000 rupees for that feature.
The Le Max2 offers reasonable storage, good performance, great audio quality and, most importantly, the biggest catalog of content! There are so many ways that the LeEco Membership adds value to the end-user that it boggles the mind – you can't consume all that content even if you try!
LeEco is redefining the phrase "value for money" because you'll not have to worry about any additional costs when you want to listen to music, watch movies, catch the latest news from your favorite TV channel or even when you want to store your data in the cloud!