Mar 24, 2016, 6:43:56 PM via Website
Mar 24, 2016 6:43:56 PM via Website
Finally it's here! After hundreds of user requests, countless hours, and a dozen betas, Land Air Sea Warfare is available on Android!!! Can you tell I'm a little excited? Well if you aren't familiar with my game, it's a real time strategy game featuring over 100 types of units and dozens of user settings to tweak and customize your skirmish. The game is free so download it now.
Awhile ago Land Air Sea Warfare for iOS was chosen by Apple as GAME OF THE WEEK, which I was absolutely blown away by, and still am, what an honor. I truly thank you for your support over the years. I couldn't do this without you, and as always if you have any questions I'm only an email away. Thank you, James
"LASW gets it just right, offering a full console-like RTS experience with brilliantly executed, easy to use touch screen controls." Touch Arcade
Download for Android, iOS, Mac, Windows
Look it up on the Google Play Store by searching for RTS, it is one of the first few apps, you will recognize the icon.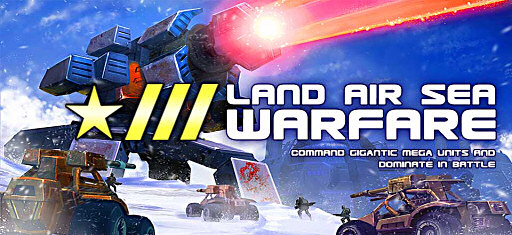 FEATURES
Build over 100 types of units and technologies
Customize random maps for unlimited game play
Construct and control gigantic mega units
Command armies with hundreds of vehicles, ships, and aircraft
Scorch the destructible environment
Research dozens of technologies to boost units
"LASW has everything, from stealth bombers and submarines to hovercraft and mega-tanks." Touch My Apps