Oct 13, 2015, 11:23:11 AM via Website
Oct 13, 2015 11:23:11 AM via Website
Get it from Google : https://play.google.com/store/apps/details?id=com.ivykids.racing
*Turbo Racing Kids Run* is a 3D racing and run game for kids! Itis now live in Google Store now Turbo Racing Kids Run! This is a real kids game with various cute candy vehicles, racing cars and very sweet racing scenario, you will completely enjoy this cute racing game ! Let's see some features of the game first.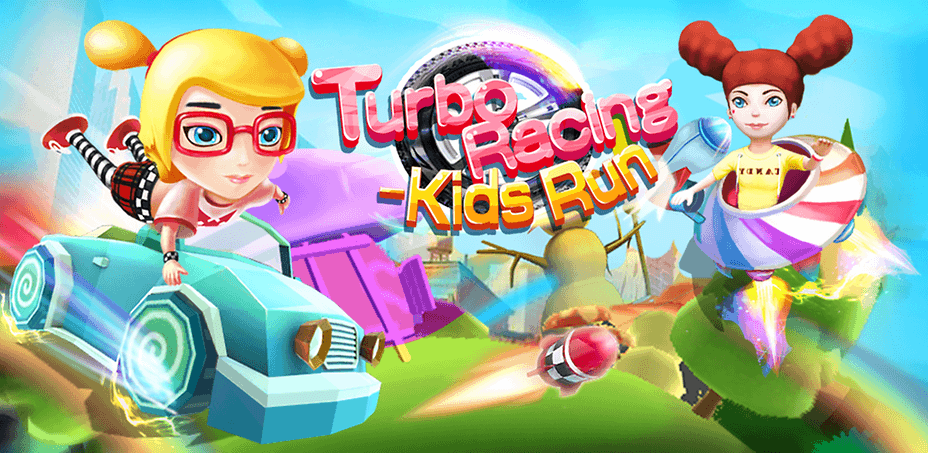 No.1 Racing & Run
First, it is a race game! You can choose different cars to improve your power, say a unique Hovercraft or UFO ship will be invincible to all road barriers.
Then, it is a Run game because you use swipe up/down/left/right to control your car, like an endless run game. Remember to pick up the boosters on the race road, it will help you to pass levels and win the race.
Many colorful boosters, Gold, stars, and funny monsters, candies, cars , and rivals you will meet while racing! Beat your rivals and win the game is your goal!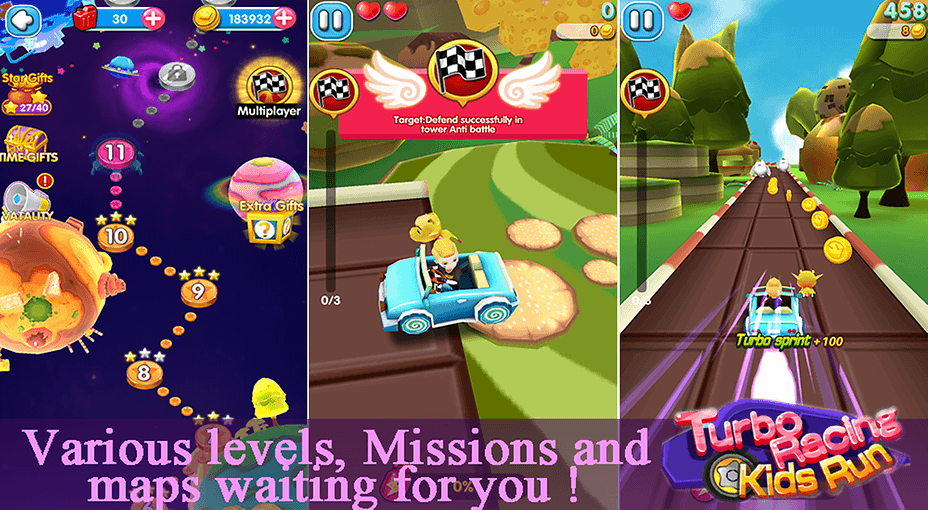 No.2 Roles and Pets
There are 6 characteristics for you to choose in the game, they each have a different character, you may love Lily, or Lucy, or Jason, your choice.
Yes, the pets are special in this game! Pets have unique skills, it will help you pass levels and win the game! They are really helpful in the arena and week tournament! Try to get a pet to race with you !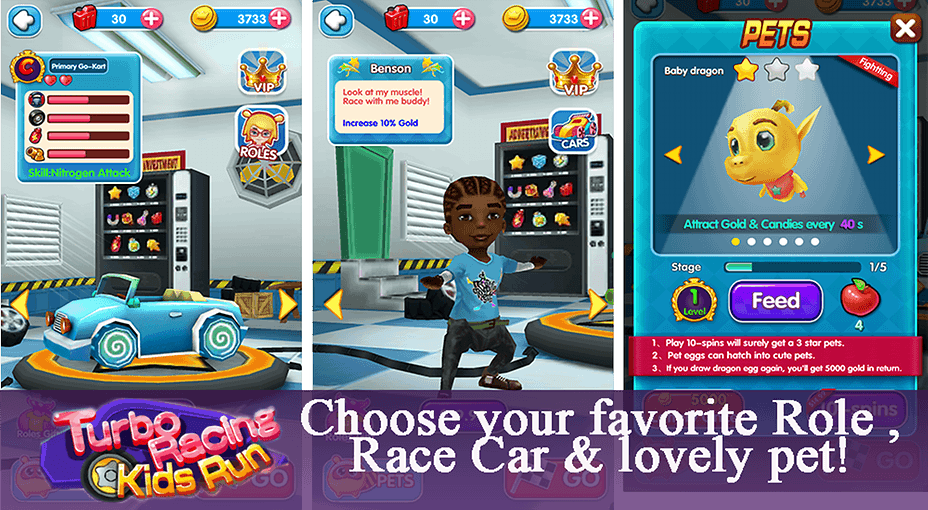 No.3 Arena and tournament
This is really exciting! How can there be a game without competition? Yes, take part in the tournament and win the awards! Race with friends and show them your great race skills! Don't forget to submit your scores and see your rank on the leaderboard!
No.4 Race with rivals and complete missions
Before each game, you will see your level missions! To complete the missions with three stars. The more stars you get , the more rewards you will get. Some levels are competing levels, you need to take over your rivals in limited minutes to win the game. Sounds difficult right? Yes, it is very important to upgrade your cars, and improve pet skills.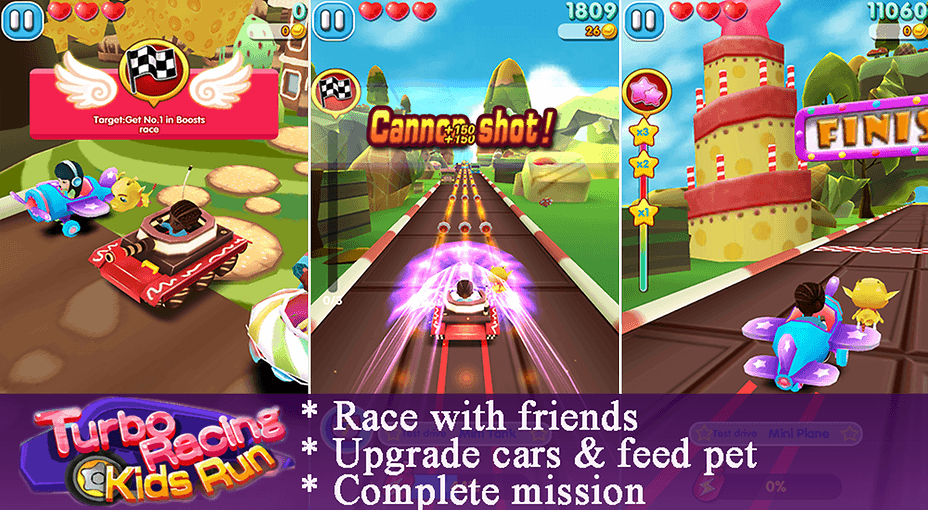 No.5 Tower defense battle against alien invasion
This is an interesting part of Turbo racing Kids Run. You can see the map is in the outer space, so it is common to see so many Alien creatures. In the tower defense war, just swipe the shooting weapon left/right to wipe the aliens out!
You will meet the giant outer space BOSS. It will throw monsters candies towards you, don't be afraid, take your weapon and destroy him!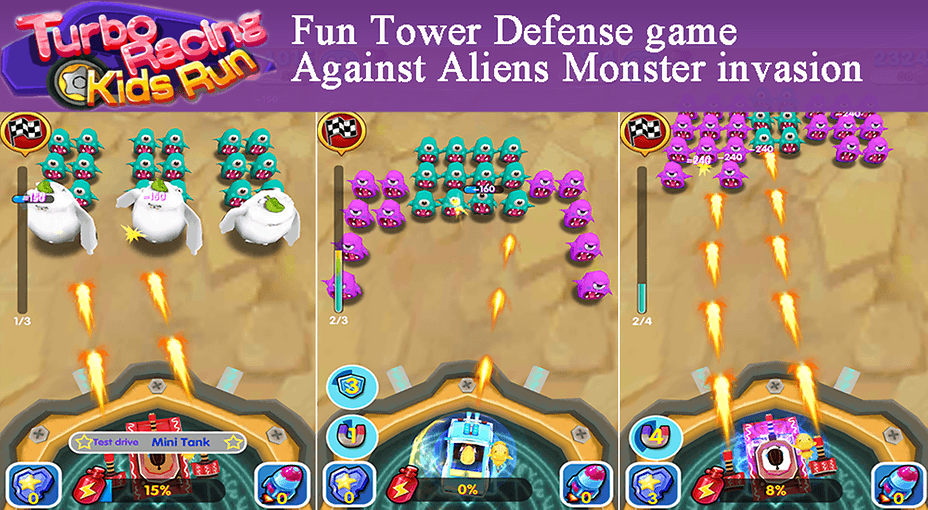 So much for the game pre-publish review. This is really a game for kids, race and run, pets and bosses, so much fun. Follow us and play this game with kids!
— modified on Oct 21, 2015, 8:58:34 AM