Sep 2, 2015, 9:01:03 AM via Website
Sep 2, 2015 9:01:03 AM via Website
Download TUFFS Notification shortcuts from playstore- Its FREE
There are various ways to quickly access your apps on Android, but the notification shade is always just a swipe away. TUFFS Notification Shortcuts is a new app that lets you add custom shortcuts to the notification area, but unlike similar apps, it doesn't need a background service and won't take up space in the status bar or on the lock screen.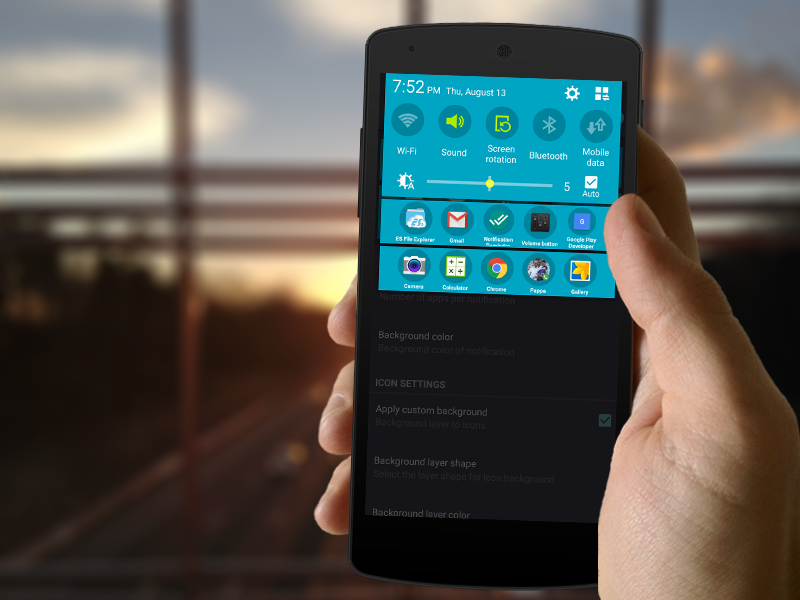 The TUFFS shortcuts will appear in a notification item directly below the system UI in your notification shade. There are five icons in a single row to start, but you can increase the number of icons, and even add a second row. Apps are probably the most likely use for this, but you can also drop in any shortcut supported by your apps or system. For example, contacts, Maps directions, Drive files, and so on.
By default, TUFFS shortcuts are hidden from the lock screen and status bar, which I think makes the most sense. This way it doesn't take up any space when it's not of use to you. Still, you can change that option if you want, but it means a status bar icon. There are actually plenty of settings to mess with. To make it blend in better with the system UI, you can change the icon framing (or shut it off), remove the labels, or even change the background color of the notification.
Launching apps and shortcuts from TUFFS seems to work exactly as you'd expect. It's just like having an icon on your home screen, but it's in the notification shade. If you're having trouble matching the exact color and style of your phone, check the themes out. The developer has helpfully included several pre-packaged themes that match stock Android, Samsung, HTC, and a few more.
The app is free to try, and most of the options are unlocked in this version. In the premium tier are a few themeing options, but most importantly, auto-start on reboot. There's an in-app purchase of $0.99 to permanently unlock all the features. If you like the idea of having shortcuts in your notifications, this is a pretty good way to do it.
— modified on Sep 2, 2015, 9:05:36 AM