Apr 15, 2015, 4:22:50 PM via Website
Apr 15, 2015 4:22:50 PM via Website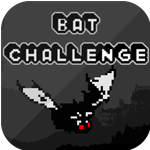 Bat Challenge – is a side-scrolling game for Android featuring 2D pixel art graphics with parallax scrolling background.
Our hero is a little bat that gets in trouble far away from its home. Help the bat fly through dark and dangerous places like "Spider Forest", "Destroyed Docks", "Deadly Dungeons" avoiding evil enemies and obstacles.
Search "Bat Chellenge" in Google Play By DD Bros.