Dec 29, 2014, 11:04:32 AM via Website
Dec 29, 2014 11:04:32 AM via Website
THE BEST FACEBOOK MESSAGING APPLICATION, REPLACEMENT FOR MESSENGER FOR FACEBOOK.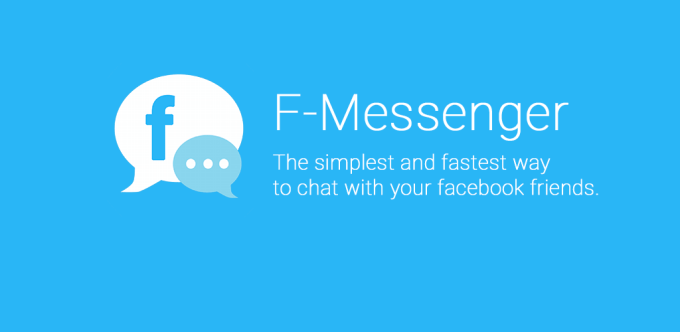 Do you want to stay in touch and chatting, messaging with your Facebook friends everytime, everywhere? F-Messenger is the best choice for you!
F-Messenger is a free 3rd party messenger application for Facebook, using Facebook chat api, can help you login to Facebook and chat, message with your Facebook friends (also they are using Facebook Messenger, Facebook application, F-Messenger or other 3rd party messenger application like this.
F-Messenger vision is create the simplest messenger application for Facebook chat.
If you are using low memory device, feel free to download F-Messenger, because it's very light and working perfect on your device. Don't worry!
MAIN FEATURES:
Secure and simple Facebook login.
View your list Facebook chat friends with online, offline present.
Send Facebook chat message to your Facebook friends everytime (when also they are online or offline).
Find Facebook chat friends name, status, present… very fast and easy.
Very simple, fast, light and free messenger application for Facebook.
Modern user interface.
More than hundred funny emotion icons, smiley icons to show your feeling with your Facebook chat friends.
Simple and very light: only chat for Facebook, message to your Facebook friends, not newsfeed, group chat, photo, video message, sticker, location as Facebook Messenger.
FREE and ALWAYS FREE.
If you want to download some applications like Facebook app, messenger app… you can try F-Messenger and see the interesting.
NOW, LET'S DOWNLOAD AND ENJOY F-MESSENGER TO STAY IN TOUCH WITH YOUR FRIENDS EVERYTIME AND EVERYWHERE!
If you enjoy F MESSENGER, please rate it some stars and your well appreciated comment!
Thank you very much!
Download: play.google.com/store/apps/details?id=com.tpq.qchat