Sep 26, 2014, 9:20:57 PM via Website
Sep 26, 2014 9:20:57 PM via Website
Sometimes I got trouble when send files from my laptop to my android device by bluetooth service. I use tass build called Nightly, might be same to people who found trouble like mine, but I have solution now and solved my problem in using bluetooth service from my device.
Bluetooth on 4.4.4 runs with 9 services contained inside one of service which make trouble on my device is org.codeaurora.bluetooth I cant receive files which I sent because of its ftp service looks like break other bluetooth services, might be it happened to kind of bluetooth device like my device, or might be can happened to people use 4.4.4 because of app which is codeaurora not properly work fine as far like now I'm posting.
And how to stop codeaurora?, at first I stopped codeaurora manually by notice running services from apps setting of bluetooth services, when I got notification on my statusbar says ftp request I stop it by click forcestop. I was feeling annoying in everytime sending file I should loss my time. Then I have way to link2sd, I give its action as frozen. and I send files not busy also not to take too long process when use it, this is screenshot I make it been frozen.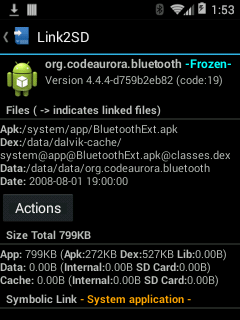 Now I havent got notification like ftp request, but INCOMING FILES !. wow really solved, happy to not to loss many time of my day !, hope you solve your problem if you found like mine. have a good day, ( website: go-utility-cloudns-asia/1 )
— modified on Oct 14, 2014, 6:04:07 AM