Sep 9, 2014, 1:12:34 PM via Website
Sep 9, 2014 1:12:34 PM via Website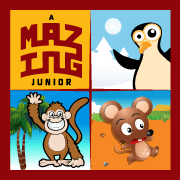 Suave Solutions develop another great app for kids, Amazing Junior Game offers lots of fun with clean graphics.
Play Store Link: https://play.google.com/store/apps/details?id=com.amazingjunior.suave
Amazing Junior game is for your juniors to solve very intuitive mazes with different characters and lovely graphics. They can learn to find path and control their character to achieve goal as defined as story before game start. They can learn about different animals and species behaviors and eating habits. Game allows you to share scores on Facebook and gives you Game Center integration to share your scores and rank within your friends list.