Sep 2, 2014, 7:57:14 AM via Website
Sep 2, 2014 7:57:14 AM via Website
Dear all,
I would like to share the app I developed,
it's called "a+ widgets", which is the widget pack contains clock & calendar widget.
"a+ widgets" has beautiful and super smooth transition effect when widget is updating.
Please check with my demo video and see how it works:
and here is a simple screen shot of the widget.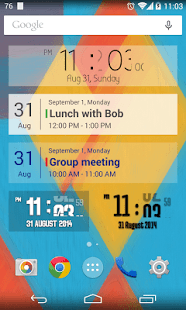 please search "a+ widgets" at google play
thanks!!