Jul 12, 2014, 12:28:27 AM via Website
Jul 12, 2014 12:28:27 AM via Website
I have released the app today and I'd appreciate any feedback!
How well do you know the world?
Challenge your friends and become Geo Champ!
Geo Champ is a Google Street View quiz game that takes you to unique and exciting, but also to well-known places all over the world!
Start a game against your friends or any random player and get to know the world by duelling with them.
In a game of 5 rounds you and your opponent will find yourselves each round in 3 different places all over the world. Now it's up to you to find out where in the world you are. If you know better than your opponent, you win.
Collect score points with each won game and compare your skills in highscore lists to the Geo Champs of the world! Or simply compare your statistics to those of your friends.
**Get it at Google Play by searching for Geo Champ (com.doublemw.geochamp) or follow the link on admin edit: promotional links not permitted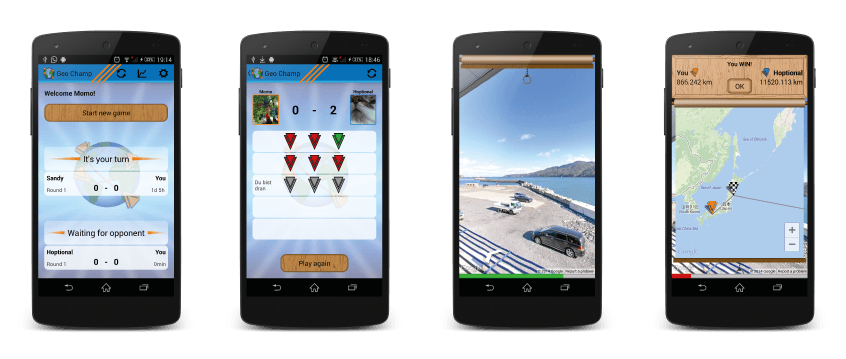 The places, which you will discover in the game are randomly chosen Google Street View panoramas.
— modified on Jul 14, 2014, 11:07:21 AM by moderator