May 17, 2014, 5:35:29 PM via Website
May 17, 2014 5:35:29 PM via Website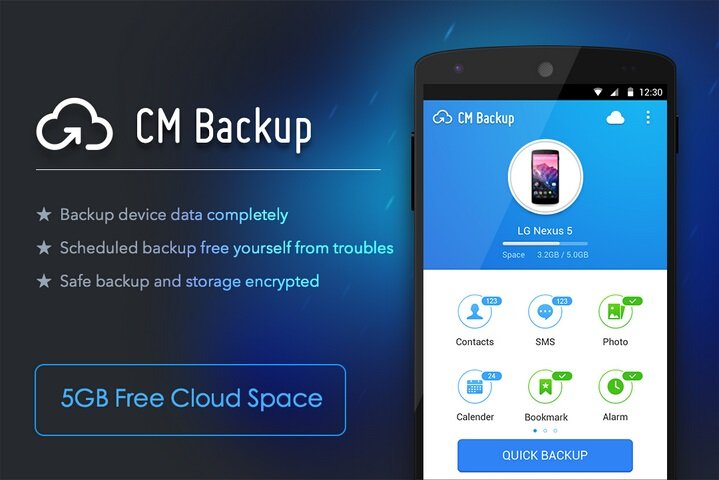 CM Backup is born to backup for your mobile, with one-tap design, it helps you prevent the loss of mobile data and can also transfer the information to your new phone easily.
Scan,backup and restore in a super speed,just enjoy the safe and quick backup experience!
Download: play.google.com/store/apps/details?id=com.ijinshan.kbackup
Laest version : 1.2.1.178 ( August 25, 2014 )
*What's New :*
V1.2.1.178
1. Bring NEW experience for backup selection, simple and clear !
2. Add supported languages: Norsk, Bahasa Indonesia, Українська.
Features:
*► BACKUP & RESTORE YOUR IMPORTANT DATA*
• Backup & Restore Contacts (Avatars, Birthdays etc.)
• Backup & Restore SMS / MMS / Text messages / Hangouts
• Backup & Restore Call Logs (Phone only)
• Backup & Restore Photos
• Backup & Restore Calendar Events
• Backup & Restore Alarms
• Backup & Restore Web Browser Bookmarks
• Backup & Restore Personal dictionary ( Input methods )
► 5GB FREE CLOUD STORAGE
- Gain 5GB of totally FREE cloud storage after registration, equivalent to 3,363 HD photos, 400 million text messages or 1 billion contacts.
- Store all of your data/stuff on the cloud for FREE. No more worrying about losing data/stuff even when your SD card breaks or your phone is lost.
► SUPER FAST & SAFE TRANSFER
- Intelligent file transfer gives you unexpected incredible speeds - a single item takes just 0.08s to backup.
- Uploads and downloads are protected by powerful encryption (Secure Socket Layer), ensuring your data/stuff is safely stored on an Amazon S3 Cloud Server and providing you with a super stable service.
► TRIM/SLIM PHOTOS
- Reduce 90% size of your photos without losing details for more available storage.
- Trim/Slim on device photos after backed up the original one, now you are able to capture more excited moments.
► SCHEDULED BACKUP
- Set your backup schedule and we will do the rest for you! Automatically backup your data/stuff to cloud and never worry about it again.
- Supported languages:
English, Spanish (Spain), Russian, Arabic, Italian, Simplified Chinese, Traditional Chinese, Portuguese (Brazil), Czech, Dutch, Vietnamese, Japanese, Korean, Slovak, Serbian, Greek, Croatian, Hungarian, German, Danish, French, Persian, Portuguese (Portugal), Polish, Norwegian, Bahasa Indonesia, Ukrainian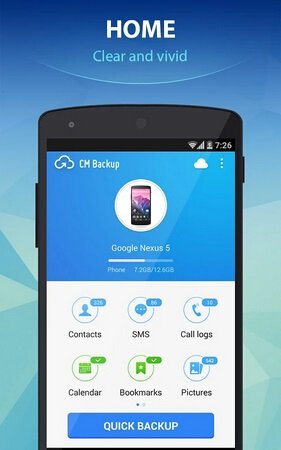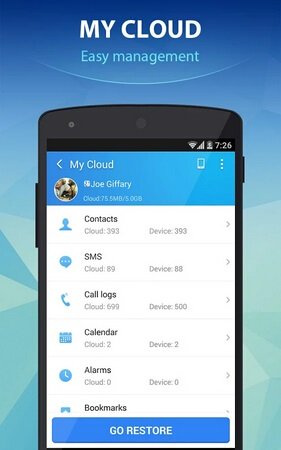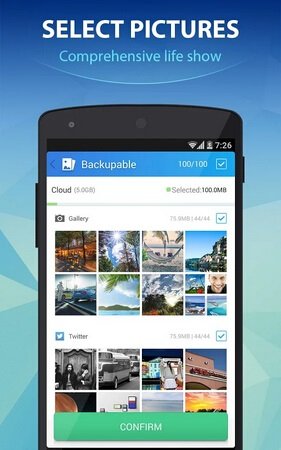 — modified on Aug 26, 2014, 8:49:12 AM