Dec 17, 2013, 12:04:22 PM via Website
Dec 17, 2013 12:04:22 PM via Website
We are from KS Mobile, a top 10 global app developer. This is a thread providing all exclusive tips and news for our product "Clean Master". We have released a new version. Feel free to comment on the new features of this product. Hope you are enjoying our product!
Description
------------------------------------------
The most downloaded Android Cleaner and RAM Booster App in the world in 2013!
☆Over 50 million users, supporting 30 languages.
☆#1 Cache Cleaner App & Android Speed Booster in over 50 countries.
☆Featured by CNET, LA Times, The Boston Globe, XDA & much more.
☆#1 App in the Utilities category in the world.
Trusted by 50 million users and growing, Clean Master is the number 1 powerful memory booster and trash cleaner app to free up storage space and boost speed of your Android device.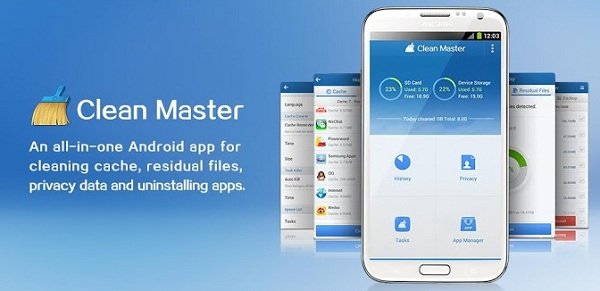 Main features:
------------------------------------------
Memory Boost/Task Killer - Boosting apps and games speed is much easier with Clean Master.
Clean - Delete those junk files (cache and residual) that take up valuable storage space
Clear - Protect your privacy by deleting personal sensitive information like your search and browser history
App Management - Move apps to an SD card, remove pre-installed apps and backup .apk files
[Junk Files] - Clean Cache and Residual Files
On Android devices, cache and residual files can build up and occupy gigabytes of your phone's space. Cleaning junk files can help free up memory on your device and SD card.
[Memory Boost] - Increase memory and speed up your device
Tasks running in the background not only occupy system RAM, but also waste your battery life. Memory Boost can stop other apps that are running in the background and free up more RAM to speed up your Android device. This includes a shortcut called "1 Tap Boost" and a 1*4 Boost Widget, easily accessible from your home screen. For each and every operation processed by this magic tool, it offers an array of features that makes your old devices runs like new.
[Privacy] - Delete Sensitive History
Privacy is important and many of your apps silently record your personal data, such as your web browser data, Google search history, and more. Clean Master can erase this information and keep your personal data secure.
[App Manager] - Uninstaller, Backup, Move to SD card
An uninstaller that is an improvement over the default Android version, which is also able to create backup .apk files. Some rooted users will also be able to move apps to their SD card as well as uninstall pre-installed and system apps.
[Widget] - Floating Widget
A fun widget that stays on your home screen and lets you know your current RAM situation. If you want to free up some ram, just drag the window to the center of your screen and watch the broom do its work.
[Overview] – Your phone at a glance
New for 4.0, now you can easily see an exact breakdown of your phone's storage situation. Simple charts and statistics show you what file types are taking up space, allowing you to better plan your cleaning and storage strategy.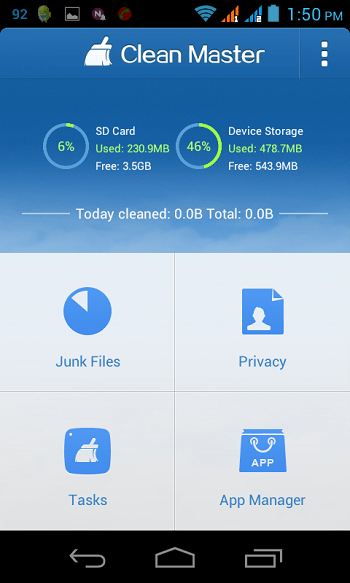 Language Support
------------------------------------------
Localized in Deutsch, Español, Français, Indonesian, Italiano, Magyar, Português, Română, Slovenčina, Thai, Tiếng Việt, Türkçe, Eλληνικά, Pусский, Українська, עברית, 한국어, 中文 (简体), 中文 (繁體), 日本語, العربية, Nederlands, Norsk, Polski, Hrvatski, čeština, हिंदी.
Rating
:
4.7/5 (Good)
Price
:
Free
Download Clean Master for Android
------------------------------------------
Join
Clean Master Users
Group on Androidpit
KS Mobile official forum providing exclusive tips and news for all KS Mobile products
— modified on Dec 25, 2013, 4:45:46 AM