May 27, 2013, 2:44:05 PM via Website
May 27, 2013 2:44:05 PM via Website
At AndroidPIT, we love the creativity that our community members bring to the table.
Here is an app that will allow you to do this, it's called
WhatsApp+.
that we got from the
xda-developers forum
.
What is WhatsApp+?
Basically it is a customizable WhatsApp where you can change lots of colours, sizes, and many other visual MODs
In addition you can increase upload media limit (stock limit is 16Mb) to send large music files or videos
You can increase quality of pictures sent (by default resolution is decreased quite a lot)
You can share music just with one click
You can add contact profile pictures to their chats
You can hide contact profile pictures and show phonebook pictures (in chat screen)
Built-in theme viewer and downloader. Check WhatsApp+ users themes online and apply theme if you like
And more to come
Remember to previously uninstall whatsapp if you come from the official version (if not you will get the "not installed" error)
____________________________________________
Download:
WhatsApp+ v3.55
Mirror:
WhatsApp+ v3.55 Mirror
Here are the
Whatsup+ FAQ's
if you want to know more.
In this
video
, it will show you the different motifs and colors you can add to your WhatsApp+ account, to give it your own look and feel.
UpdatesChangelog v3.55 (24/05/2013)
*Solved FCs with Gingerbread or lower devices when big notification icon selected
*New MOD 1.2.11M Mic Button Color in Chat screen
*New MOD 2.2.17 Mute Icon Color in Chats Screen
*New MOD 2.2.18 Status Text ("typing"...) Color in Chats screen
*Date in multimedia messages (images, videos, notes...) now gets color
*Attach clip icon now gets color (same as attachment icons)
*Crash control improved, thanks to reports (less FCs)
*Other minor bugs
Changelog v3.50 (23/05/2013)
*Base updated: 2.9.7280 (improvements to notification action buttons, improved sort order in contacts list, bug fixes, preformance and translation improvements...)
*Added Voice Notes
*Added MOD 6.6 Disable Voice Notes
*MOD 6.3 Square photos MOD modified. Now radius can be set (0:Square-100:Round)
*Integrated Crash Report Collector: Now you can easily send an email with report when WhatApp+ chrashes
*Improved error handling when file servers are down
*White thumbnails bug in chat screen from now should be fixed
*FC with some devices/ROMs when copying links solved
*FC with some devices/ROMs because of big notifybar icon selected fixed
*Launcher icon also updated when new theme is loaded
Here are a few examples of what other AndroidPIT users have created so far:
Share your creations with us as well!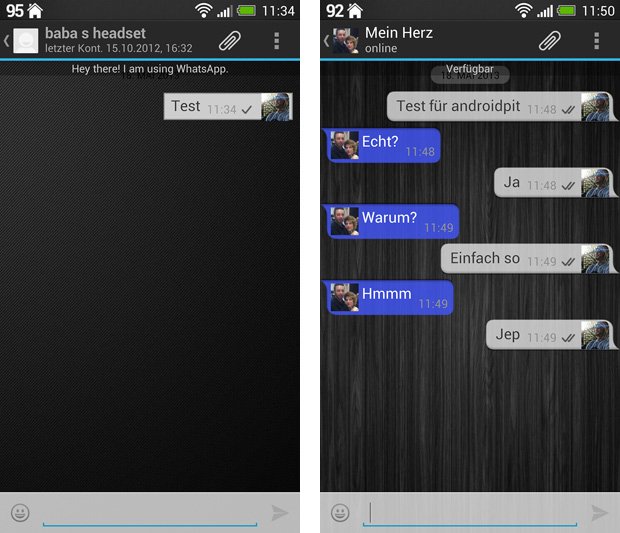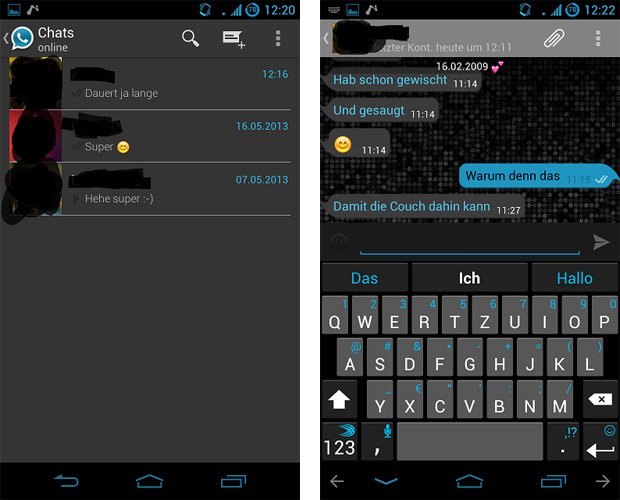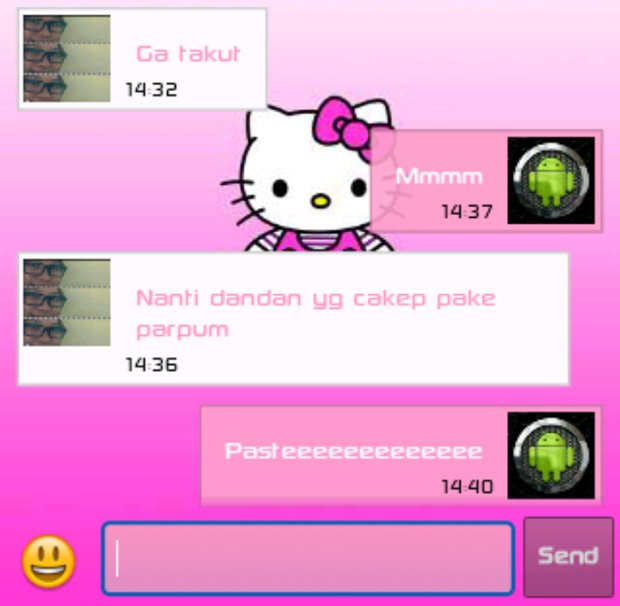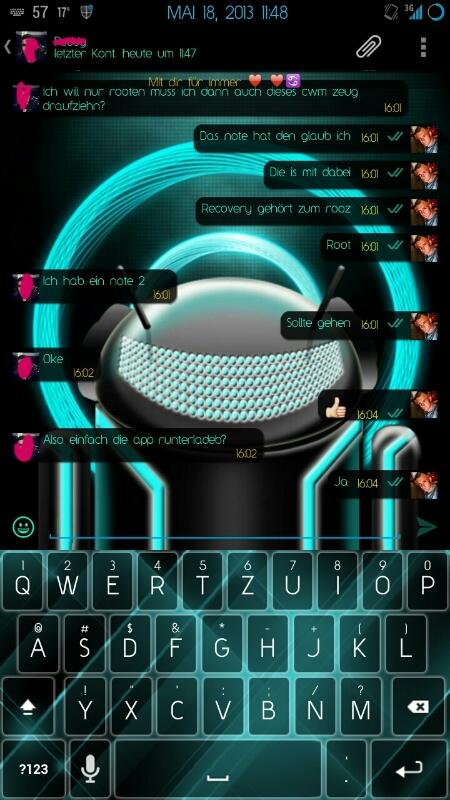 — modified on May 27, 2013, 2:57:14 PM