Dec 3, 2012, 3:08:07 PM via Website
Dec 3, 2012 3:08:07 PM via Website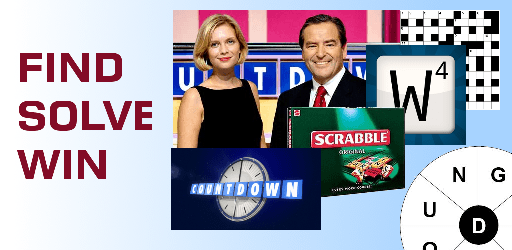 CleverDic on Google Play
Hi,
Solve crosswords, find anagrams, beat your friends at Scrabble, decipher bad handwriting and boost your own word powers. CleverDic is the most versatile Anagram Finder and Crossword Solver combined.
Features:
Search for words with missing letters
Find two word anagrams
Sub-Anagrams: Enter a 9 letter anagram to find all the 8 letter words
Fast search algorithm
Look up word definitions
Display up to 200 results
Simple to use, quick and easy help box
Large dictionary, over 88,000 real words
No network connection required, works offline
Enter the letters you have for a crossword or the jumbled letters of an anagram, CleverDic will intelligently know whether you are looking for an anagram or crossword clue. Touch on a word to look up that word's meaning and expand your vocabulary.
Powerful two word anagram finder, for fun try searching for 'manchester united' or 'george bush' to find funny two word results. More importantly as a crossword solver, crack those tricky two word anagram crossword clues.
Beat TV's Countdown Dictionary Corner by finding bigger words to amaze your friends and family. CleverDic has a handy sub-anagram finder feature, for example enter a nine letter word and CleverDic will also search for all the possible 8 letter words.
Play better and improve your scores at Scrabble and WordFeud by using both the crossword solver and anagram finder features. Use the crossword solver feature to find words that fit the tiles on the board. Use the anagram finder feature to search for the possible words from your tiles.
CleverDic has its own built in dictionary so you can use the app when you are offline.
CleverDic on Google Play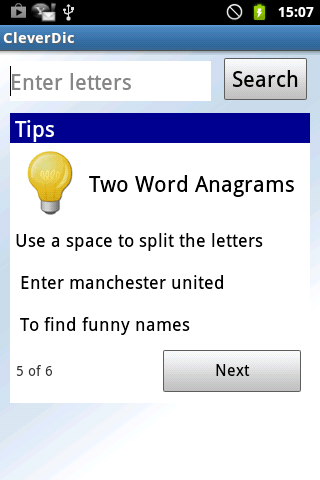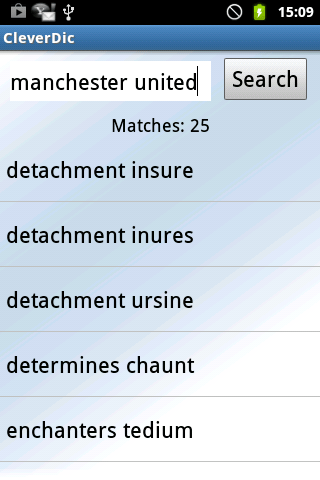 Get CleverDic
— modified on Apr 5, 2013, 4:55:21 PM