AndroidPIT Review Of The Nexus S I've had my Nexus S for eight days already, which I believe is enough time to give genuine helpful feedback on the device for individual interested in purchasing it or just curious on how well it functions as the next phone in the Google Nexus line and whether this is a phone you, as an Android user, should consider when making your next smartphone purchase. Google is taking a different approach with the Nexus S than they did with the Nexus One by selling it in stores, which is likely an attempt to generate more sales for this handset, but no one really knows if it will work.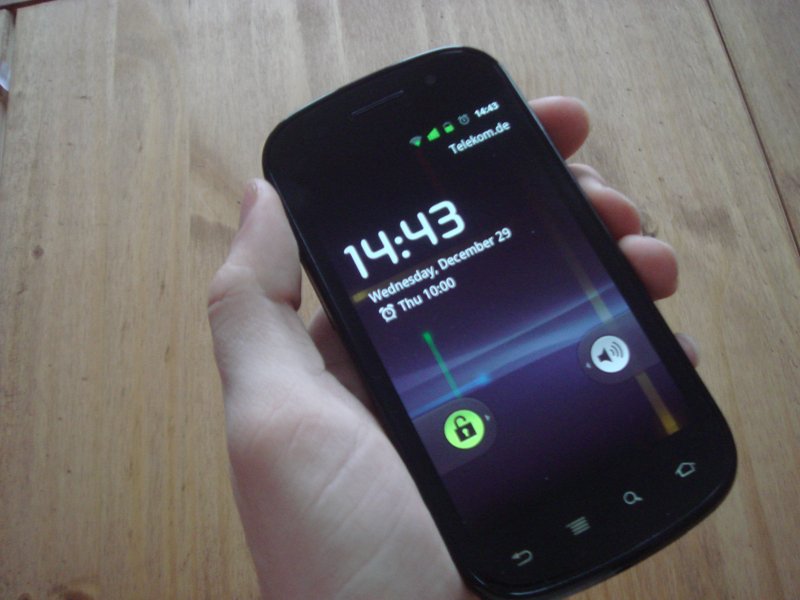 External Hardware
The curved 4" 800 x 480 resolution SAMOLED display on the Nexus S has wonderful color reproduction. The colors seem even better displayed than in the Galaxy S, which likely has the same display technology. This difference is likely due to the 32-bit color support which comes with Android Gingerbread. Fabien, a member of the AndroidPIT team, was totally blown away by the display when he first saw it, and I have to say that I was as well.
The curvature of the screen, while nice to look at, hasn't made any noticeable improvement in my experience. In fact, the screen does not feature Gorilla Glass unlike the Galaxy S, a cover glass for touchscreens with extreme durability and scratch-resistance, likely because it cannot be manufactured in a curved form like in the Nexus S. I feel like the decision to go with a curved display was not really in the best interests of consumers.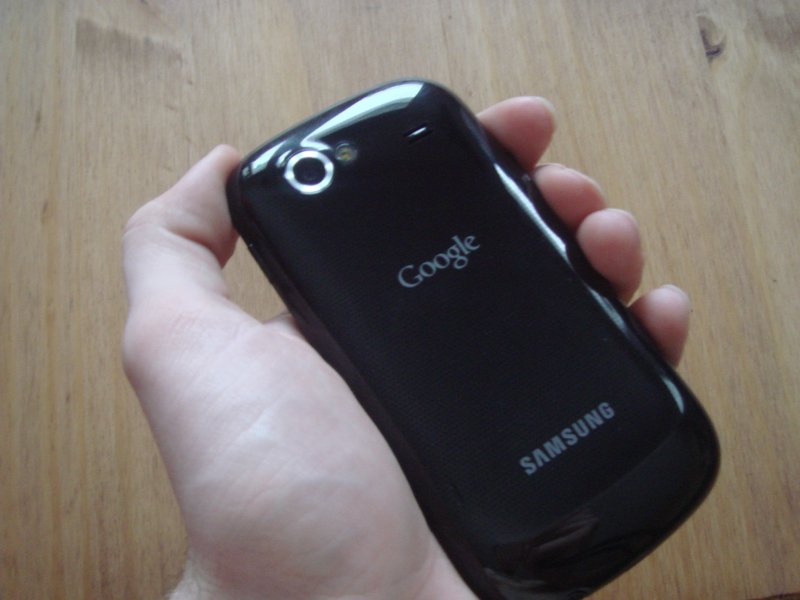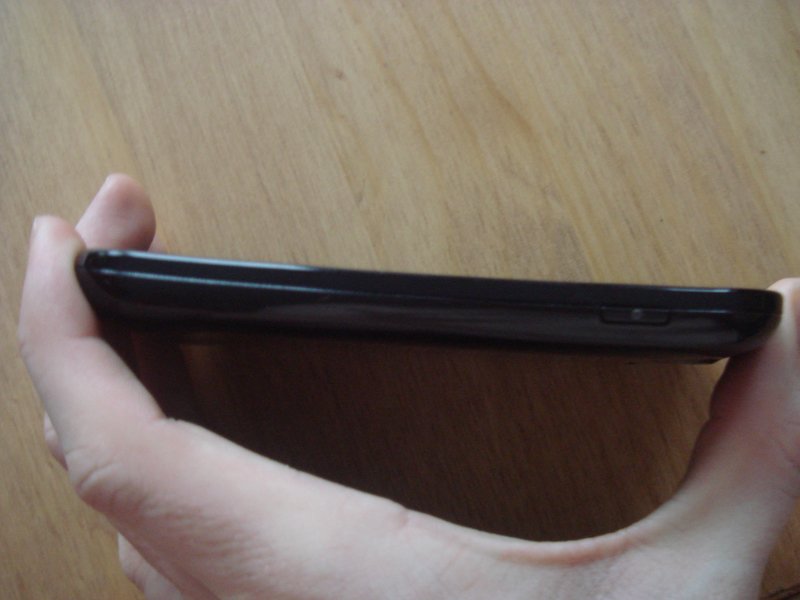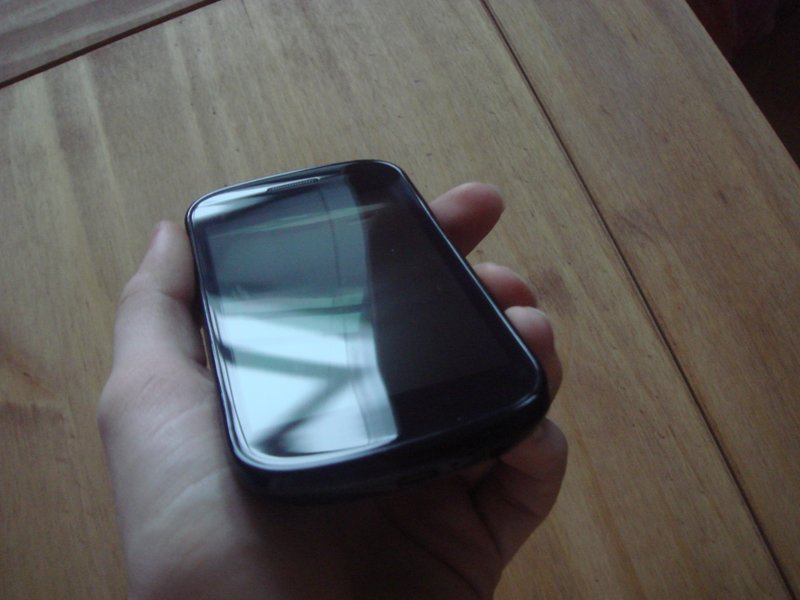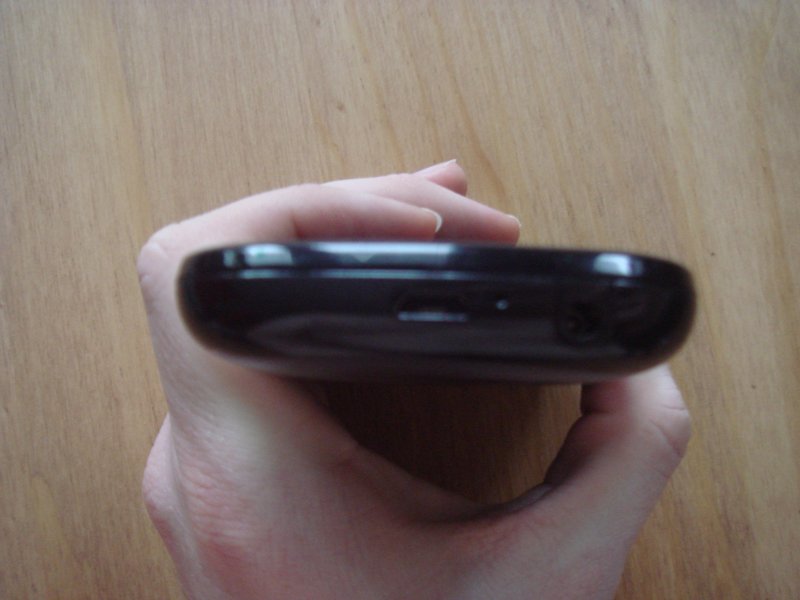 A 1500mAh battery in the phone, which is just about as big as it gets in smartphones these days, does a great job keeping the phone running throughout the day. It is not hard to get more than one day of normal use out of the phone. This is likely due to the improved resource management built into Android 2.2 and especially 2.3, with its improved "concurrent garbage collector" feature. Leaving the phone on overnight (8 hours) with Wi-Fi, GPS, Bleutooth and the 3G connection off, the phone only lost 1% of battery power. Saying that this battery is acceptable is for me, an understatement.
Samsung's 1GHz Hummingbird processor in the Nexus S is the same processor we saw in the Galaxy S line of phones, and while it had some problems while running Samsung's UI, with stock Android, it absolutely screams. During normal operation when scrolling, doing media playback, gaming, and just plain messing around, the processor blows through it all with ease. I've never experienced a smoother Android experience than with the Nexus S.
The external enclosure of the Nexus S is mostly plastic. The shiny plastic backing of the phone attracts fingerprints like crazy though, so if you are a person who is always cleaning your phone's display because of fingerprints, you'll have even more work to do. There is supposed to be some sort of special anti-fingerprint coating on the touchscreen, but if it is there, it isn't working very well.
Power and volume buttons on the sides of the device are plastic, with the four buttons on the front (back, menu search, home) all capacitative. They are somewhat easy to accidentally press, as almost no force is needed to activate them. At the bottom of the handset is the microUSB port and the 3.5mm audio jack, which I personally like. The placement has its advantages and disadvantages, and is something the consumer needs to decide for themselves.
Internals
The supported radio bands of the Nexus S are a problem for some, as only 900, 2100, and 1700MHz are supported for HSPA, which means that people in North America and South America who want to use 3G on networks like AT&T, Bell, and Rogers will be out of luck. The phone also has quad-band GSM (850, 900, 1800, and 1900MHz).
In regards to sensors, the Nexus S has quite an extensive suite, including a digital compass, AGPS, proximity sensor, light sensor, accelerometer and a gyroscope. Communication features include Wi-Fi b/g/n, Bluetooth 2.1+EDR, and NFC.
When the Nexus S was first announced, the 16GB of internal storage and no expandable memory on the Nexus S was considered a strange move by many in the Android community. I haven't run out of memory space yet (which is not surprising), so I can't complain. In a couple months that may be a different story, but we'll have to wait and see. I will say that Google's decision to have about 1GB of space for app installation was definitely a smart move. I have all my favorite apps already installed and I still have almost 900MB of space free.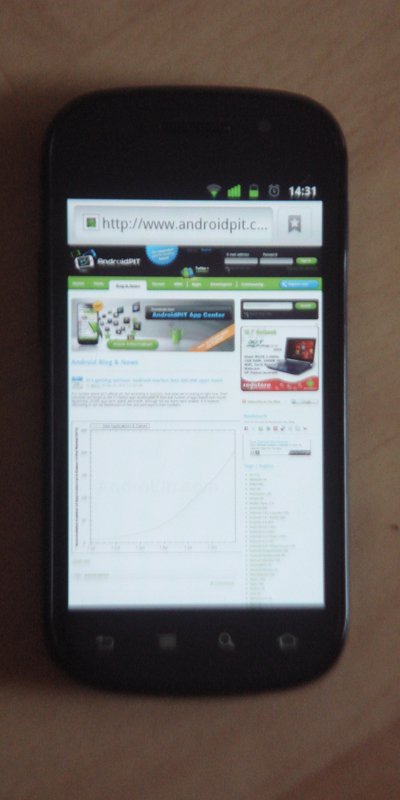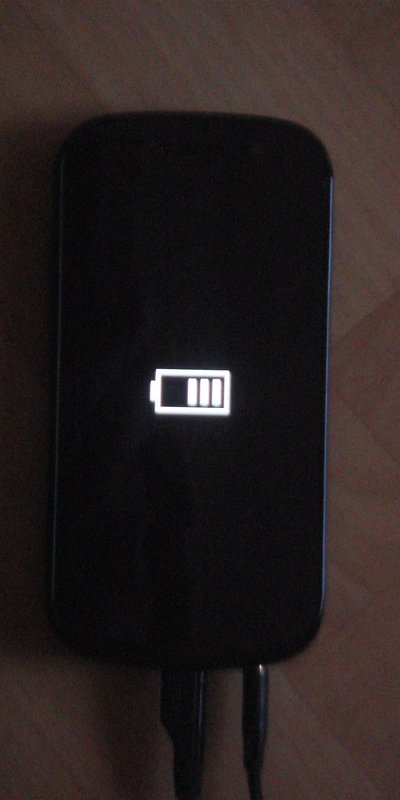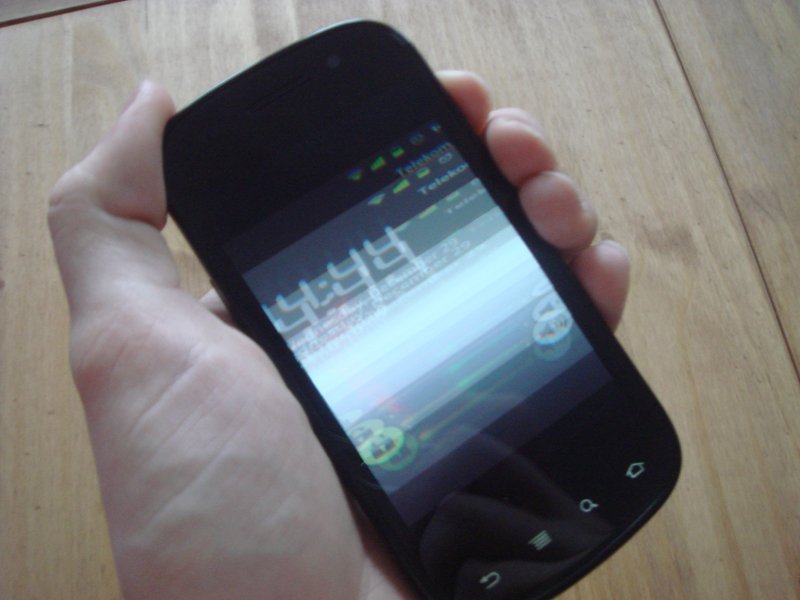 Software / UI
Obviously one of the biggest selling points of the Nexus S is the fact that it comes with Android Gingerbread and, like the Nexus One, is supposed to be the first phone to get the newest versions of Android. Another plus is that the phone can support all of Google's latest apps, assuming you are in a country where all features are available.
The changes that come with Gingerbread won't be too exciting for someone used to FroYo, but the enhancements that one does notice are well-received.
Even though the Nexus S has no trackball or trackpad, typing on the default Android Gingerbread keyboard that comes with the Nexus S is a pleasure thanks to the new keyboard and text selection method. When you press once into the text field, an orange marker appears indicating where the cursor is. You can then drag the marker around the text field, which makes selecting text very quick and easy. In addition, the new keyboard comes with text prediction and multitouch support.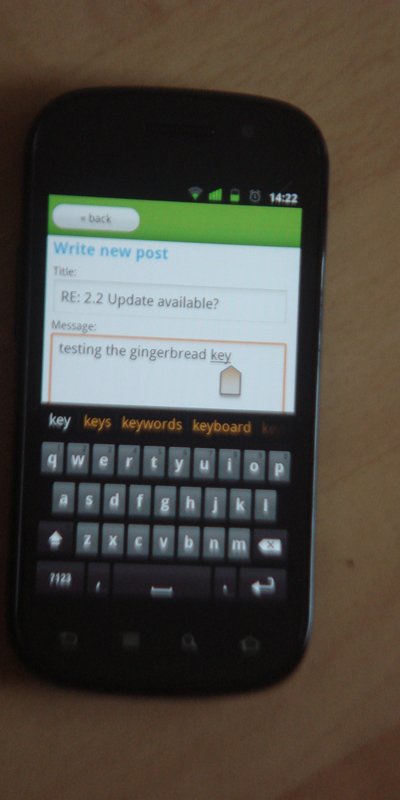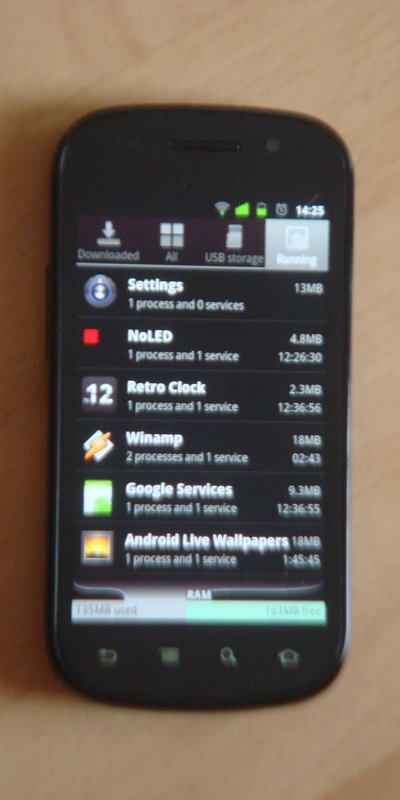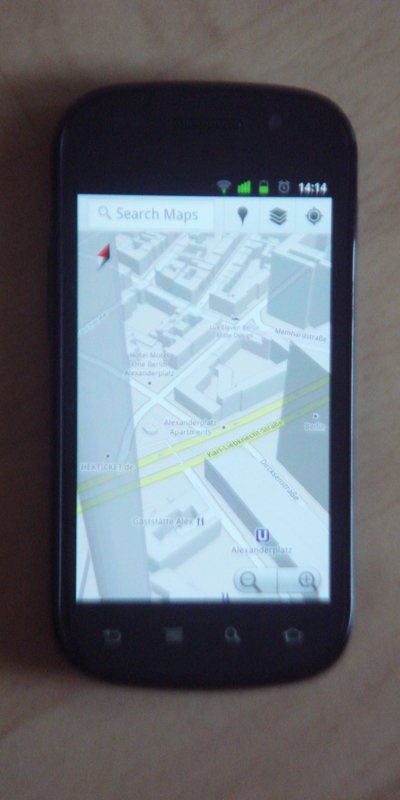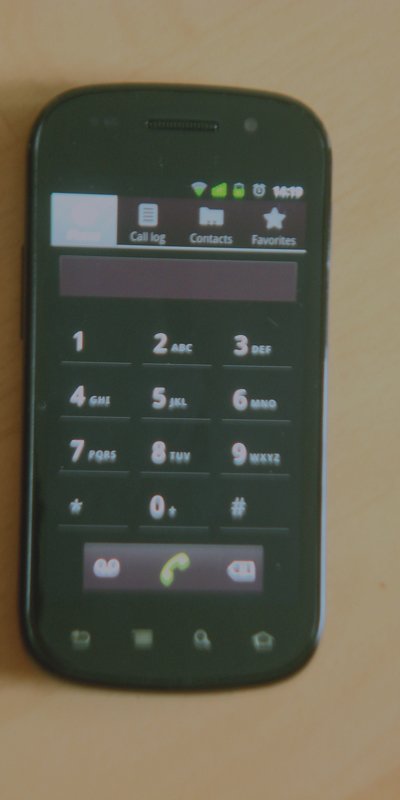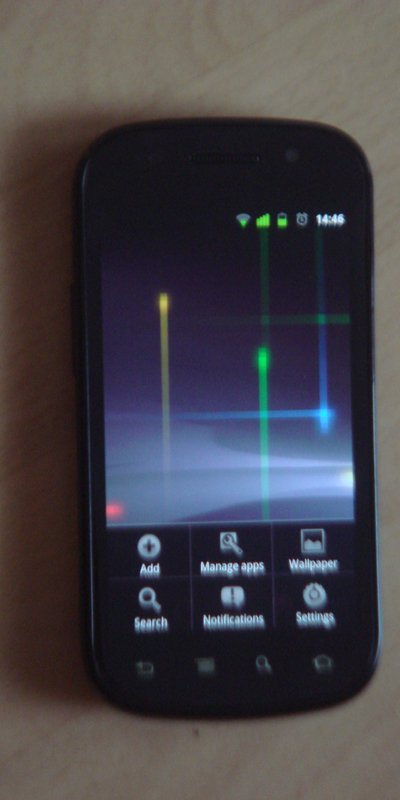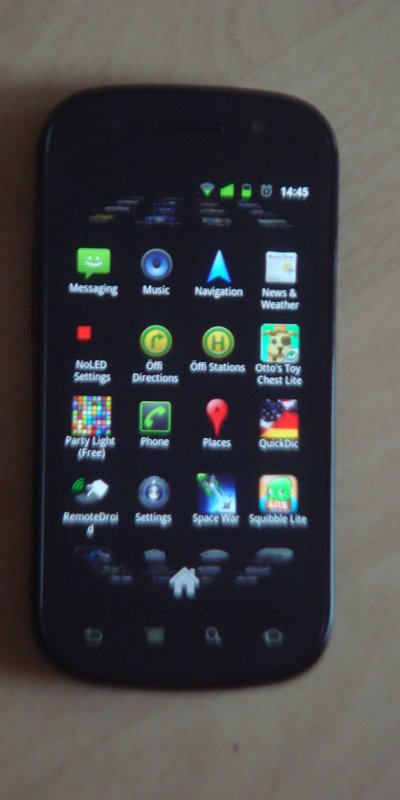 I won't get into all the improvements that come with Gingerbread, because that deserves at least one whole blog post by itself, but some changes that deserve mentioning include improved gaming support through the advances in the OpenGL ES support, support for new types of sensors (like gyroscopes) , the new garbage collector which supposedly increases performance and reduces excessive resource needs, and the addition of more green and black in the Android icons and symbols.
It's not all sunshine and roses however, as myself and many other Nexus S owners are reporting lag and performance problems. Part of the problem may be due to noLED, an app which many are using in place of no LED notification light. However, the problem exists for individuals that haven't used it. Some believe that Gingerbread is still not at a stable build, so we may see another update or two in the next few weeks or months tackling the issues seen so far.
Browsing and Multimedia
The default browser that comes with Android Gingerbread is very fast and loads web pages without flash content very quickly. Scrolling is very smooth and the SAMOLED display makes viewing webpages a pleasure. However, once you enable the phone to load Flash content, the browser bogs down somewhat, but that is something to be expected even with the best smartphones. If speed and smoothness is a priority for the user, but they still want to have the choice of viewing Flash content, the smart decision would be to go into the browser settings and have plug-ins enabled only on demand.
Music playback on the Nexus S is fantastic when coupled with an app like Winamp, or another good media player.
The default Android media player is still very lacking. I am glad to see that the latest version of Android no longer reads the navigation audio files as songs anymore. That was a huge issue I had with the Galaxy S running Android 2.1, as it would never stop displaying the thousands of audio files that Google Navigation uses.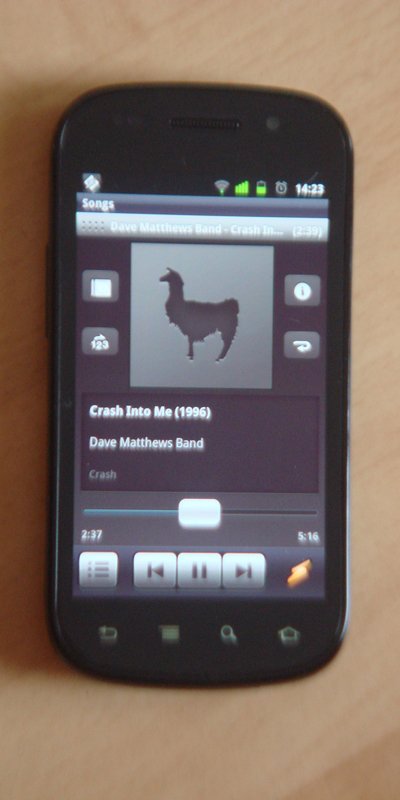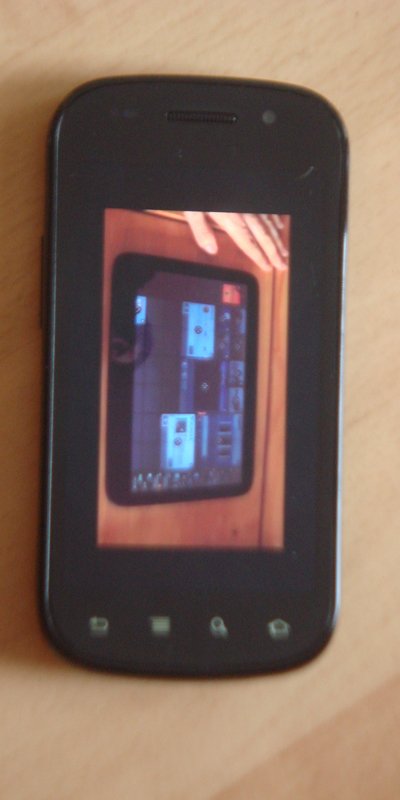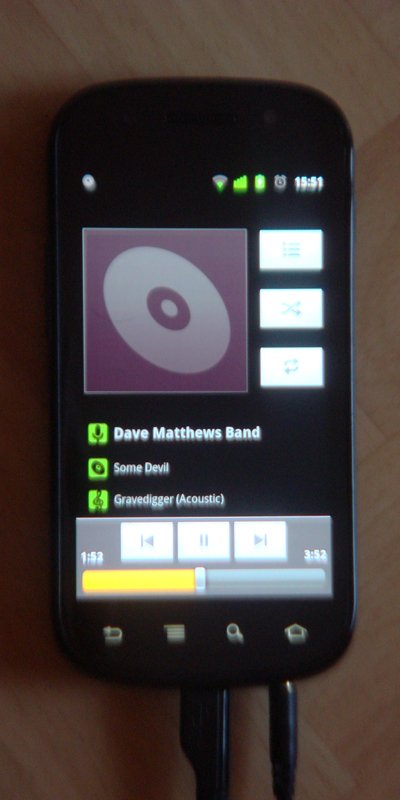 Playback of stored audio files is good in general, with no problems to report yet. Video playback works fine as well, but the oversimplified controls leave much to be desired. I can't see any improvements in this area from Gingerbread.
The earbuds that came with the phone are a decent set and they actually fit my ears pretty decently, but if you care about how your audio files sound, you'll likely invest in a different pair of earbuds or headphones anyways.
Camera
The main camera on the Nexus S is a 5MP camera with single LED flash which does an acceptable job at taking photographs. There always seems to be a significant amount of noise in the photos I take, regardless of the lighting situation. Luckily, there are plenty of white balance and exposure features which make taking photos fairly quick and easy. I also want to comment that keeping the white balance on auto works correctly almost every time. It did have trouble deciding on what setting to use when facing a bright light source though.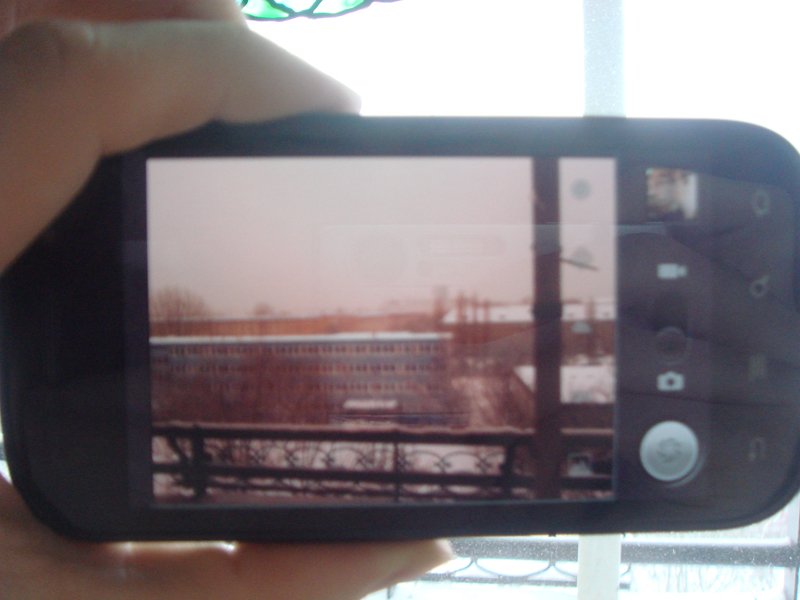 Photo Examples: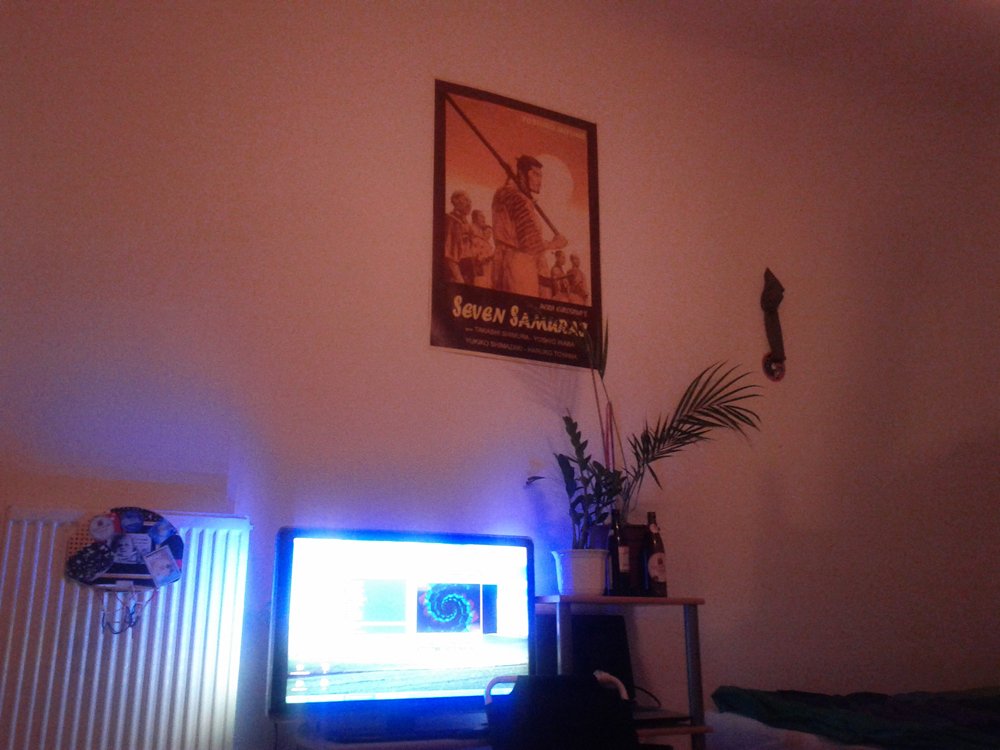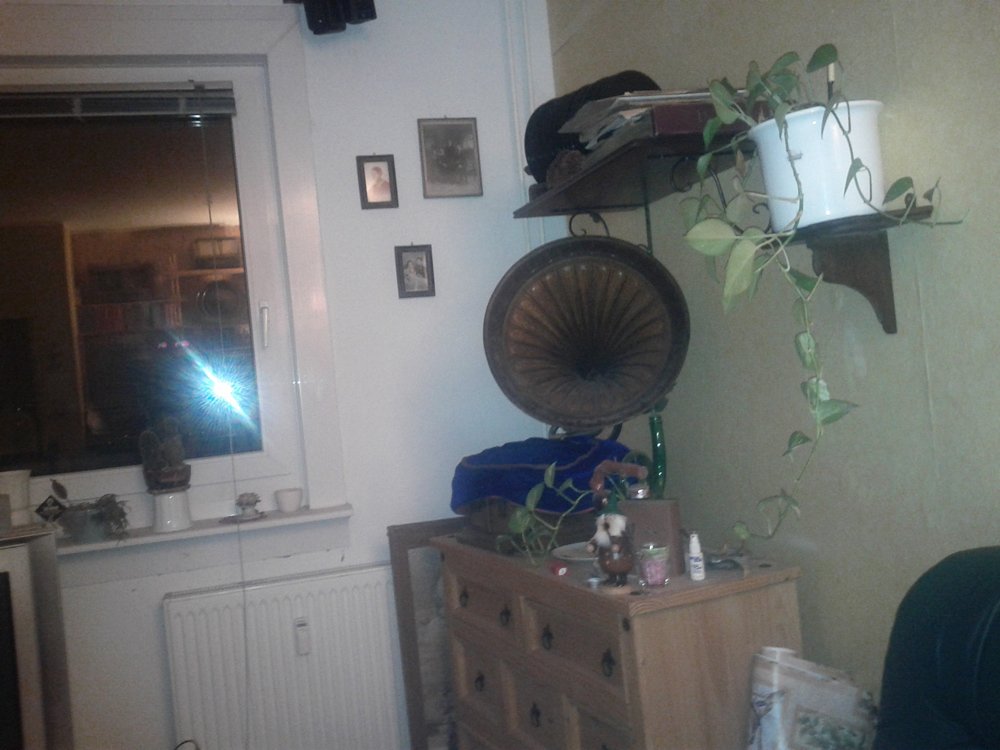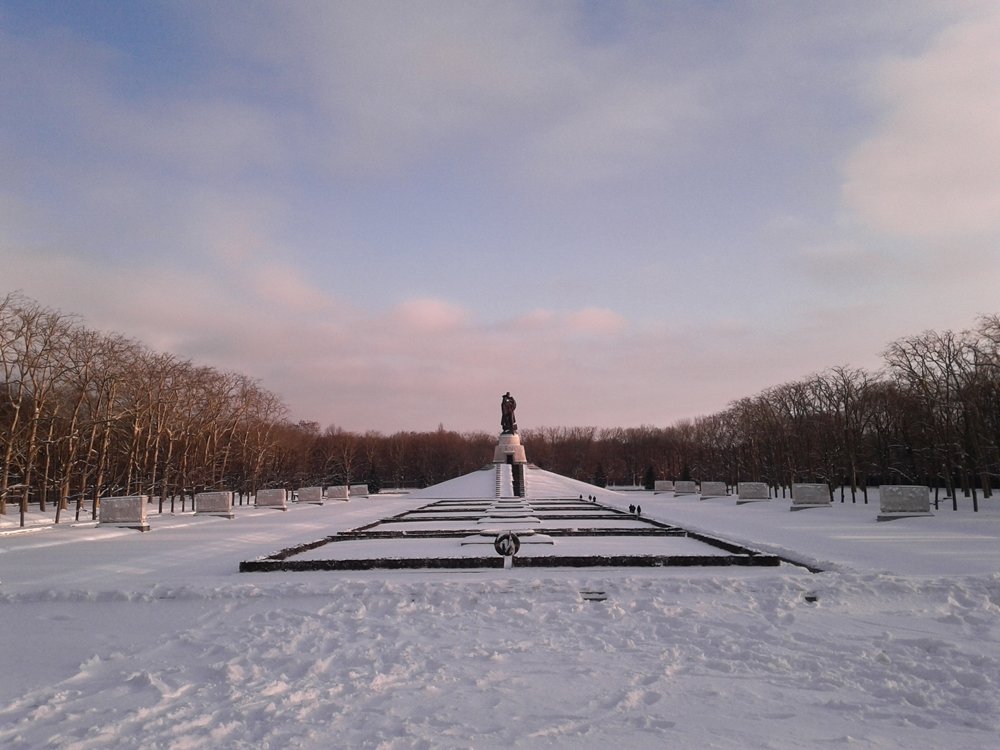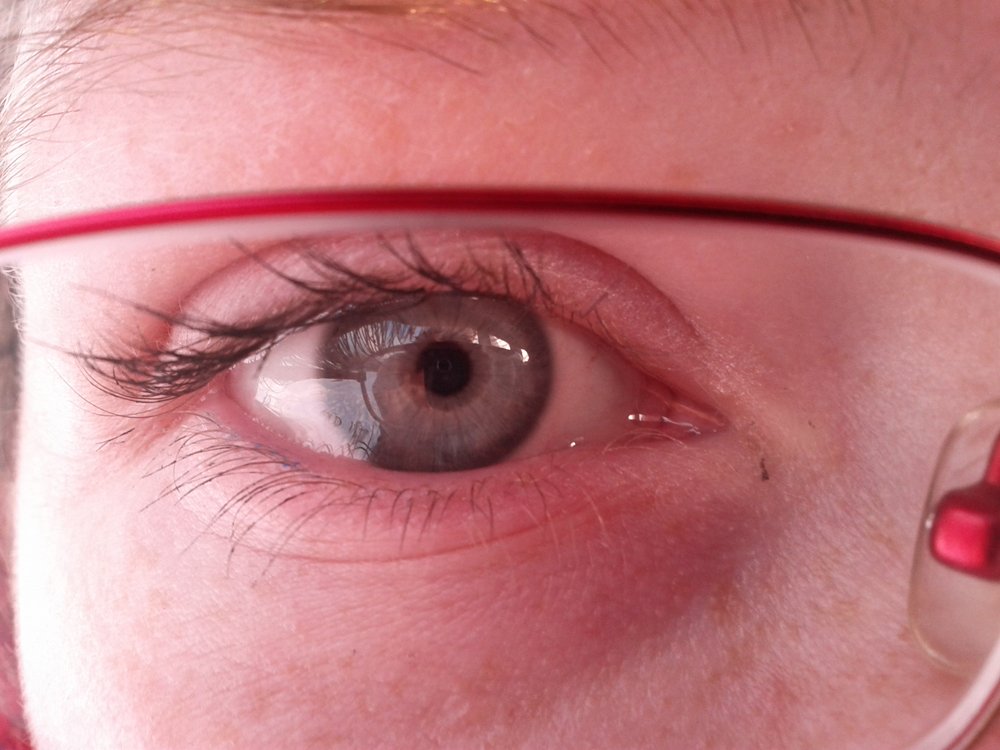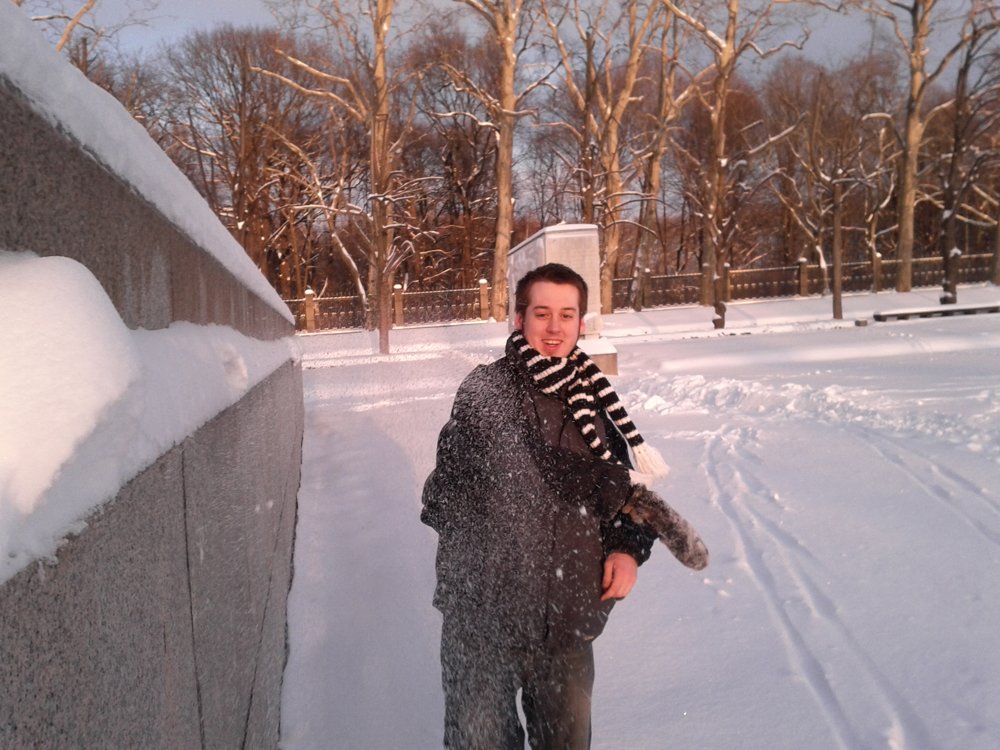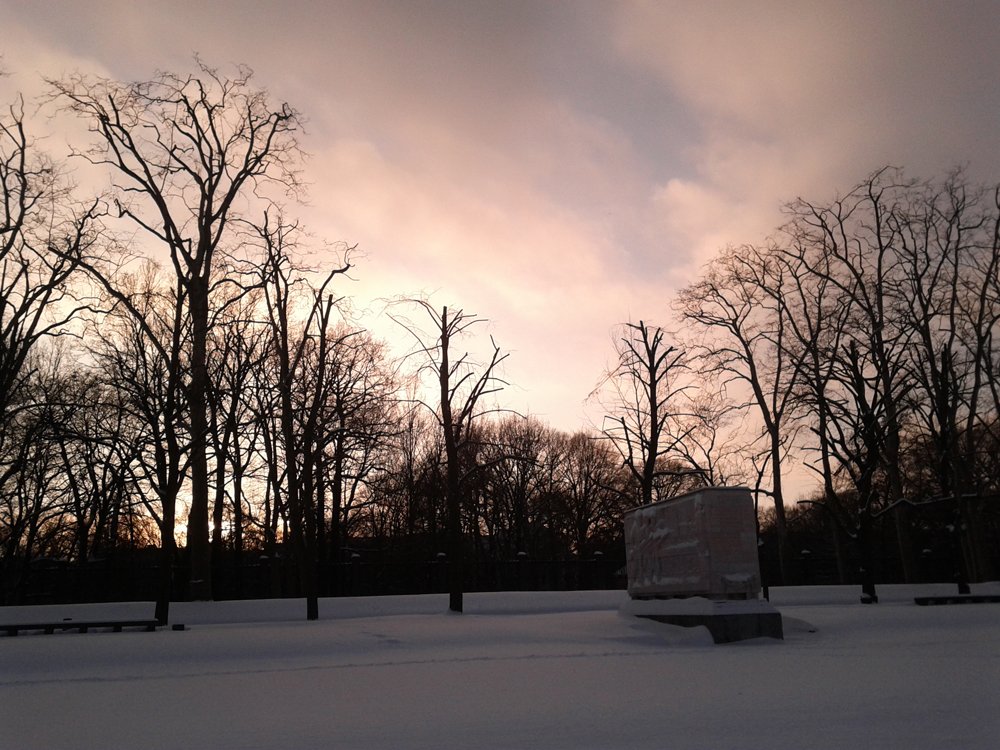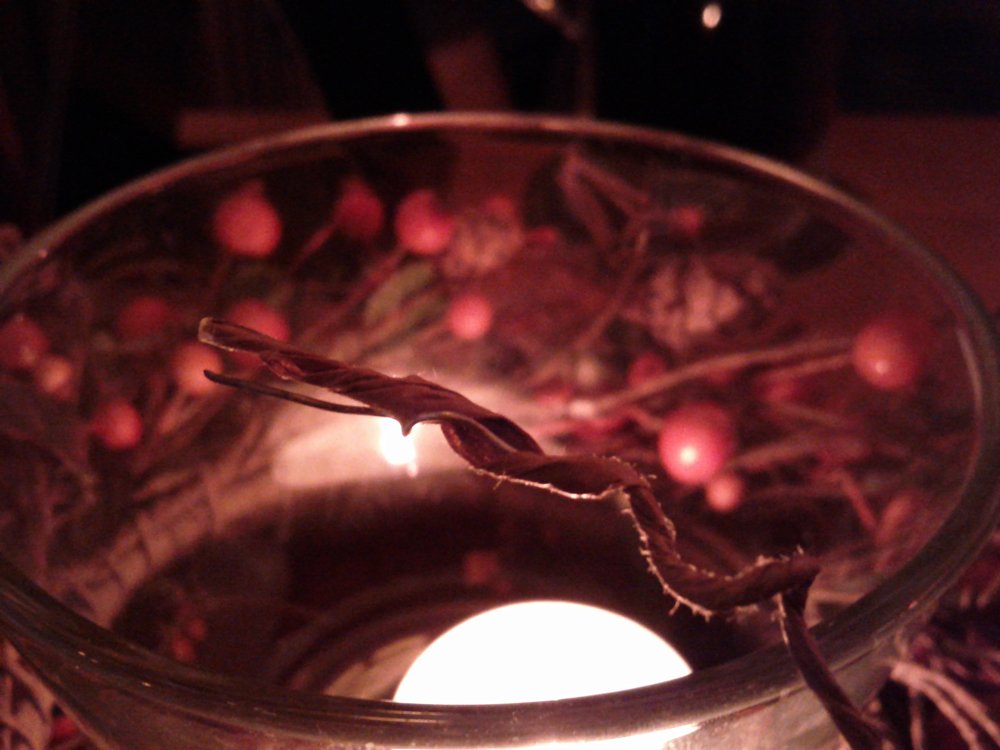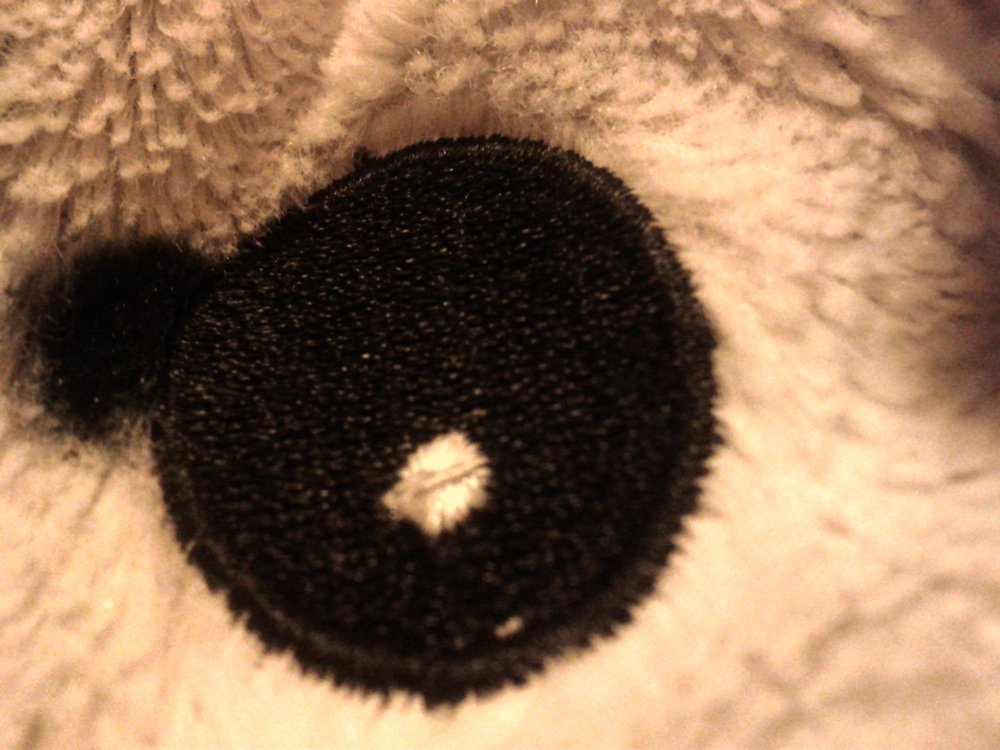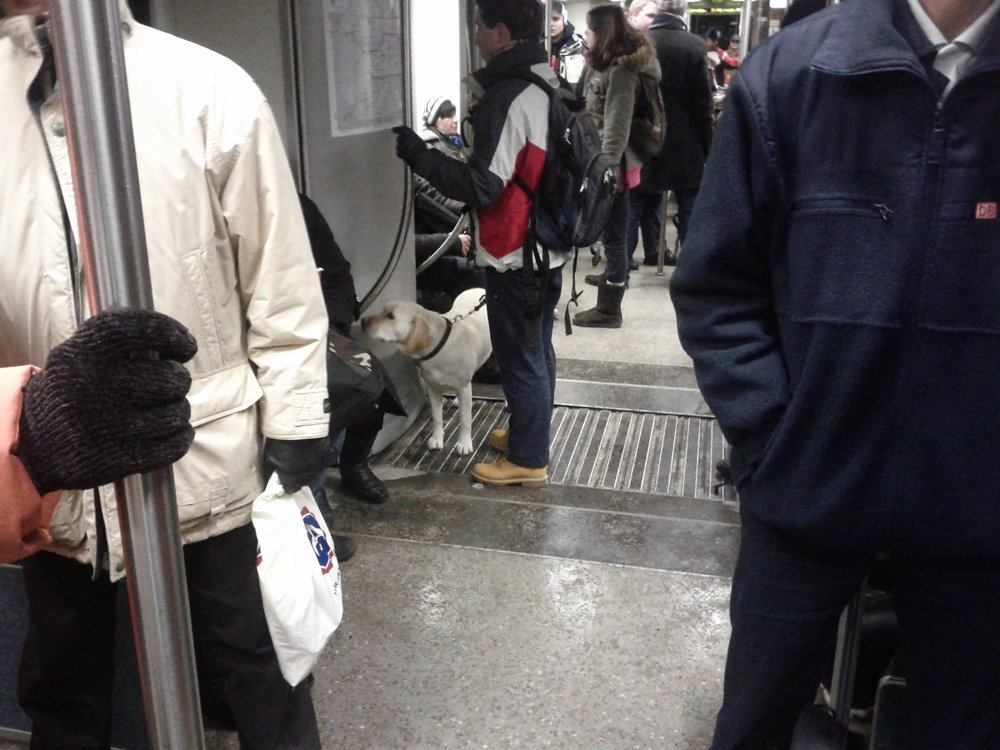 The single LED flash does an okay job at lighting up subject up to 4 meters and more, but the images sometimes looked washed out. The Nexus S also comes with a new macro feature which takes great up-close shots.
Video on the Nexus S is a sore spot for many. Like the Nexus One, but unlike the Galaxy S, the Nexus S can only shoot video at resolutions up to 480p and there are only 4 different video quality settings to choose from: high, low, MMS, and YouTube (high). The Galaxy S can shoot up to 720p video, so the lack of this recording option is something that Google themselves needs to sort out. The lack of more video quality settings leaves me somewhat puzzled, and I'm hoping that we will see some more additions to this in the future.
I have yet to test the front-facing camera for video chat, but for pictures, it does a fine job considering it has only VGA resolution. It is nothing to write home about, but in a half-decently lighted situation, it gets the job done.
In large part, I believe that the camera quality in the Nexus S is somewhat lacking and not as polished as some of the high end Android handsets on the market now. This could all be fixed by software, and for those who download and install ROMs on their handsets, these problems may not exist for much longer. Otherwise, it would be advisable for Google to get working on this.
Calls / Network strength / Speakerphone
Call quality on the Nexus S is fine, nothing seemed to be a problem. No dropped calls were experienced and the connection here in the city was as good as I thought it would be. Volume levels for the earpiece can be adjusted to fit pretty much any situation, and it will sound great doing it. The speakerphone function was clear and loud, and worked properly every time.
Sitting here at my desk in Berlin, I'm getting three signal strength bars for my cellular network unless I deliberately cover up the antenna on the back of the handset, in which case it drops to two bars. The lack of HSPA+ support in the Nexus S for a T-Mobile USA subscriber could be a sore spot for some, but here in Germany it is meaningless.
Wi-Fi strength is another matter. Laying the handset on my desk, it indicates full signal strength to my router. Picking it up with my hand, and I'm already seeing one less bar. As was the case with the cellular network, if I deliberately cover up the antenna, the displayed signal strength decreases yet another bar, even though my 802.11 b router is just down the hall.
The rear speaker on the Nexus S can pump out the tunes pretty loudly, and yet manages to still produce clear audio and an acceptable amount of bump. It feels like Samsung put the same speaker in the Nexus S that they used in the Galaxy S, and that is a very good thing.
Other Features (or lack thereof)
Aside from the Nexus S itself, the US version came packaged with a small safety and warranty booklet, a paid of earbuds, a T-Mobile USA SIM card, a ~5' USB to microUSB cable, and a USB charger that fits US power sockets.
No microSD card slot (or any form of expandable memory) is a major problem for some consumers in the market for a smartphone. I have an 8GB microSD card sitting in my old G1 that is not even half full, and while it pains me a bit to see it sitting there not doing anything, I don't feel like I'm missing out on anything. The 16GB of internal storage on the Nexus S are, for me, more than enough to hold the videos, apps, pictures, and music that I would want to store on there.
The NFC technology, as I said in my early thoughts about the handset, is useless for me at this point in time. While the chip inside the phone has read and write support, the write support has not yet been activated. However, even the read ability is mostly pointless for me, as I have yet to stumble upon a situation where I have noticed it would be useful.
Current lack of FM radio support is a bit of a sore spot for me. Both the Nexus One and the Nexus S have chips which can support FM radio, but for some reason, Google has not put the effort into giving the Nexus phones this feature. I'm hoping that we will see an update with this ability in Honeycomb or somewhere in between. If we don't, I won't be too upset, but it would raise some more questions for me.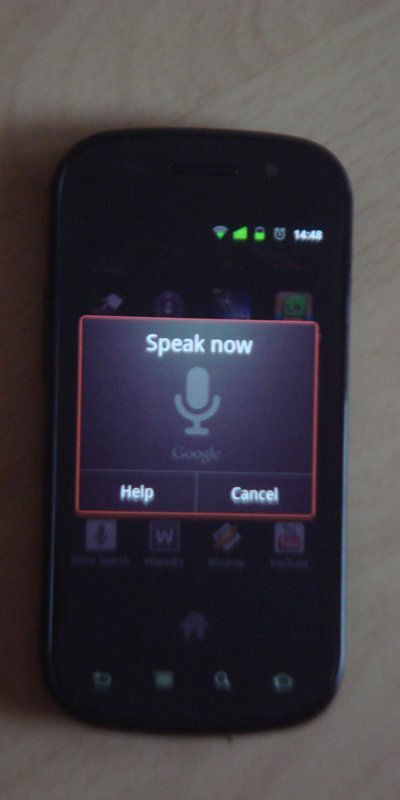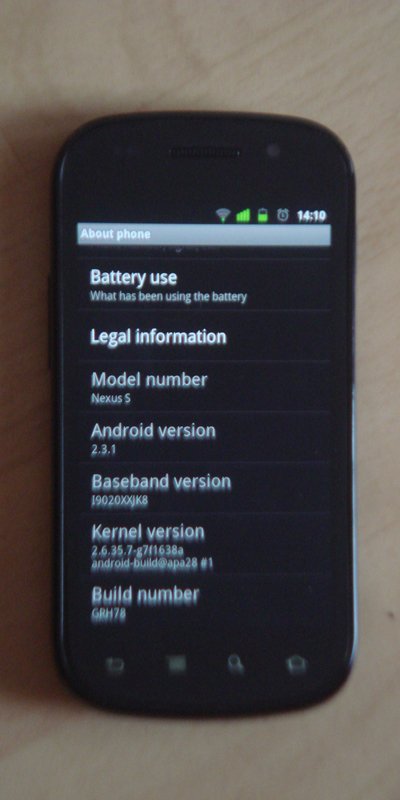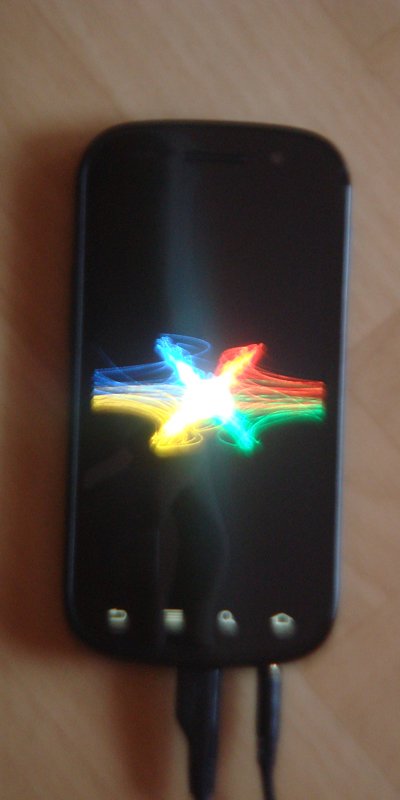 Final Thoughts
While the Nexus S shares many components with the Galaxy S, a phone which has been on the market for quite some time, I feel like it is an entirely different creature. The Nexus S will likely be my private phone for the next two years or so, and I am very happy about that, as the Android experience I'm having with this phone is the best I've had yet.
If I had to give the Nexus S experience a score from 1 to 10, I'd say it deserves an 8.5. There are some really great additions in addition to top-of-the-line hardware which combines into a great machine. The software has improved significantly, and makes the new Android OS feel much more mature than in previous versions. There are still some software issues that need and can be taken care of in updates, but once Google gets those things sorted out, we'll have an even better phone.
This phone is not for every consumer who is looking for a smartphone. Instead, I would recommend this phone to any individual who is serious about smartphones and wants to have great performance and freedom now, as well as the ability to contine to get great support in the future. Google seems to be pushing this handset more than they did with the Nexus One, but only time will if this device proves to be a hit with a larger audience.
In closing, I think that we have yet to see the limits of what the Nexus S can do. We need more time to pass before we can truely appreciate some of the technology and innovation this phone has to offer.