Nov 24, 2020, 1:30:58 PM via Website
Nov 24, 2020 1:30:58 PM via Website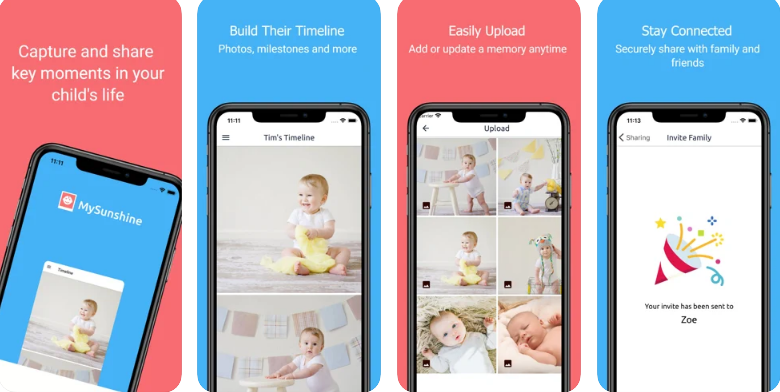 ★ Free Photo Sharing — Baby Timeline ★
Your child's early days are filled with special moments — keep family and friends updated every step of the way. No more emailing one-off photos to grandparents!
Contacts don't need a particular social media account to login and can access your baby timeline from both the app and internet browser.
MySunshine sends a daily update whenever new content is added!
★ Secure content ★
We take photos almost every day and can share them on social media at the click of a button.
But trying to manage who has access and keep them organized can be a challenge.
MySunshine allows you to easily share your baby's journey with loved ones but gives you complete control over who can access those precious memories.
All communication is encrypted and your data is securely stored within the EU on the largest cloud platform in the world — everything you upload still belongs to you.
MySunshine is a UK-based company, built with security and privacy in mind. The app was built for our own children!
Export your content at any time. You can also use the photos you upload to create stunning baby photobooks or other prints.
★ Milestones ★
Track and share your child's development. MySunshine allows you to easily record baby milestones and metrics such as height and weight, as well as creating a story around key moments — from the day your little one came home from hospital to your first family holiday!
★ Multiple profiles ★
Got a big family with lots of little ones to keep track of? No problem! You can seamlessly switch between profiles — from your own child's to your niece or nephew's!
Each profile has its own set of permissions giving you complete control and security over the memories you share.
Download MySunshine for Android
Download MySunshine for IOS