Sep 19, 2016, 1:32:36 AM via Website
Sep 19, 2016 1:32:36 AM via Website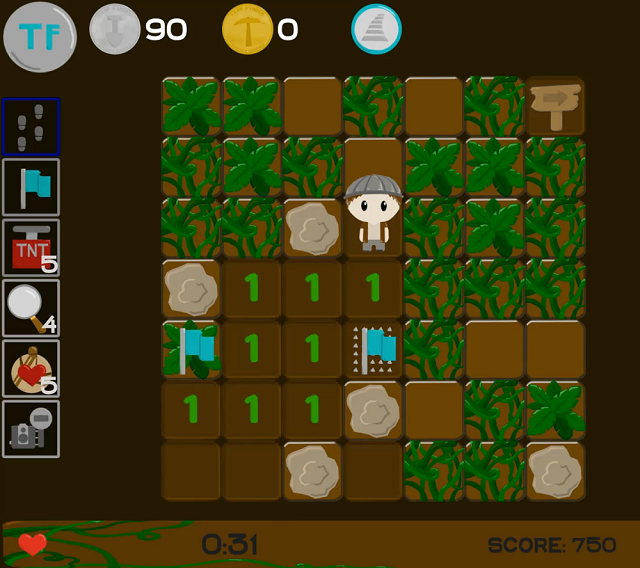 If you enjoy Minesweeper then you will enjoy what Trap Finder has to bring. The object of the game is to navigate around each level trying to get to the end while avoiding the the traps that are scattered across each map.
To help you on your adventure is your tool belt which is displayed on the left hand side containing the following items.
Flag: Once your are certain a tile is dangerous you can flag it so that it is easier to tell and you won't be able to accidentally walk on a trap.
TNT: You can use the TNT to destroy any tile whether that is because you are uncertain of what a tile contains or it is an impassable object it will help you reach the end on your own terms.
Magnifying Glass: This item reveals all tiles around your characters current location, super handy if you find yourself needing to guess on your next move.
Canteen: On each level you are given between 1 to 3 hearts and you will lose one for each trap that you step on, if you hit 0 then you lose. A canteen will recover 1 lost heart.
Camera Zoom: Some of the levels are too large to display everything on screen at once this allows you to Zoom out to get a better look at the environment.
TL/DR Trap Finder is a fun adventure game based around the classic minesweeper game with items to help you along the way see how far you can make it.
Android Link id: id=com.ParodyGaming.TrapFinder