Mar 4, 2016, 7:47:53 PM via Website
Mar 4, 2016 7:47:53 PM via Website
Hi,
First of all, the app cannot sent or receive messages so I tried to uninstall/install whatsapp to work that out but it is still not working. Apparently is something in my device that makes this app unavailable to connect to internet (specially in this step).
This is what is happening to me: when I tried to set up whatsapp again, after install, I can set and receive de confirmation code correctly (so there's no problem with the connection), but when I try to get the messages backup, appears that problem.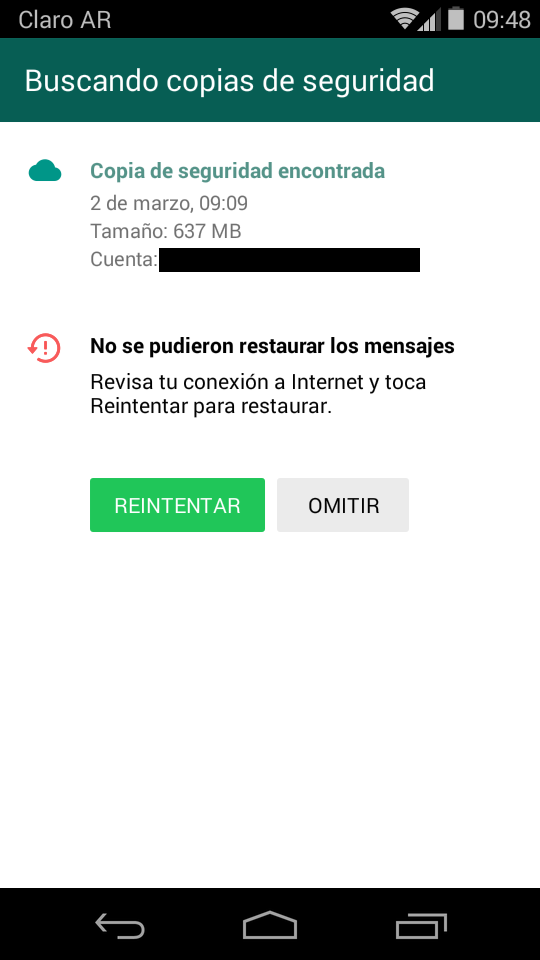 My Wi-Fi and mobile data IS WORKING CORRECTLY.
Please, I need a solution.
I attached some information
--Support Info--
Debug info: unregistered
Description: 2.12.500
Version: 2.12.500
Carrier: Claro AR
Manufacturer: motorola
Model: XT890
OS: 4.4.2
Product: XT890_rteu
Device: smi
Build: KIA20.74
Kernel: 3.0.34+ #1 SMP PREEMPT Tue Jan 6 13:08:54 CST 2015
Phone Type: G.S.M.
Network Type: U.M.T.S.
Sim: 5
L Distance: 10