Oct 26, 2015, 1:32:27 PM via Website
Oct 26, 2015 1:32:27 PM via Website
NRG Beams live wallpaper is a colorful effect based on glowing beams of light flowing through your homescreen like electrical energy. A very animated live wallpaper.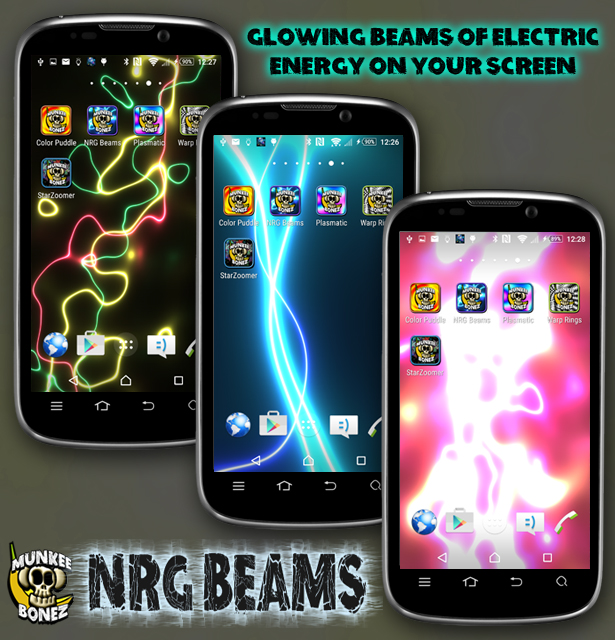 TOP LIVE WALLPAPER FEATURES:
★ Small Download Size
★ No Full-screen Ads or Excessive permissions
★ Many user definable settings
★ Low Battery Usage
★ Cool Glowing colorful animated effects
Configure and control 3 glowing beams of light, with fine adjustment over a great variety of cool user controls. Efficient rendering is only active when the effect is visible in order to consume less battery. The free version of NRG Beams Live Wallpaper allows you to modify multiple settings for each light beam independently.
FOR EACH BEAM YOU CAN CONTROL:
★ Color, from the full RGB spectrum.
★ Beam Speed, control the flow speed from 0% - 100%.
★ Beam Width, from skinny focused beams to super bright glow effects.
★ Wave Modulation, from very smooth waves to undulating ripples of light.
FOR THE ENTIRE EFFECT YOU CAN CONTROL:
★ Effect Resolution, to allow for smooth frame rates on older devices/lower cpu usage.
★ Rotation, variable speed spinning of the entire effect.
★NOTE★ This effect uses rather intense mathematics, and may not perform at optimum frame rates at maximum resolution on older devices.
Hopefully you enjoy this, let me know what you think.
-MunkeeBonez