Oct 12, 2015, 2:17:14 PM via Website
Oct 12, 2015 2:17:14 PM via Website
Hi Androidpit-community,
let me present you the new free app lifeshot. The app is available at the Google Play Store.
lifeshot is digital flashmob – a social network. It's an application for smartphones, that surprises users by inviting them at the same time to take a picture of the moment they are experiencing exactly at that point in time.
lifeshot is innovative and exciting:
- Surprise: you don't know when a lifeshot event takes place. You get an invitation for a public or secret lifeshot event through a push notification on your smartphone.
- Invite: you can invite your friends to a secret lifeshot – challenge them and show them what moment you are living – they don't know when your lifeshot starts.
- Hurry up: once you got an invitation to a lifeshot event you only have 5 minutes to capture your moment and to upload your picture.
- Editing: you can't edit your photo with effects (for example no filter).
- Upload: you can't upload any picture from your smartphone gallery – only an instantly taken photo within the 5 minutes can be uploaded.
- Adding: you can add a post – shotstory – to your photo to personalize your moment.
- Sharing: share your picture either only with your friends or with the whole lifeshot community.
- Discovering: Discover the different photos – like the pictures and write comments.
- Friends: search, add and confirm new friends and like their moments captured with an instantly taken photo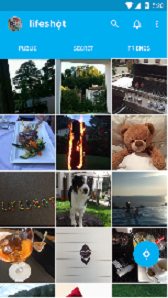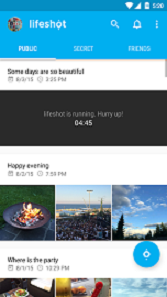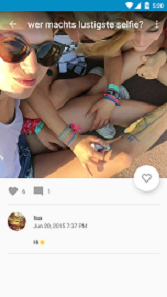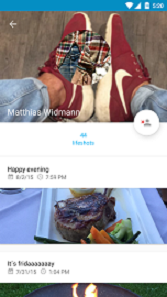 We at lifeshot believe that there is beauty in every single moment and nowadays it is too easy to take a picture. That's why we created that funny features to capture your unique moment with your camera.
We launched our first version of lifeshot a month ago and we would be happy if you give us feedback and specially ideas for improvement. We want to develop new features, so please send us also your ideas. Please rate us on the Google Play Store.
Thanks for your support and enjoy lifeshot!
Philipp
lifeshot – capturing life as it is.
Follow us on:
Homepage: www.lifeshot.eu
Facebook: lifeshot
Twitter: @lifeshotnow