Oct 6, 2015, 7:39:19 PM via Website
Oct 6, 2015 7:39:19 PM via Website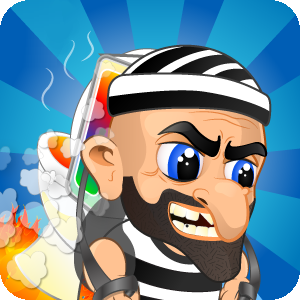 If You want to try my game, please search on Google Play for "Jetpack Prisoner Escape" , developer "Dreams Lab", because my account is new and i can't post links


Hello,
I've just released my new game named "Jetpack Prisoner Escape". The game is available for Android 2.3+, it cost me a lot of work so it would be great if You can download it and tell me Your opinions about this game.
Description
Jetpack Prisoner Escape is a very funny action / arcade game designed for Android devices. You play the role of a prisoner who no longer want to be in jail and decided to escape from a well guarded building. The game is designed in cartoon style, and the action begins at the moment when our hero has already established a backpack with a jet engine, the machine was created with everything our hero had at hand at the moment. We do not need to worry about running out of fuel because it is everything we fry in our path.
Our victims are running police officers, which we can burn with the flame from the exhaust pipe. We can also get into all sorts of traps that can easily kill us - we should remember that we have only one attempt and when we fail, we must start from the beginning. We can meet on our way green balloons with unknown value. We have to decide if it's worth the risk to get bonus from balloon for the potential death of our hero. Jetpack Prisoner Escape is not only the police officers and traps but also grenade launchers and guns aimed at us if we try to leave the prison walls.
Another warning is pulsating signal , which will be a clue that at any moment hand of justice can reach us. Every next meter of gameplay is associated with increasingly difficult challenges. As you increase the distance from the place of execution also the speed of the hero is increasing, which may hinder the additional task of collecting gold coins. They are required to buy new jetpack, gadget, to invest in improvements or even to buy a new character. Also there are more than 100 missions to complete which rewards us with extra Coins.
Screenshots