Sep 26, 2014, 4:07:08 PM via Website
Sep 26, 2014 4:07:08 PM via Website
A cool new app Tawkur Communication Kids App
★★★ Introducing Tawkur Communication Kids App ★★★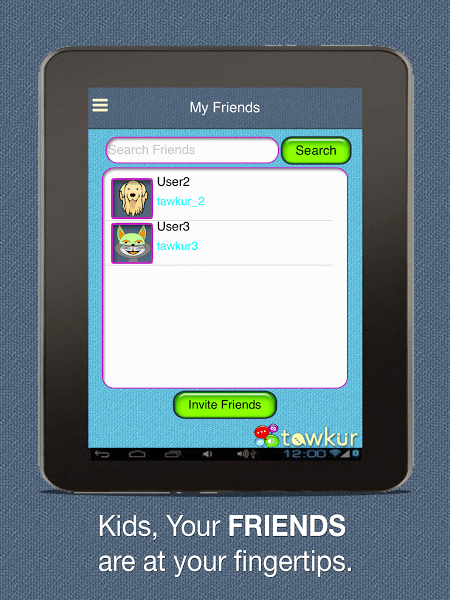 Description:
FINALLY A SOCIAL APP THAT PARENTS & KIDS CAN AGREE ON! Tawkur is a free texting and communication app designed for kids and governed by parents. We provide Safe Social for Kids™ and confidence for parents in the digital age.
FREE TO DOWNLOAD. NO IN-APP PURCHASES. NO IN-APP ADS
3 LEVELS OF ACCESS TO THE PARENT DASHBOARD, INCLUDING A FREE VERSION.
WHY USE TAWKUR?
This social app was created for and in collaboration with kids ages 5-12. Allow your child to text, send picture messages, voice chat (coming soon!) and video chat (coming soon!) within a safe, secure cross-platform app. No more sneaking through their old messages to see what they've been up to. Instead, you can simply log onto your online dashboard to read chat logs, set usage limits, monitor for inappropriate language and approve friend requests.
FEATURES OF THE KIDS APP:
→ Unlimited friends
→ Text Tawk with one friend at a time
→ Group Tawk with a group of friends all at once
→ Add and remove friends from Group Tawk
→ Customize font, font color, bubble color and profile image
FEATURES OF THE ONLINE PARENT DASHBOARD
→ Approve each child's registration and friend requests
→ Review all chat logs
→ Set daily usage limits and usage schedules (ie. No texting during dinner!)
→ Proactively monitor all chats through custom alerts (ie. Inappropriate language)
Requirements: Android 2.2and up.
Available for Android.
I recommend you to download this awesome and new app.
Enjoy!!