Jul 31, 2014, 12:15:03 PM via Website
Jul 31, 2014 12:15:03 PM via Website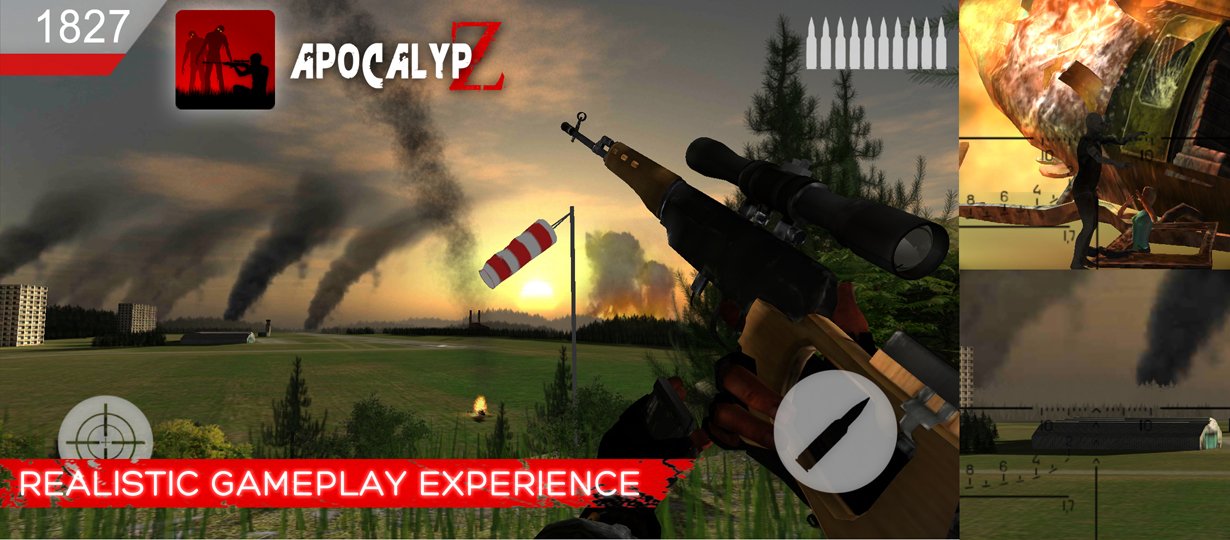 APOCALYPZ
2017, somewhere in Russia.
After a remote village was infected with an unknown virus and most of the residents transformed into something we would call zombies, your girlfriend Hannah and you tried to escape in a chopper.
But it crashed near an abandoned military airfield.
Although both of you survived the impact, the struggle to survive goes on.
Hannah was hit by falling debris and is clamped in the heli wreckage.
Now it's up to you to protect her from allured zombies.
All you've got is an old army rifle.
The haunting story along with the harmonious sound environment creates a compelling, yet authentic atmosphere and a feel of depth.
A modern user interface makes gaming intuitive and the full screen experience more immersive than ever before, while still giving the player all important controls at a fingertip and necessary information is realised with a quick glance.
Although sniper games a pretty popular on Google Play, ApocalypZ sets itself apart from the crowd by its unparalleled realism.
It is the ultimate sniper challenge.
MAIN FEATURES:
-Impressive and thrilling Gameplay
-Modern user interface
-Real ballistics and sound effects of the famous SVD Dragunov
-Huge 3D environment based on Russian locations
-State-of-the-art graphics, realistic fire/smoke and dense vegetation
-Beautiful animations of the sniper rifle, the zombies and Hannah
-A windsock and smoke shows wind speed and direction
-Training mode to explore your rifle
-Leaderboard and statistics
-All experimental features can be turned off in the settings menu
BALLISTICS
ApocalypZ is the first of its kind in terms of bullet characteristics. Every time you fire your rifle, gravity, wind and also aerodynamical drag will have an effect on the bullet's flightpath. Never before has there been a simulation on mobile platform performing at this extraordinary level of accuracy and realism.
ENNVIRONMENT
The fictional full 3D game environment is based on satellite images and stretches over an area of 10 square kilometers.
Lighting, sound and particle effects surround the player to enhance that apocalyptic ambience.
IN DEVLOPMENT
ApocalypZ is not finished yet, that means there is more exciting stuff to come.
Constant updates will enhance gameplay and performance.
Also we want you to be part of that creative process.
In order to implement all your amazing ideas in our final product, we need you to post suggestions on our social networks or write a short email.
Get your hands on it for free: play.google.com/store/apps/details?id=com.MambaMobile.ApocalypZ
Contact Us:
email: mambamobile.team@gmail.com