Jun 30, 2014, 6:20:25 PM via Website
Jun 30, 2014 6:20:25 PM via Website
This is a super simple process that not everyone knows about, so I thought I'd spell it out.
Not every Android is the same but they all have data limit options in the settings. Here's a detailed tutorial on how to set a data limit for the Galaxy S3, S4 and S5, with plenty of screenshots.
I'll use the Nexus 5 for this tutorial, but just look through your settings, it's not hard to find or do, but it might save you lots of overage charges, so it's worth knowing where it is and how to do it.
Just go to your settings and look for Data Usage in the top section.

Tap it and you'll see the check box for set mobile data limit (you need to have mobile data enabled to see it).

Check that box and you'll see a notification which you should agree to.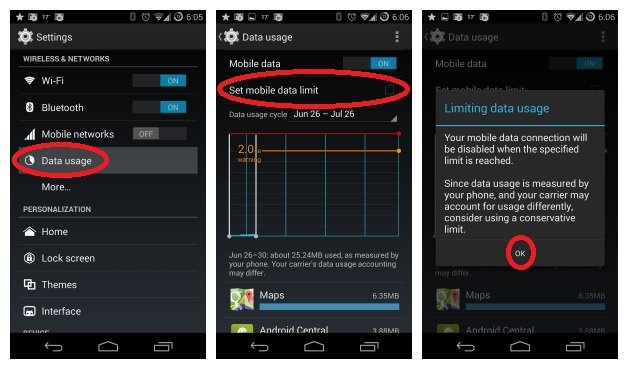 Once you've done this you'll see two sliders appear on your data usage chart. Simply slide them up and down to set the limits for a warning notification and to cut off your mobile data.

If sliding the lines is too fidgety for you, just tap the lines and a scrollable window will appear that does the same thing.