Jun 17, 2016, 10:11:51 AM via Website
Jun 17, 2016 10:11:51 AM via Website
I personally love playing games on a larger screen, but there are certain games that are only available on mobile phones such as Clash of Clans, Clash Royale, and Piano Tiles. So the only way for me to watch my gameplay on bigger screen is to cast it on another device with larger screen like computer. But the question is how? There are different mirroring applications that can be found online but not all of them works and some are full of pesky advertisements. So I did a research, tried a bunch of apps and was able to come up with an efficient way to display your Android screen into a computer.
This method I'm referring to is by making use of an application called, Apowersoft Android Recorder. I want to share it to all of you since this app works well without any root access required, and there are no ads that pop up while you use the app.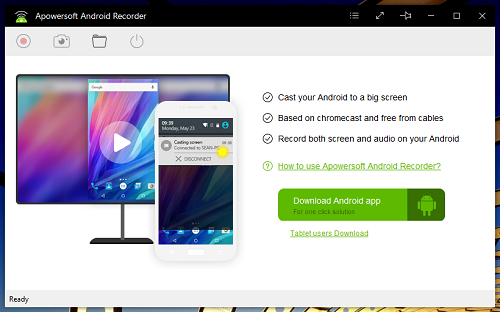 Casting your device's screen
To cast your favorite gameplays, movies, or any activities on your screen simply follow these steps.
• Get and install the app from its main page.
• Once installed, you can configure some settings by going to options and set the video quality, format, output folder, etc.
• After that connect your Android device into the program by activating the Cast function. (Upon clicking the "Cast" function, a small TV icon with your computer's name will appear. Now select this icon to connect right away).
• Now when the tool is opened together with a mirrored display of your screen, you can start playing any video clips, or start upgrading your town hall on your Clash of Clans.
• To disconnect your device, just hit the power icon located at the right upper portion of your screen.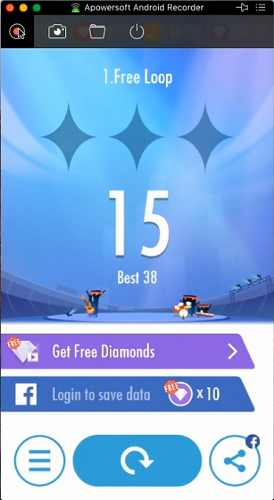 In case you need a recording or a snapshot while casting your screen activities, then you can also make use of the tools built-in recording function and screen capture tool.
That's the simplest yet effective way to cast your Android screen. This app is said to work only with Android 5.0 or later versions. However, I tried it on my HTC Desire 610 (Android 4.4.2) and it works perfectly well. As a friendly reminder, refrain from recording copyrighted contents and avoid recording someone's screen without their permission for example in a video call. And that's it get this app now Cast your screen and enjoy.