Jan 27, 2016, 1:51:35 PM via Website
Jan 27, 2016 1:51:35 PM via Website
Photex pro.
Photex is the combination of Photo+Text=Photex mean text on Photo.
Photex pro is the updated version ofPhotex text on photos. ThePhotex pro developer made this application those users who make his own posts wallpapers, cards, love letters with different backgroundsand share his own posts to friends on social media.photex pro have a lot of features like text editing, pictures editing making different awesome background with attractive colors matching.in Photexpro users use this application as Photoshop or coral draw.
Download link: Photex Pro : Text on Photos
Screenshots: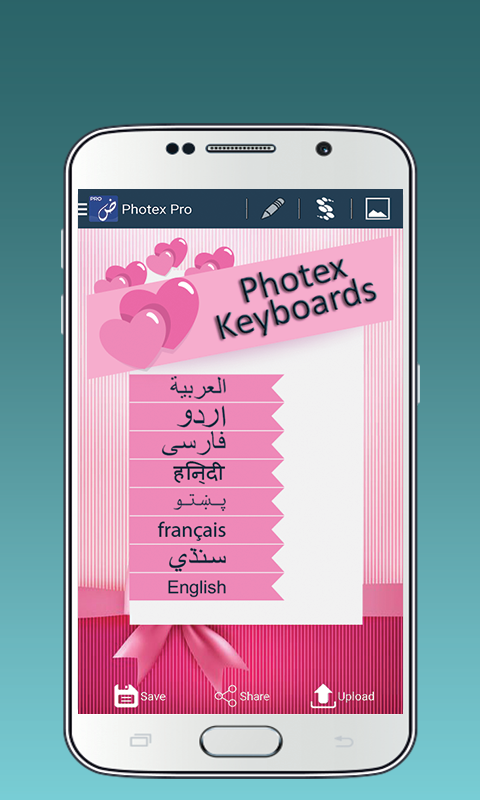 Languages:
Photex pro support multiple languages users can design their post on different languages. Like Urdu, Hindi, English, Arabic, Persian, Pashto, Sindhi.
Features that Photex Pro Supported:
User can style their text more than 300 fonts.
Photex has different patterns of colors.
Different Gradient Style like Horizantal, Veticle, Radial.
Color pellet and patterns word by word color changeable.
Different Texture for text.
Photex pro supported multi keyboard with multiple languages.
3D Text rotation on photos (Rotate along X axis, Y axis and Z axis)
User can rotate text on 360 degree.
Now you can change the text direction Up, Down, Left, right.
User can change the resolution of text and also give different shade.
Stickers and Photos:
Photex pro support 1000+ stickers and also online downloadable.
Nice looking background.
Photex pro support 70+ Cropping shapes images
Photex pro hasbig collection of templates.
User friendly Text size modification
user can design his own posts and then save these posts on his own Gallery as "Photex" Folder.
User can also upload his own post on Photex pro store
Now you can design your posts on Photex Pro:
Users can edit their own posts for social media and personal gallery.
User can design their posts as he wish. Like
User can make post on Quran Versus and A hadith (PBUH).
User can also make Love Letter, personal Cards, ShadiCards, invitation card
, Valentine's Day and share these posts to Friends.
To deliver "Quotes of the day" you can use it.
Everyone Likes "Funny post" so you can design funny post
for Eid Celebration you can edit "Eid greeting cards".
You can design your "Signature".
Photex pro has a big collection of Wallpapers
— modified on Jan 29, 2016, 5:03:31 AM